COVID Response: Project Row Houses' intimate community knowledge leads to swift action to support residents
Protests and pandemic hit home in Houston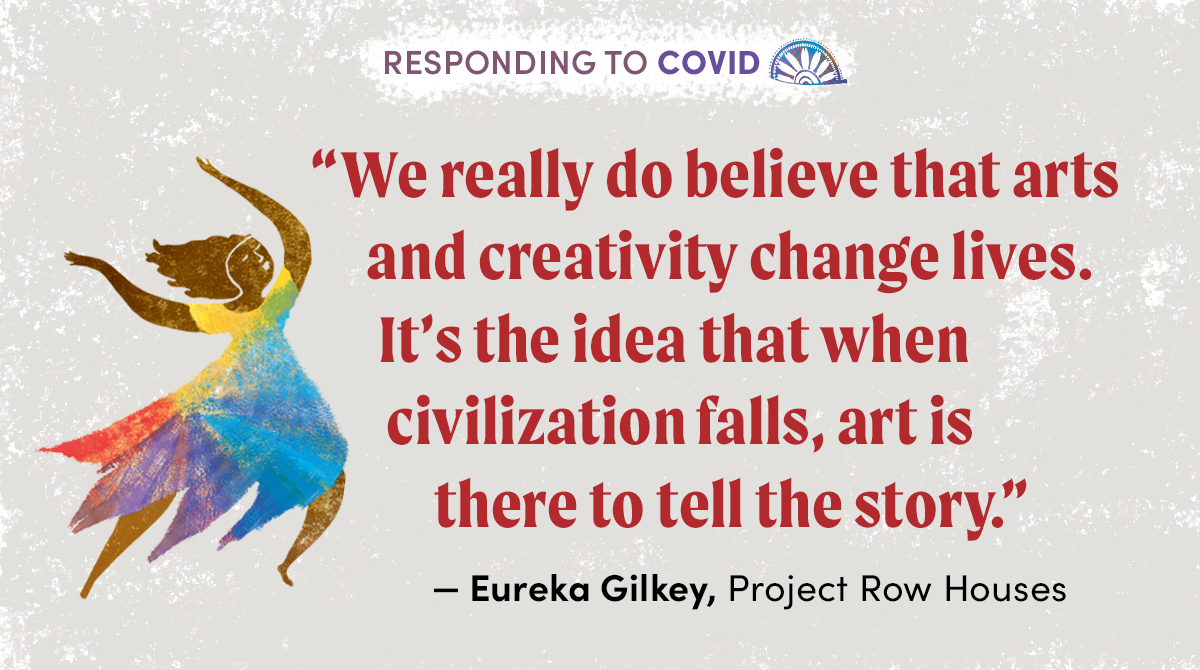 By Emily Nonko
Editor's note: Since March, Kresge partners have responded to COVID in inspiring ways. Over the next few weeks, we are profiling eight such partners, who are also featured in our upcoming annual report on racial equity, Inside Out & Outside In. 
While the police killing of George Floyd has resonated around the world, it hit close to home for Project Row Houses.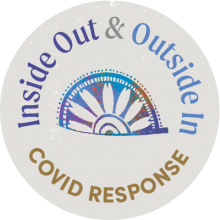 Floyd grew up just 10 blocks from the 27-year-old arts and culture organization operating out of a historically African American neighborhood in Houston's Third Ward. The community has struggled over the years due to segregation, disinvestment, over-policing and now, gentrification. Despite those challenges, Project Row Houses has maintained vibrant community and artistic spaces inside once-derelict shotgun homes.
The organization's intimate knowledge of its community primed Project Row Houses to respond swiftly to both the COVID-19 pandemic and the protest movement. Their response mirrors the work of other community development organizations that make up BASED, the national initiative of The Kresge Foundation's Arts & Culture Program launched in 2019 to position culture and creativity as drivers of more just communities. 
"These organizations simply don't have a choice not to respond," says Seth Beattie, a senior program officer with Kresge's Arts & Culture Program. "They have an extraordinary amount of knowledge of their community and their needs, which allows them to act quickly, but in meaningful ways."
In response to COVID-19, Project Row Houses began distributing direct cash assistance to 82 households, which the organization identified through efforts like its Young Mothers Residential Program.
"Project Row Houses has never been art for the sake of art; it's really arts in action," explains Executive Director Eureka Gilkey. "We've been able to use our brand and reputation with the philanthropic community to provide what would be considered direct social services."
This impromptu "Project Row Houses stimulus plan," as Gilkey calls it, was coupled with brainstorming on virtual events to re-engage the Third Ward. They were surprised to see some events attract an international audience: a Wikipedia Edit-A-Thon for Black Houston artists brought participants from Tunis, London, Chicago and New York.
"Like all BASED grantees, Project Row Houses understands the value of its community-lived experiences," says Arts & Culture Senior Program Officer Michelle Johnson. "Project Row Houses uses this knowledge to lift up residents' expertise as part of the organization's solutions-based approach to create equitable change that directly meets residents' needs."
Art resonates through Project Row Houses' response to the protest movement. A new mural was complemented by a "living memorial" with flowers that will later be planted at the Project Row Houses site. That's been coupled with internal discussion about long-term creative organizing in response to the death of Floyd. 
"In a time of such trauma, art can be healing and a safe space for our community," Gilkey says. 
There's still uncertainty over what long-term organizing work will look like in a world shaped by the pandemic and protests, she adds. But these are questions Beattie hopes can be tackled within the BASED cohort, which moved to online engagement in March and is holding a virtual convening in September.
Kresge surveyed shifting priorities of each organization and helped facilitate communication for those that wanted to collaborate directly. Instead of longer engagements held a few times a year, there will likely be a shift toward shorter, more frequent, participation-optional digital convenings.
"Overwhelmingly, they're hungry for these conversations," Beattie says. 
It is in the DNA of these organizations to respond creatively to community needs, and BASED intends to leverage that in the midst of unprecedented change. 
"We really do believe that arts and creativity change lives," Gilkey says. "It's the idea that when civilization falls, art is there to tell the story." 
Emily Nonko is a guest writer. Learn more about Project Row Houses in September in Kresge's Inside Out & Outside In report on Equity.