Our COVID-19 Response
The COVID-19 pandemic swept the world in 2020, creating new, urgent needs in communities related to public health, basic services and economic security. Here is how Kresge is responding.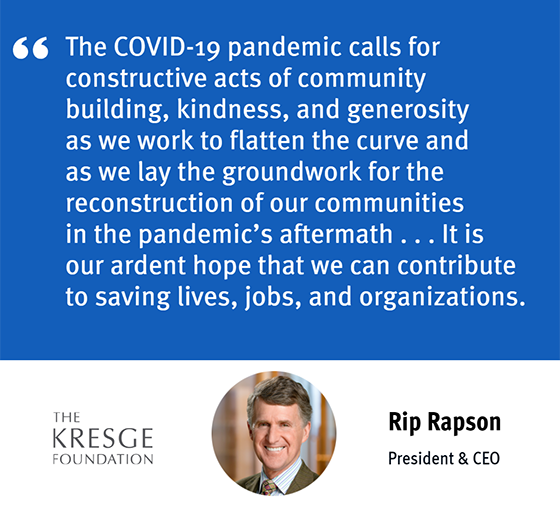 Supporting our Partners
As COVID-19 accelerated into every corner of our nation, Kresge's President & CEO Rip Rapson wrote that "we find ourselves face-to-face with a challenge unlike any in our lifetimes. But rather than yield to fatalism and inertia, community after community in America has begun to draw on deep reservoirs of the kind of courage, creativity, and fortitude that will be required to get to the other side. A foundation like Kresge must do everything in its power to affirm, support, and fortify your resolve and enhance your capacity to endure and prevail."
Read Rip's full letter here, which outlines the ways we are supporting current partners during this time, including full flexibility and expedited grant approvals and amendments.
How Kresge is doing its part
Filter by program:
Funding Response
$16 million delivered to organizations confronting COVID-19
Through September, Kresge has grant funded $14 million to partners in response to the COVID-19 pandemic. In April, we issued a $2 million program-related investment to support nonprofit access to the Paycheck Protection Program. Explore the map above to see individual grants and amendments made. We also suggest partners find resources and helpful links in our COVID resources thread, which is updated as new items come online.