Metro Detroiters in film, music and live arts invited to apply for Kresge fellowships, emerging artist awards
Guidelines, application workshops announced in initiative offering $25,000 fellowships and $5,000 Gilda Awards
Metropolitan Detroit artists are invited to apply for a 2018 Kresge Artist Fellowship. Fellowships are funded by The Kresge Foundation and administered by Kresge Arts in Detroit at the College for Creative Studies.
The application guide is available today in advance of the online application portal being open from December 1 until January 18, 2018, at 11:59 p.m., EST.
Now in its tenth year, the program will award 18 fellowships – nine in Film & Music and nine in Live Arts – to artists living and working in metropolitan Detroit (Wayne, Oakland and Macomb counties).
Kresge Artist Fellowships are no-strings-attached $25,000 awards. Fellowships also include a professional practice program, designed and delivered by Creative Many Michigan, which includes workshops, seminars and networking events. Artists at all career stages are invited to apply.
In addition, two Gilda Awards, $5,000 no-strings-attached prizes solely for emerging artists, will also be awarded – one in Film & Music and one in Live Arts.
Gilda Awards recognize artists who are early in their careers, are gaining momentum and who demonstrate exceptional potential through creative risk-taking and pushing the boundaries of their chosen art form. The awards are named in honor of Gilda Snowden (1954-2014), who was one of the 18 inaugural artists to receive a Kresge Artist Fellowship in 2009. Snowden served as interim chair and professor of fine arts at the College for Creative Studies where she taught painting for more than 30 years.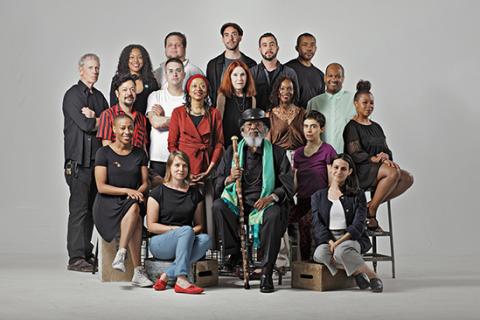 Photo by Noah Stephens, courtesy Kresge Arts in Detroit
Gilda Awards are chosen from the pool of Kresge Artist Fellows applicants. There is no separate application for the Gilda Awards.
"The fellows program is intended to advance the careers of metropolitan Detroit artists and to shine a light on their creativity and contributions to the community," says Alycia Socia, Kresge Detroit Program Fellow. "We're excited to see artists representing an array of communities, genres and practices from the traditional to the most experimental."
"The Kresge Fellowship enabled me to connect more meaningfully to the Detroit arts community," says film director, writer and 2014 Kresge Artist Fellow Jasmine Rivera. "Support from, and exposure to, incredible artists in all genres was a powerful affirmation of my work and encouraged me to create stories with the confidence that voices like mine could be heard and contribute to the city's cultural landscape."
Artists working in the following disciplines are eligible to apply for a 2017 Kresge Artist Fellowship:
Film & Music: film directing, screenwriting, animation, music composition, music performance, sound art, interdisciplinary work.
Live Arts: dance, choreography, theater directing, playwriting, performance art, interdisciplinary work.
In each category, fellows and Gilda Award recipients are selected by independent panels of distinguished local and national artists and arts professionals. Previous applicants are strongly encouraged to reapply. New panels are convened each year, bringing fresh perspectives to the review process.
"The Kresge Artist Fellowship supported me to turn personal talents into sustainability," says percussionist and 2016 Kresge Artist Fellow Chi Amen-Ra. "I now have very necessary tools plus a family of people focused on helping me to thrive artistically. My work is now benefiting my family and my community on a larger scale."
Artists are strongly encouraged to attend the applicant workshops, which are designed to help artists submit competitive applications to Kresge Arts in Detroit as well as other sources of support for their creative careers. Visit kresgeartsindetroit.org for full details and to RSVP.
Those workshops are:
Work samples and application strategies on Tuesday, November 17, 2017, 6-8 p.m. at Arab American National Museum, 13624 Michigan Avenue, Dearborn, Michigan  48126
Writing artist statements and résumés on Saturday, December 2, 2017, 11 a.m.-1 p.m., at Grace In Action / Young Nation, 1725 Lawndale Street, Detroit, Michigan  48209 (workshop presented with Creative Many)
Application questions and answers on Tuesday, January 9, 2018, 6-8 p.m., at  The Jam Handy, 2900 East Grand Boulevard. Detroit, Michigan  48202
Fellowship applications are only available and submitted online. The online application opens Friday, December 1, 2017, and applications must be submitted before 11:59 p.m. EST on Thursday, January 18, 2018. Guidelines and additional resources are available now at kresgeartsindetroit.org. 
Since 2008, Kresge Arts in Detroit has awarded nine Kresge Eminent Artist Awards ($50,000 each), 162 Kresge Artist Fellowships ($25,000 each), and six Gilda Awards ($5,000 each) for a total of more than $4.5 million given directly to individual metro Detroit artists. (Learn more about this year's Kresge Artist Fellows and Eminent Artist Patricia Terry Ross.)