Kresge seeks Detroit nonprofits to share $2 million for neighborhood projects
Foundation aims to fund 15-20 neighborhood groups across city through Kresge Innovative Projects: Detroit
The Kresge Foundation is seeking 15-20 community-based nonprofit groups across Detroit to share $2 million for projects to transform neighborhoods.
The funds are for the third round of Kresge Innovative Projects: Detroit, a $5 million pilot initiative launched in 2014. The program asked whether grants of up to $150,000 for projects designed by community-based organizations can make an impact across the city. The first two rounds of the project also included grants of up to $25,000 for groups to plan projects for subsequent applications.
"From neighborhood cleanups to innovative building renovations and land reutilization projects to creative public space enhancements, we're seeing community-driven visions of progress realized across the city," says George C. Jacobsen, senior program officer of The Kresge Foundation's Detroit Program.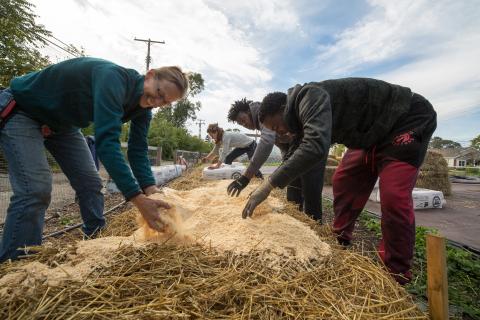 The first two rounds of Kresge Innovative Projects: Detroit distributed $3 million in grants ­­­­– 19 planning and 20 implementation grants in response to nearly 200 applications. This third round slates $2 million entirely for implementation grants, with at least one expected to land in each of Detroit's seven City Council districts.
As in earlier rounds, grant-supported projects are to be completed within 18 months of the award, which can be supplemented with funds from other sources. Applications for projects taking place within the city of Detroit and led by Detroit-based organizations will be accepted until Nov. 21 through Kresge's online FLUXX system.
Applications will be judged on a competitive basis on factors including alignment with the Detroit Future City Framework Plan; that's the long-range guide to land use and development was shaped by a multiyear research and community engagement process funded by Kresge.
Applicants are asked to pay particular attention to portions of the Detroit Future City framework describing the transformation of vacant land, the use of public and open spaces and the stabilization of neighborhoods.
Grant recipients will be announced in early March 2017.
To be competitive, a project must also demonstrate:
A transformative impact on its Detroit neighborhood
Broad engagement of the neighborhood and advance neighborhood priorities using inclusive, collaborative processes for design, development and implementation
Benefits extended to a broad set of stakeholders and community residents, particularly low-income individuals and people of color
Kresge Innovative Projects: Detroit was launched in 2014 as a three-year, $5-million pilot initiative. Kresge's Detroit Program has used – and is continuing to use – this pilot phase to learn how to better collaborate with neighborhood-based organizations and support their efforts, a major program priority. The Detroit Program is committed to initiatives accepting applications for transformative projects from groups across the city in 2017 and beyond.
"This initiative has been successful because of the knowledge, know-how and dedication of residents and leaders across Detroit's neighborhoods," said Jacobsen. "We continue to learn from the grantees we've funded over the first two rounds about what it takes to make a tangible difference in city neighborhoods as well as how we might continue to support their ability to catalyze further efforts in building stronger neighborhoods."
"This initiative reflects our goal of enhancing civic capacity in the city of Detroit, including at the neighborhood level," says Jacobsen.
Initiative projects completed so far include the installation of exercise pocket parks in central Detroit, park development and sculpture installation in North Corktown-Briggs, the renovation of a vacant building to allow the Downtown Boxing Gym Youth Program to mentor more young people, the creation of an environmentally responsible parking lot that doubles as a community gathering space in Grandmont Rosedale, and a neighborhood clean-up and stabilization effort in the Osborn neighborhood that mobilized thousands of volunteers.
The Kresge Detroit Program plans two open sessions for interested individuals to find out more about Kresge Innovative Projects: Detroit. They will be held Oct. 25 (from 6-7 p.m. at Jam Handy, 2900 E Grand Blvd, Detroit) and Nov. 15 (1-3 p.m. at TechTown, 440 Burroughs St., Detroit).