$1.5 million from Kresge supports 21 projects in neighborhoods across Detroit
Second round of Kresge Innovative Projects: Detroit initiative includes building and land renovations, plans for city parks, green infrastructure and youth engagement.
The Kresge Foundation today announced grants totaling $1.5 million to 21 nonprofits for projects or planning efforts to revitalize Detroit neighborhoods. The project and planning grants span the city and include converting abandoned buildings and vacant lots for new purposes, park rehabilitations and engaging high school students in entrepreneurship and revitalization efforts.
The grants are the second round of Kresge Innovative Projects: Detroit, a three-year, $5 million initiative to support nonprofits in transformative neighborhood projects. Nine organizations received grants ranging from $50,000 to $150,000 for projects to be completed in 12-18 months, and 12 organizations received grants of up to $25,000 for an eight-month planning process.
"When we launched this initiative in 2014, we hoped shine a light on positive changes by tapping  into the knowledge and creativity of city residents," said Wendy Lewis Jackson, Kresge Detroit Program deputy director. "Added to the 18 in the first round of the initiative, these 21 projects are building momentum for change."
 "We see in these grantees a strong desire to revitalize neighborhoods physically and to engage residents socially in the process," said Jackson. "Our grantees are interested in reutilizing what's abandoned and vacant, creating green infrastructure and new community spaces, and developing human capital, particularly among young people."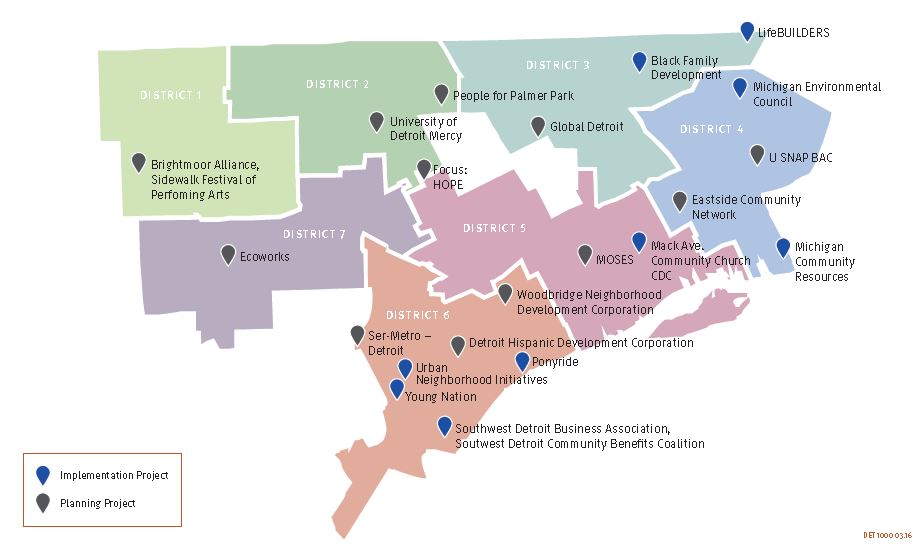 The 85 proposals for the competitive selection process came from across the city. To ensure a strong pool of proposals for the third and final round of the program next year, this year's grants emphasized planning projects. The grant selection process required that at least one planning project be embedded in each of Detroit's seven city council districts.
Through the nine "shovel-ready" implementation grants:
Black Family Development Inc. will transform groups of vacant lots in the Osborn neighborhood using Detroit Future City's "Field Guide to Working with Lots." The guide includes plans for low-maintenance lawns, maple tree groves, barriers to deter illegal dumping and other landscape improvements. (District  3)
LifeBUILDERS will rehabilitate Bringard-Boulder Park, including athletic fields and outdoor fitness equipment, to address resident desires for a safe community space for health and wellness activities. (District  3)
Mack Avenue Community Church Development Corp. (MACC Development) plans to renovate a vacant 14,000-square-foot commercial building (now known as the MACC Building) on Detroit's near eastside as a community center.  (District  5)
Michigan Community Resources, following a 2015 Kresge planning grant, will reuse eight vacant lots for flower farming and create a public gathering space in the Jefferson Chalmers neighborhood. (District 4 )
Michigan Environmental Council, following a 2015 Kresge planning grant, will work with staff at Denby High School to implement a four-year curriculum that incorporates elements of the Detroit Future City Strategic Framework Plan and complete neighborhood revitalization projects planned by students. (District 4 )
Ponyride will bring together students from Detroit Western International High School and Lawrence Technological University to transform shipping containers into retail space for entrepreneurs connecting Southwest Detroit to downtown and the riverfront. (District 6 )
Southwest Detroit Business Association will work with Southwest Detroit Community Benefits Coalition, following a 2015 Kresge planning grant, to implement an air quality monitoring system to provide accessible real-time information on levels of diesel exhaust emissions to residents near the Ambassador Bridge and I-75 in Southwest Detroit. (District  6)
Urban Neighborhoods Initiative will renovate a vacant building in Southwest Detroit to house community and youth development programs. (District  6)
Young Nation, following a 2015 Kresge planning grant, will transform a vacant lot and empty 2,200-square-foot commercial building into new community gathering spaces. (District  6)
Through the 12 planning grants:
Brightmoor Alliance and Sidewalk Festival for the Performing Arts will pair artists with community members to design and implement nature-based projects and public performances in Eliza Howell Park. (District  1)
Detroit Hispanic Development Corporation will plan for the development of a neighborhood-based center for Southwest Detroit residents to access housing resources and provide job training opportunities in housing and industrial trades for local at-risk youth. (District 6 )
Eastside Community Network will collaborate with partners to identify a large swath of city-owned vacant land and engage nearby residents to explore green infrastructure options as an alternative to conventional maintenance.  (District 4)
EcoWorks will support a student-led effort of the Detroit Institute of Technology at Cody High School to plan a community space and park at a vacant lot across the street from the school. (District  7)
Focus: HOPE will study the feasibility of redeveloping a blighted residential and commercial site on West Davison Avenue as a live/work co-op space for entrepreneurs. (District  5)
Global Detroit will engage the Banglatown community in neighborhood planning, including, outreach efforts and community meetings. (District  3)
MOSES (Metropolitan Organizing Strategy Enabling Strength) will work with residents of a near east side neighborhood to articulate a vision for their community through the lens of the Detroit Future City Strategic Framework Plan and develop plans for a transformative project. (District  5)
People for Palmer Park will develop a revitalization plan for Lake Frances and surrounding areas within the nearly 300-acre, Frederick Law Olmsted-designed nature park and recreation site. (District  2)
SER Metro-Detroit, which has been active in workforce development in Southwest Detroit, will plan a "YouthBuild Community" to improve the quality of life for residents in Southwest Detroit, focusing on the Chadsey-Condon neighborhood. Students will work with community members to identify tangible goals related to safety, including lighting, clean-up, and board-up opportunities. (District  6)
U SNAP BAC will collaborate with Habitat for Humanity and the MorningSide Association in the neighborhood of the same name to examine whether greenways, green ventures and green reuse of side lots can help stabilize the community. (District  4)
University of Detroit Mercy will plan to utilize open spaces in the Fitzgerald neighborhood between University of Detroit Mercy (UDM) and Marygrove College, often known as the "College Core." Landscape installations will benefit the neighborhood through beautification, recreation and stabilization. (District  2)
Woodbridge Neighborhood Development Corporation will examine the feasibility of streetscape improvements to make Woodbridge and surrounding neighborhoods safer, more pedestrian- and bicyclist-friendly, and better connected to the Woodward Corridor. (District  6)
"This past year we've seen a number of the first-round implementation projects finished and functioning. Across the city, those include the renovation of new space for the Downtown Boxing Gym Youth Program and the creation of pocket exercise parks in the Middle Woodward Corridor," said George Jacobsen, Kresge Detroit Program senior officer.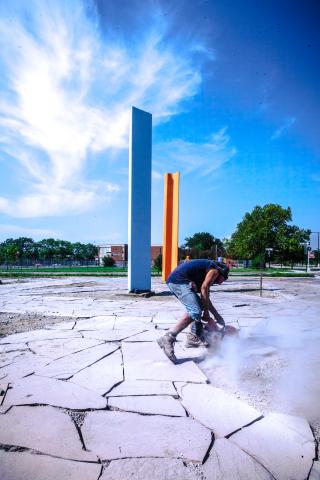 Jacobsen said other projects like the creation of a green parking lot and the renovation of a blighted two-family flat as an energy-efficient LEED Platinum multiuse facility are still in progress.
"Through the process, we've learned from the grantees about what it takes to envision and complete projects of this kind," Jacobsen said. "At the same time, grantees are developing the organizational muscle to tackle more and more ambitious projects. They're learning as they go, and we're trying to help them learn from one another."
Jacobsen said feedback from the first round influenced the selection process for the second round. He expects more fine-tuning of the process for the third and final year.
Proposals for the third round of Kresge Innovative Projects: Detroit funding will be sought during the fall with grants to be announced in the spring of 2017.