Initiative supports 18 neighborhood revitalization efforts in Detroit
Nonprofits across city to share $1.6M through Kresge Innovative Projects: Detroit.
Organizations working to strengthen Detroit neighborhoods will receive $1.6 million for 18 projects through a Kresge Foundation initiative.
The recipients of the first Kresge Innovative Projects: Detroit grants were announced Wednesday.
The grants will allow the nonprofit groups to begin work on or plan projects that range from the creation of a new prototype greenhouse in of an abandoned home, to the improvement of parks, to the development of greenways.
The Kresge Innovative Projects: Detroit is a three-year, $5 million initiative.
"With this program, we set out to quickly light up the map of Detroit with the reality of positive change," says Rip Rapson, Kresge's president and CEO. "Nonprofits throughout the city are actively working for its transformation, and we're proud to be able to stand with them to amplify their energy and understanding of what needs to be done."
More than 100 proposals were received after the initiative was launched this past October.
A total of 11 implementation grants of $100,000 to $150,000 and seven planning grants of $20,000 to $25,000 were announced during a press conference and celebration at Marygrove College in Detroit. Rapson, Detroit Mayor Mike Duggan, members of the City Council and other city and community leaders attended.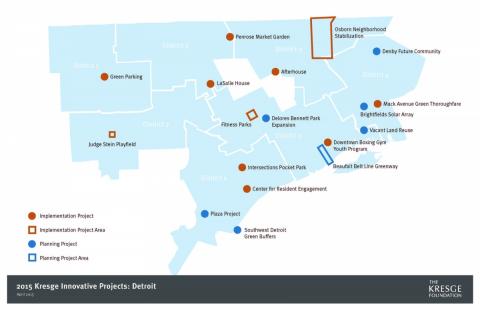 The implementation grants, at least one in each City Council district, are to be completed within 12 to 18 months. Those grants will support:
A 13-month neighborhood stabilization effort in the Osborn neighborhood, which will include a six-day cleanup to engage 5,000 participants;
Transformation of a blighted three-quarter mile stretch of Mack Avenue to a productive greenway with solar lighting;
Creation of a half-acre market garden in Chaldean Town, between Woodward and John R around 7 Mile Road;
Renovation of a vacant building to enable the Downtown Boxing Gym Youth Program to expand its mentoring on Detroit's eastside, and the renovation of a vacant, historic Southwest Detroit church as a community center;
Innovative green architecture projects that will turn an abandoned home into a prototype greenhouse near the Detroit-Hamtramck border, rehabilitate a blighted two-family flat into an energy-efficient LEED Platinum multiuse facility on Detroit's near westside, and develop a green parking lot that's also a multiuse public space in Grandmont Rosedale; and
Development and expansion of innovative parks and playfields in North Corktown-Brigg, in the North End, and in the Cody-Rouge on the far westside.
The planning grants will support neighborhood groups as they:
Develop strategies to reuse vacant land, study the feasibility of solar power arrays and lay the groundwork for a 1.5-mile Mt. Elliott greenway, all on the eastside;
Engage the North End community to plan the expansion of Delores Bennett Park.
Design a dual-use public plaza-artists market and explore use of green spaces to buffer residential areas from industry in Southwest Detroit; and
Develop a three-year plan to engage Denby High School students on Detroit's northeast side in community improvements based on the Detroit Future City strategic framework plan.
Planning grants are to be completed by the end of August, in time to apply for the second round of funding in the Kresge Innovative Projects: Detroit initiative. The second-round application process will open in fall 2015.
Kresge works to expand opportunities in America's cities. Its Detroit Program uses a comprehensive strategy to promote long-term economic opportunity in the foundation's hometown. The strategy includes major efforts to revitalize neighborhoods and build a vibrant Woodward Corridor, along with support for arts and culture, regional transit, early childhood education and the enhancement of civic capacity.
Kresge's Detroit investments, including Kresge Innovative Projects: Detroit, support the Detroit Future City strategic framework, a long-range plan informed by a multiyear research and community-engagement effort, which was funded by the foundation.  Applications for the Kresge Innovative Projects: Detroit were evaluated, in part, for alignment with the Detroit Future City strategic framework.