Jalonne White-Newsome to deliver U-M Health Sciences 2020 MLK Lecture: The (Mis)Education of US on Climate and Health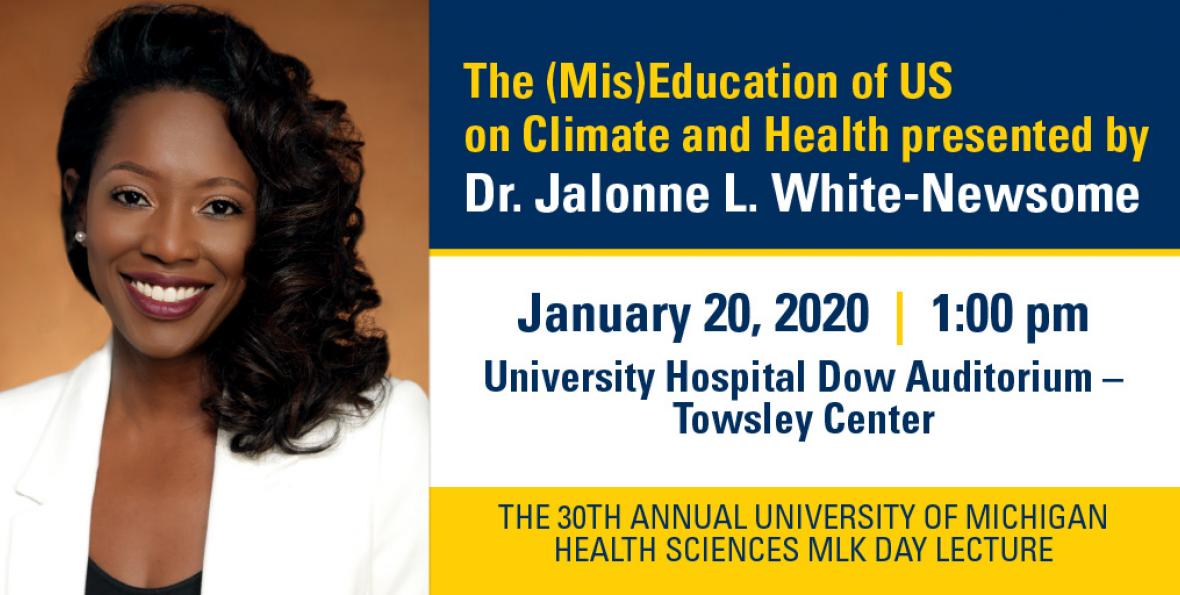 A renowned expert in the field of health equity and an alumna of the University of Michigan School of Public Health, Dr. Jalonne L. White-Newsome will deliver the 30th annual Martin Luther King, Jr., Day Health Sciences Lecture.
White-Newsome is a senior program officer at The Kresge Foundation and a researcher on climate, health and equity. She will speak at 1 p.m. Jan. 20 in the Dow Auditorium at U-M Hospital's Towsley Center for Continuing Medical Education.
White-Newsome's lecture will focus on the intersection of climate change, health and racial equity while complementing the 2020 Rev. Dr. Martin Luther King, Jr. Symposium's central theme of "The (Mis)Education of US."
"My goal is to reinforce it is up to all of us to acknowledge our 'mis-education,' to re-educate ourselves, to re-commit to our communities and to re-invent the policies, institutions and actions that will help everyone — regardless of race, class, color, creed, sexual identity or socioeconomic status — have the quality and quantity of life they deserve," White-Newsome said.
MORE INFORMATION
Event Overview
​The Record's special section on the 2020 MLK Symposium
Complete list of 2020 MLK Symposium events on the Ann Arbor campus
At Kresge, White-Newsome is responsible for the Environment Program's grant portfolio on Climate Resilient and Equitable Water Systems (CREWS). She is also a core team member of Kresge's Climate Change, Health and Equity Initiative (CCHE), supporting grantmaking across the public health sector. Dr. White-Newsome earned her PhD from the University of Michigan School of Public Health.
White-Newsome's background and expertise in health equity and climate change — and the School of Public Health's involvement in this year's upcoming "Earth Day at 50" events — made her an ideal choice for the MLK Lecture, said Michael Kasiborski, Public Health director of brand management and internal communication.
"We wanted to see if we could highlight climate and its effect on human health in a few different ways. This would be an appropriate place, knowing Dr. King was a man of action who fought against injustice, so we thought we could meld these two things happening on campus," Kasiborski said.
A version of this article was first published by the University Record, the University of Michigan's student publication.