Climate Resilient and Equitable Water Systems
An initiative to transform urban stormwater and wastewater systems to provide reliable, equitable and innovative services to communities despite the uncertainties introduced by climate change.
Climate change is already affecting water supply and management systems. Changes in the timing, frequency and intensity of precipitation are placing stress on the built and natural systems that provide fresh water, manage stormwater, and treat wastewater. Flooding is an issue of particular concern for urban, low-income communities, where degraded water quality, threats to public health, destruction of homes and property and economic harm occur disproportionately. We seek to advance a water equity agenda that advances solutions to climate-related flood and storm impacts on water systems and enhances local climate-resilience planning that supports integrated water-management practices.
We work to:
> Support a new cadre of water leaders to amplify marginalized voices and strengthen climate-vulnerable regions and water systems.
> Build the case and enabling environment for equitable water system transformation.
> Advance non-traditional approaches to financing, operations and community participation that produce multiple community benefits.
About CREWS
The Climate Resilient and Equitable Water Systems (CREWS) consists of 24 nonprofits working to advance equitable solutions to climate-related storm and flood impacts on low-income communities in U.S. cities. Many of the partner nonprofits work on CREWS projects in multiple locations across the nation.
 Compendium of Resources for CREWS Grantees


Parks as a Climate Solution, a report from Climate-Smart Cities Philadelphia
 


Building a Community of Practice at the Intersection of Water, Climate Resilience and Equity
 
Related News and Library Items
Read a series of recent columns authored by Jalonne White-Newsome highlighting the CREWS initiative.
Watch: Recent webinars and podcasts featuring CREWS partners and other Kresge grantees.
Equitable Adaptation Legal & Policy Toolkit Launch, presented by the Georgetown Climate Center (toolkit + webinar)

The Public Health Hazard of Urban Flooding, Finding Genius Podcast

Park Bench Chat Series: Reimagining Community Resilience, presented by The Trust for Public Land

Equity, Energy, and the Environment Series: Environmental Racism and Health Disparities, presented by ILLUME

Mental Health and Wellness Webinar: Resilience Begins with Me, presented by Kresge's CREWS initiative
Post-Pandemic: Building Back Resiliently, presented by Stanford Woods Institute for the Environment
Climate Change and Health: Learning from COVID-19, presented by Boston University School of Public Health
Environmental Extreme Events and COVID-19 in 2020, presented by National Academies of Sciences
Past articles highlighting urban flooding and climate change.
Featured Grantee
Green Infrastructure Leadership Exchange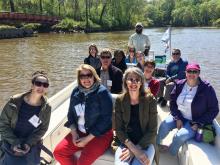 The Philadelphia-based Exchange works in 45 communities across North America, seeking to accelerate implementation of green stormwater infrastructure in communities across the continent.
Green stormwater infrastructure is an important strategy for communities to equitably and cost effectively address climate change. Despite its advantages, however, it is a relatively new field of practice with unique implementation challenges. The Exchange is a forum for communities to share information, experiment, and innovate faster, together.
 "The Exchange has been hugely influential in our work. We took a 10-15 year plan and made it start to happen now."
– Melina Scholefield, Manager of Green Infrastructure Implementation for the City of Vancouver
Stay Connected
RT @kresgefdn: Extreme heat is not a future risk. It's now and a hotter planet does not hurt equally. If you're poor and marginalized, you'…

Posted about 4 hours ago

RT @kresgefdn: Extreme heat is not a future risk. It's now and a hotter planet does not hurt equally. If you're poor and marginalized, you'…

Posted about 5 hours ago
FOLLOW US