FreshLo grantees from across U.S. gather to share progress, ideas and reflect on meaning of their work
Smiles, laughter, introspection, and more than a few tears graced a convening of more than 100 partners in Kresge's groundbreaking Fresh, Local and Equitable (FreshLo) initiative last week as participants shared successes, challenges and positive impacts the work has had in their neighborhoods.
It seemed far removed from 2015, when a philanthropic initiative fusing local arts and culture with healthy food was but a tantalizing idea. That year, more than 500 nonprofits from struggling urban communities across the nation applied for Kresge Foundation grants to begin planning exactly how that idea might blossom in their hometowns. The 23 groups whose proposals were eventually funded for implementation gathered last week in Denver for a face-to-face meeting of all participants.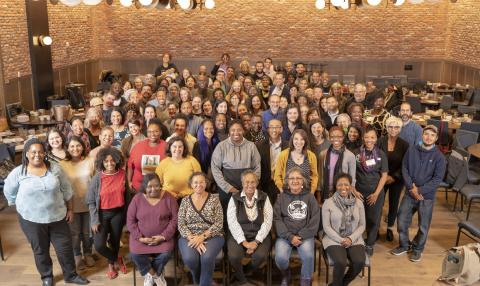 A joint effort of the foundation's Arts & Culture and Health programs, with support and facilitation from national program office partner DAISA Enterprises, FreshLo is the first national effort to intentionally integrate food, art and community revitalization at this scale. Nonprofit community organizations were awarded $200,000 two-year grants – following one-year, $75,000 planning grants – to implement neighborhood-scale projects that increase equitable economic opportunity for residents. They utilized an approach blending healthy food, community development and Creative Placemaking – the intentional integration of arts, culture and community-engaged design in community revitalization.
Regina R. Smith, managing director of the Arts & Culture Program, said the FreshLo work is groundbreaking. "This is courageous work you're doing because it is something different," she told the conveners. "You're helping us understand what this work looks like in deep and meaningful ways."
As David Fukuzawa, managing director of Kresge's Health and Human Services programs, explained, it was clear a number of years ago that a great deal of venture capital was flowing into farm-to-table enterprises and bypassing low-income communities like those represented at last week's gathering.
FreshLo brought these communities – all of them struggling to revitalize disinvested neighborhoods facing complex and dire social, economic and infrastructure challenges – into the equation. From open-air markets and community kitchens to restorative justice programs and artisan-crafted public spaces that reflect community heritage, the projects have engaged, inspired and informed – not to mention fed – their communities. Data presented at the convening identified almost 200 new or expanded food enterprises, almost 800 artists and culture bearers, and nearly 5,000 community residents meaningfully engaged in the work across the FreshLo projects nationwide.
Gregory Davis, managing strategist with the FreshLo grantee Rainier Beach Action Coalition, said the convening with dozens of peers representing grassroots community activists, organizational leaders and coalitions of like-minded groups – was inspirational. He was particularly affected by what he saw during one of the gathering's community site visits.
"I reflect deeply on a very simple occurrence that I observed at the site visit to Comal Heritage Food Incubator, a program of Focus Points Family Resource Center. Among the women participating in the Heritage Food Incubator there were Ethiopian, Latina and Syrian heritages. We were told the Ethiopian participant mastered making tortillas, a Latin heritage food staple. To me, this modeled the type of experiences and outcomes that FreshLo fosters, and that helps make this world a better place."
The food incubator seeks to turn talented home cooks rooted into chefs and equip them to pursue businesses as caterers, food truck operators or restaurateurs.
Keynoting the convening was Carlton Turner, who heads the Mississippi Center for Cultural Production, a community space designed to facilitate the research, development, marketing and commerce of agricultural products. He is also a performing artist, organizer, lecturer and member of the FreshLo Advisory Committee.
Turner said artists are more frequently being engaged in community development efforts because they "can tap into the collective psyche of a community … to forge beauty and create meaning." He counseled under-resourced and neglected communities to engage the power structures that are perpetuating inequities, and to work toward "short-term relief and long-term stability."
"Change may not come in your lifetime," Turner said, "but your lifetime can contribute to the change."
Other activities during the convening included:
Workshops on topics ranging from land acquisition by community nonprofits to the effects of legal cannabis on social equity.
Visits to three Denver sites – including the food incubator that Gregory Davis found so moving – where community-driven initiatives are infusing culture, art and local control of development.
Three-minute stories from each of the 23 grantee nonprofits illustrating an important or illustrative part of their FreshLo work.
Group discussions on how the FreshLo work on creative, cross-sector, food-oriented development can continue to be nurtured after the initiative sunsets in 2019.
The convening concluded with participants gathered in a circle to share reflections, poetry and performance art. Sometimes tears spoke to how much this work means to those gathered.
Finally, Diane Wilson and Louise Matson of Minneapolis-based Dream of Wild Health taught and led the group in a rendition of the Traveling Song, traditionally used by indigenous peoples to send friends on safe and fruitful journeys.