Chantel Rush named managing director of American Cities Program, joins Placed-Based Practice leadership team with Wendy Lewis Jackson and Benjamin Kennedy
Chantel Rush has been named managing director of The Kresge Foundation's American Cities Program.
An experienced grantmaker and national community development strategist, Rush will work alongside Wendy Lewis Jackson, managing director of Kresge's Detroit Program. The American Cities Program is an outgrowth of Kresge's Detroit Program, and the efforts remain closely aligned.
Both Rush and Jackson will report to Benjamin Kennedy, vice president of Place-Based Practice.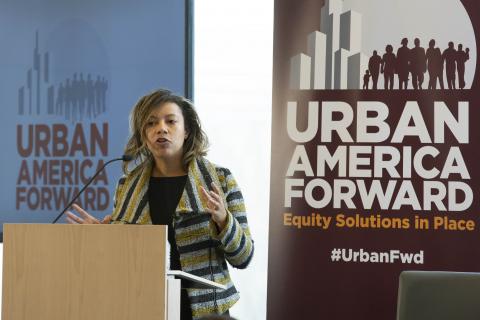 Beth Rooney for the University of Chicago's Office of Civic Engagement
As managing director, Rush will lead the American Cities Program's grantmaking which spans place-based community development in cities and national efforts to shape the community development field.  The program's national grantmaking supports pioneering research, knowledge exchange, intermediaries, and innovative solutions aimed at promoting effective community development practice. Rush will continue stewarding the program's place-based grantmaking in Memphis, Tennessee, New Orleans, Louisiana and other select cities across the country, as well as the Shared Prosperity Partnership.
Rush joined Kresge in 2015 as special assistant to Kresge President and CEO Rip Rapson. In 2016, she became the inaugural program officer of the American Cities effort and was later promoted to senior program officer.
"Chantel's incisive leadership, unmatched creativity and deep commitment to supporting locally driven efforts aimed at expanding opportunity and strengthening communities has been invaluable," said Kennedy. "As managing director of our American Cities Program, she is poised to deepen the impact of our place-based grantmaking in Memphis, New Orleans and cities nationwide."
In 2016, Rush shaped the development of the Drawing on Detroit initiative, which sought to uncover important lessons the city of Detroit could lend to other cities facing difficult municipal challenges.
Then in 2018, Rush led the launch of the Shared Prosperity Partnership, a collaboration of Kresge, the Brookings Metropolitan Policy Program, the Urban Institute and Living Cities. The partnership, which supports locally driven efforts in eight U.S. cities, convenes local leaders to discuss challenges to inclusive growth and provide data, research, and access to national experts, networks and financial resources.  
Rush has grown Kresge's cumulative grantmaking and social investing in Memphis from $19.8 million in 2016 to $61.6 million in 2019; under Rush's leadership, Kresge's place-based grantmaking and social investing in New Orleans has totaled more than $20 million since 2016.
Last year in partnership with Kresge's Detroit Program, the American Cities Program launched Kresge Innovative Projects: Memphis (KIP:M), a translation of the foundation's signature Detroit grantmaking initiative aimed at supporting resident-driven neighborhood projects. Twenty community-based organizations received a combined $2 million in grants through KIP:M.
Before joining Kresge, Rush served as senior analyst of strategy and business development at Gap Inc. She started her career in management consulting, where her responsibilities included advising both corporate and private equity clients.
A native of Orange County, California, Rush earned bachelor's degrees in international relations and Spanish language from Stanford University and a master's degree in business administration from Harvard Business School. Rush serves on the boards of the National Housing Law Project, the Greater New Orleans Funders Network and Signal-Return.  She also serves on the steering committees of inclusive economic development challenges for the Dallas and Boston Federal Reserve banks and was a 2017 Fellow of The Funders' Network PLACES program.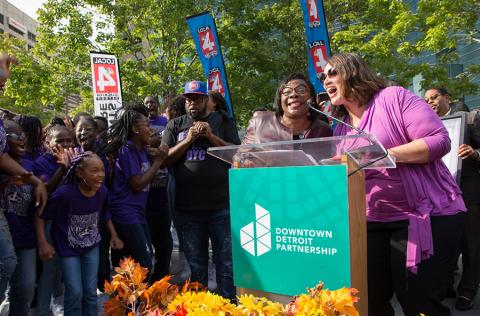 Photo by Montez Miller for The Kresge Foundation
"Kresge's American Cities efforts, and our place-based practice, evolved from a decade of comprehensive, cross-sectoral and interdisciplinary grantmaking led by our Detroit Program. And our ongoing work in Detroit continues to inform our approach to supporting community-driven solutions that strengthen neighborhoods," said Kennedy. "Together, the American Cities and Detroit programs are seeking to address the complexity of urban opportunity structures and striving for measurable results through concentrated investments in cities." 
Jackson joined Kresge in 2008, following stints as program director for Children and Families Initiatives and executive director for education initiatives at the Grand Rapids Community Foundation. Jackson joined Kresge the same year she was named an Emerging Leader by the Association of Black Foundation Executives (now known as ABFE).
Since joining Kresge, Jackson has been a prime mover in the evolution of the foundation's work in its hometown where it collaborates with civic, nonprofit and business partners to promote and expand long-term, equitable opportunity for its current and future residents. The program focuses on early childhood education, support of a robust arts and culture in the city and region, community and neighborhood development, building civic capacity within the city and layering support for catalytic improvements in such areas as Livernois-McNichols and the New Center and North End. 
Under Jackson's leadership, between 2016 and 2019, the Detroit Program committed more than $118 million in grants and investments. 
Among her major accomplishments, Jackson was instrumental in the creation of Kresge Innovative Projects: Detroit; the Hope Starts Here framework to make Detroit "a city that puts children first" by 2027, and in the launch of the P-20 cradle-to-career campus on the Marygrove campus in Northwest Detroit.
Jackson and Kennedy were named managing directors of Kresge's Detroit Program in 2016. Jackson has been the sole managing director of the Detroit Program since last year when Kennedy was named a foundation vice president to guide place-based efforts overall.
"Wendy fundamentally understands that the future of Detroit is the future of its neighborhoods, and our most important role ultimately is to enable and support the creativity of leaders in the city's neighborhoods," said Kennedy. "Wendy brings a depth of passion, integrity and experience to the city where she lives and that she knows intimately."
Jackson earned a bachelor's degree in political science and a master's degree in social work from the University of Michigan, with a concentration in community organization and social planning. A native of Grand Rapids, she is also an American Marshall Memorial Fellow of the German Marshall Fund of the United States.
In 2018, Jackson received the Dr. Gerald K. Smith Award for Philanthropy by the Michigan Forum for African-Americans in Philanthropy, an affinity group of the Council of Michigan Foundations. Jackson's board directorships include the Detroit Riverfront Conservancy, the Marygrove Conservancy and the Jalen Rose Leadership Academy. She also serves on the executive board of the Live6 Alliance.
The work of Kresge's Place-Based Practice is made possible by a team of 12 program staff members.