Back to blog
Mission, Money & Markets: Our favorite investment highlights of 2018
By Kimberlee Cornett, Managing Director
On any given day, as we hustle to negotiate investments, get term sheets signed, and converse with partners inside our organization and out, it can be easy to lose sight of whether our work is making a difference. Are communities experiencing new levels of opportunity? Are individual lives improving through better access to housing, health centers, or financing for small businesses?
We hope so. Thankfully, December gives us a little more space to reflect and take stock. When I look at my colleagues' highlights here, it's clear that the hard work truly happens on the ground. Our partners work tirelessly to put capital to work for the benefit of individuals and communities. What they do is inspiring. We hope, in some small way, the capital and partnership Kresge provides makes that work easier and stickier.
In 2018, our team approved or closed 14 transactions totaling $50 million in cash and guarantee commitments. We also saw the returns on some small grants made in years past, investments now yielding big dividends, which reaffirmed the value of using philanthropic tools in concert. For instance, a grant to LIIF in support of a coalition of lenders financing federally qualified health centers was one small ripple that led to a significant evolution of the Health Resources and Services Administration guarantee program. This program will make an impact on many more health centers than Kresge dollars ever could. Another example: A grant to the Chesapeake Bay Foundation to assess the feasibility of environmental impact bonds is indeed leading to a new bond issuance in Baltimore.
These are moments to celebrate. So, before we depart for the year, we hope you'll indulge us in sharing the highlights of what we saw in the impact investing field this year and to take a moment to express our gratitude for the opportunity to help facilitate such important work in communities. 
Kim Dempsey, Deputy Director
INVESTMENT HIGHLIGHTS: Kresge's $10 million guarantee to support solar + battery storage and ECMC Foundation's investment in College Forward's CoPilot platform
Financing Resilient Power: Kresge recently approved a $10 million guarantee to support the implementation of solar + battery storage systems in low-income communities. With the increasing occurrence of severe and climate-related weather events, widespread power outages are becoming more frequent and pose significant risks. Without access to electricity, for example, buildings can become dangerously hot or cold, elevators and lighting may cease to function, and ventilators and other medical devices may become inoperable. These risks are more severe for vulnerable populations. Solar+storage systems provide multiple benefits, including climate change preparedness, climate change mitigation, and cost savings. The markets for both solar panels and battery storage are growing rapidly. Still, the deployment of these systems in low-income communities has been limited. We hope our guarantee – which will benefit NYC Energy Efficiency Corporation, Enterprise Community Loan Fund and National Housing Trust, nonprofit lenders providing financing to resilient power projects – will help to bridge that divide.
ECMC Foundation & College Forward: College Forward works to improve the outcomes of first-generation, low-income, and under-resourced students throughout Texas. In 2014, it launched CoPilot, a holistic student information system built on Salesforce. CoPilot is an effective data platform developed by an organization with deep subject-matter expertise. With a new student-facing mobile app and future integration with the organization's full suite of curriculum, training and student content, CoPilot may be the most comprehensive and well-designed college access and success data-tracking tool on the market. In April, Kresge partnered with the ECMC Foundation to provide a $1 million PRI loan to help expand the reach of CoPilot and empower other student service providers with this cost-effective data solution. Our joint PRI is the largest investment to date in CoPilot and the first impact investment from national higher education funders into the platform.
Joe Evans, Portfolio Manager
INVESTMENT HIGHLIGHTS: Kresge's $2 million investment in NewCorp Inc., a nonprofit community development finance institution (CDFI) based in New Orleans, and Kresge's $3 million investment to Pathways Lending, a Tennessee-based CDFI, working in Memphis. Both cities are Kresge focus cities.
NewCorp Inc.: Kresge's work in Detroit has taught us many things about working – and investing – in place. One is that black-owned small businesses do not have equitable access to financing and expertise. We've also learned the important role that local CDFIs play in addressing these challenges. In New Orleans, we are helping to ensure disadvantaged business enterprises have access to working capital through an up to $2-million junior loan that will leverage $8 million dollars of senior capital. The pilot fund launched in 2016 demonstrated promising results, and Kresge's investment will allow a new round of these business owners to build wealth and improve access to city contracts and technical assistance.
Pathways Lending: In Memphis, we recently approved a $3 million loan to establish a new fund that will help ensure black-owned businesses have access to "mezzanine financing" (i.e.: more patient, equity-like financing). In this case, Pathways Lending gets a more flexible and risk-tolerant pool of capital to fund the mezzanine product. Pathways also has raised $15 million in loans from its bank partners to provide a term debt product as well. 
In both situations, the municipality and other large local organizations have made public commitments to increase minority contracting, and we are working on the supply-side to ensure that the minority contractors have access to the capital – and expert advice – they need to take advantage of these opportunities.
Aaron Seybert, Investment Officer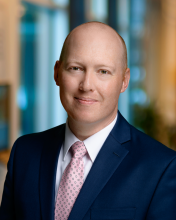 INVESTMENT HIGHLIGHTS: Kresge's $2 million equity investment in Jefferson East Development Corporation (JEIDC) and Opportunity Zones
JEI Development Corp.: I love this deal for multiple reasons. First, Jefferson Chalmers is a focus neighborhood for Kresge's Detroit Program and one undergoing rapid change. Our partner JEI is the steward working to support residents to self-determine their future neighborhood and avoid displacement. Our equity investment gives JEIDC the same financial tool the private sector uses to profit in real estate in Detroit, namely unrestricted equity. This tool will allow the organization to acquire key assets in its district and ensure that the neighborhood transformation is inclusive of resident priorities. Finally, we're excited to support a new generation of African American leaders in Detroit in Derric Scott, JEIDC's intrepid executive director.
Opportunity Zones: Opportunity Zones are an unprecedented opportunity to bring equity into the community development marketplace without the use of federal tax credits. However, this incentive in its current state needs guardrails because it provides no real guarantee that residents of low-income communities will benefit from the kinds of investments they want or need in their neighborhoods. Kresge stepped into this fray this year by issuing a call for proposals from fund managers willing to put community impact at the center of their work. I'm proud to work for an organization that is willing to attempt to guide this market, set some standards and influence the investor community as to how responsible funds should operate in this market.