Kresge, ECMC Foundations Combine for $1.4 Million Investment in College Forward to Scale Predictive Analytics Software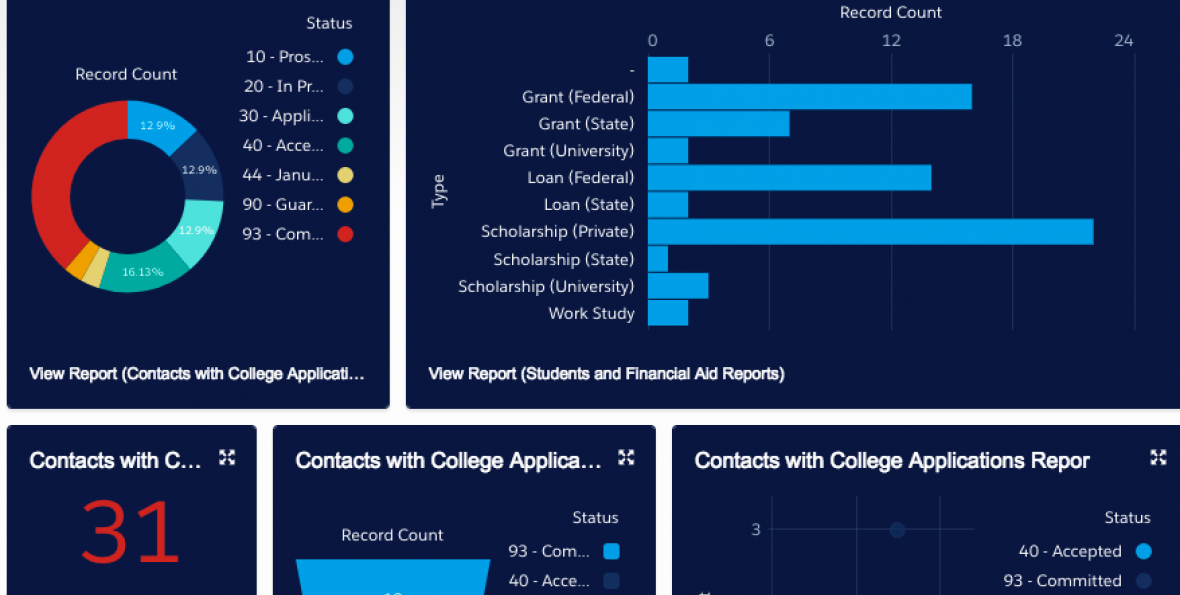 AUSTIN, TEXAS – The Kresge Foundation and the ECMC Foundation today announced a joint investment in College Forward's CoPilot platform, which will allow the college access and success nonprofit to grow the student-information system to reach upward of 1 million students from low-income communities across the nation in the coming years.
Kresge's commitment includes a $600,000 program-related investment (PRI) loan paired with a $400,000 grant from its nationally-focused Education Program.
With this transaction, ECMC Foundation marked its first direct investment through a $400,000 PRI, bringing the total to $1.4 million in new support to College Forward.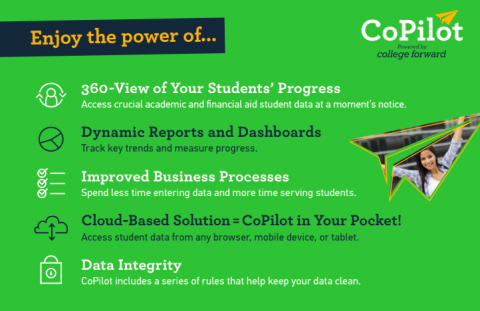 Launched in 2014, CoPilot is a cloud-based student information system built on the Salesforce customer-relationship management platform that provides nonprofit and education partners a holistic student profile. Users can access and analyze critical student data to deliver targeted interventions that help ensure college completion for their students.
Currently, the CoPilot system supports 40 organizations reaching nearly 300,000 students; the goal of these investments is to scale it to hundreds of thousands more through expanded sales and marketingefforts, as well as to support student-facing app improvements and coaching technical assistance.
This is the largest investment to date in CoPilot and the first impact investment from national higher education funders into the platform.
"Cash-strapped nonprofits want to understand how well they are serving students, but this has too often meant having to manage crucial student data in Excel sheets and other archaic, one-size-fits all systems, making it difficult to obtain an accurate picture of how a given student is doing," said Rip Rapson, Kresge's president & CEO. "Now, through CoPilot, College Forward has broken new ground in solving the technological gap so many nonprofits face as they attempt to understand their impact on student outcomes. CoPilot holds enormous potential to extend the reach of this cost-effective data solution to many other student service providers.
Kresge's Social Investment Practice has a $350 million commitment to impact investing through 2020 and works across the foundation's program teams. This is its third investment with the national Education Program, which works to eliminate postsecondary equity and attainment gaps for low-income and students of color.
ECMC Foundation began making program-related investments through Education Innovation Ventures (EIV) in January 2018 and through partnerships with Employment Technology Fund and Venn Foundation. College Forward is one of ECMC Foundation's first two direct PRIs. EIV provides flexible, risk capital to ventures with innovative and scalable solutions that increase educational and career attainment among underserved students.
"For us, this investment is about using the right tool to address a problem at the right time," said Peter Taylor, president, ECMC Foundation. "College Forward has proven there's a strong market for the CoPilot tool and has success stories to tell of its impact on college success nonprofits. These investments will allow College Forward to bring more users on board and to create new levels of sustainability for its future – ensuring new generations of Texans and students across the country will be well supported as they pursue a higher education degree."
"CoPilot represents a leap forward for the college access and completion industry, providing nonprofit and education institutions a student-information application built on an advanced technological platform at a competitive price," said Austin Buchan, the CEO of College Forward. "We're thrilled to expand our partnerships with both Kresge and ECMC Foundations through these investments and know they mean we'll be able to reach students who right now are making their way without the support they need."