Health
Our goal is to reduce health disparities by promoting conditions and environments that lead to positive health outcomes for all Americans.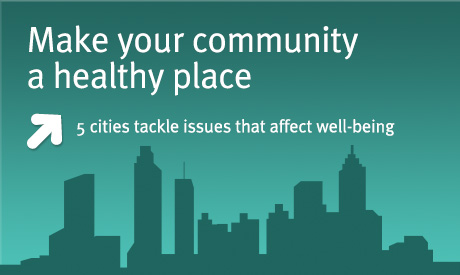 Program Overview
We promote the health and well-being of low-income and vulnerable populations by improving the environmental and social conditions affecting their communities and by improving access to high-quality health care.
We support work at the local, state and national levels. However, as a national funder, we look for projects and efforts that have wide potential reach and influence. In some cases, these may be place-based, local activities aimed at demonstrating solutions to practical or policy-related problems that can be adapted in many communities.
In our place-based grantmaking, we look for projects that engage community residents as partners in promoting health in the places they live. We believe the most effective way to improve health is to assist those ready to tackle community-defined problems.
Focused on fostering health equity, we put a premium on cross-sector, multifield projects that address environmental and policy change. Programs that are primarily aimed at changing individual or group behavior are a low priority.
We fund activities in these focus areas:
When we talk about community health partnerships, we're putting the emphasis on health, rather than on health care or sickness; on community, rather than on individuals; and on the collaborations or partnerships we believe are best able to address the multiple factors that determine health.
We work to strengthen the primary-care safety net and community health systems. We base our approach on the objectives of the Institute for Healthcare Improvement. Known as the "Triple Aim," those objectives are to:
improve the health of the population;
enhance the patient experience of care, including quality, access and reliability;
reduce, or at least control, the per capita cost of care.
We embrace the idea that the entire health care system should seek to improve well-being at the population, or community, level. While our current grantmaking and investments focus on the first two elements of the Triple Aim, we believe that improving the health of the population ultimately affects the cost of care.
We have several initiatives under way:
Our safety net enhancement initiative funds efforts to strengthen collaboration among community-based health care agencies that serve needy populations.
Our cross-sector innovation work provides support for new and promising practices in population health, especially innovations that link health care and clinical services to community health.
We invest in efforts to make the places where low-income families live, learn, work and play safe and healthy. Our support is focused on housing, food, transportation and the built environment as key determinants of health.
In our "healthy housing" work, we take a comprehensive approach and support work to abate hazards, accelerate policy and systems change and to build community engagement.
In the transportation and the built environment area, we partner with organizations addressing the health effects of freight transport, especially on vulnerable communities and workers. We also support work to re-examine aspects of the built environment that create barriers to physical activity, air and water quality, and safety.
In our "healthy food" funding, we invest in efforts to improve food-system policies and practices, especially those that provide better access to fruits, vegetables and other healthful foods and that reduce the emphasis on products without nutritional benefits.
Funding Methods
We award grants and make program-related investments. The latter may take the form of direct loans, guarantees that provide credit support to borrowers, or linked deposits. (Learn more about our Social Investment Practice.)
We accept and review inquiries for some grants on an ongoing basis. Other portions of our portfolio are developed through a time-limited, request-for-proposal-type process.
(PLEASE NOTE: Because our budget is largely committed, we expect to confine grantmaking for the remainder of 2014 to support for organizations currently invited to apply. We do not anticipate awarding grants to other applicants until 2015. Grantseekers will still be able to submit requests for support, but funding decisions will be delayed until early next year.)
Eligibility
Who should apply?
U.S. 501(c)(3) organizations with audited financial statements that are not classified as private foundations. Audits must be independently prepared following Generally Accepted Accounting Principles or Government Auditing Standards. Financial statements prepared on a cash, modified cash, compilation or review basis do not qualify.
Government entities.
Who should not apply?
Individuals.
Organizations that discriminate on the basis of race, color, religion, gender, national origin, citizenship status, age, disability, sexual orientation or veteran status.
Organizations that require membership in certain religions or advance a particular religious faith. (Faith-based organizations may be eligible if they welcome and serve all members of the community regardless of religious belief.)
Programs operated to benefit for-profit organizations.
We rarely fund:
Projects that are primarily focused on direct health or social services
Health education, promotion or counseling programs
Construction or renovation of facilities, including the acquisition of medical equipment, are ineligible for funding.
Application Process
Please review the applicable focus area's Web page and the application process it recommends.