Summer at Kresge: Human Services intern aims to gain new perspectives on serving others in nonprofit work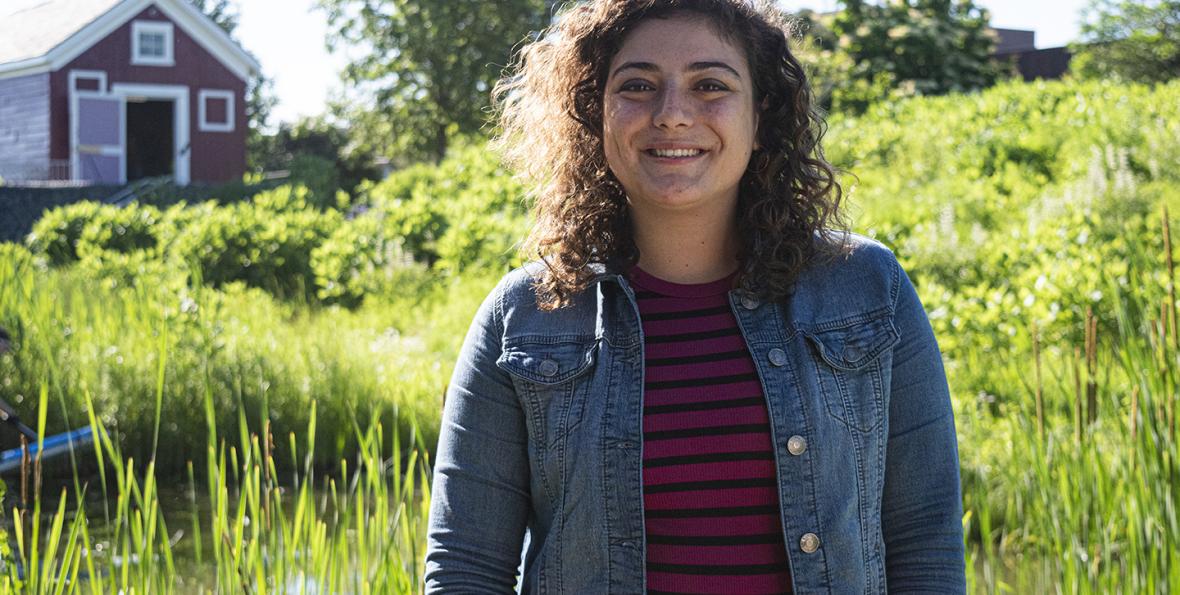 Editor's note: The foundation is hosting eight summer interns and fellows this year from across the U.S. Check back each week to learn about these rising social sector leaders in this series, Summer at Kresge.
It is easy to see Eleanor Khirallah's passion for others.
The Human Services team's summer intern recently graduated with a Bachelor of Arts in Public Policy from the University of Chicago. She brings extensive experience to the foundation from nonprofit internships with the Cook County State's Attorney's Office, League of Women Voters of Illinois, Muslim Public Affairs Council, Senator Gary Peters' Constituent Services Office, and more.
Khirallah's personality – humble, attentive and approachable – is well-suited to flourish in fields that involve helping others thrive. She grew up in Huntington Woods, Michigan, where her parents instilled in her at an early age the value of listening, understanding and helping others. Her parents, teachers of English as a Second Language classes at Oakland
Community College, "showed me how much impact you can make doing something you love, just by really responding to and truly working toward the needs and goals of the communities you're engaging with," she said.
Khirallah reflected this commitment by participating as much as she could in nonprofit advocacy work that targets solutions to different social issues. In these roles, she learned how nonprofits function — gaining skills in grant-writing, lobbying and creating strategies to provide accessible services to those in need.
She was led to the Kresge internship opportunity by one of her favorite professors, who suggested that the foundation might give her valuable insights into how nonprofits secure funding toward important work.
"In the future, I really want to be able to internalize and see what the communities I want to work with actually need and want, rather than coming in and assuming I can make an impact in the way I was taught in school, or the way I think I should be based on my own understandings and assumptions," she said
This summer, Khirallah will assist the Human Services team as it works with between 5 and 7 nonprofit organizations focused on community engagement in Memphis. The team hopes that by providing a place to network and discuss local issues, the groups will work together effectively to tackle larger social issues.
The convening is part of the NextGen initiative, which provides funding to select nonprofit organizations and public agencies. The chosen organizations are person-centered, outcomes-based, data-driven and apply a racial equity lens to focus on greater sector impact and systems change.
Khirallah is excited to travel to Memphis and see firsthand "some really cool organizations that are doing work within these communities." She's also looking forward to learning how nonprofits "grapple with being critical social service providers at a time when those services aren't being provided by the government."
By the time her internship ends in August, Khirallah hopes that her experience at Kresge will help her navigate her future. She wants to attend law school and become an attorney working on cases she feels most passionate about: mass incarceration and immigration.
These passions grew from Khirallah's time at Metropolitan Family Services and Family Defense Center, both located in Chicago, Illinois. It was her first time seeing the effect of giving accessible quality help to those who would otherwise not receive it.
"I want to be able to make a larger impact and really engage with my clients in a meaningful (and appropriate) way that empowers them to reach their goals, whether that be on a community level or on an individual basis." Khirallah said. This dream ultimately ties back to what her parents have taught her with their own work.
Khirallah wants to spend her free time getting reacquainted with the city of Detroit, where she spent a lot of her youth. She plans on attending local events – particularly exploring the coffee shop scene, going to concerts, and learning the rich history behind the diverse group of people that made her fall in love with the city years ago.
Overall, Khirallah envisions an exciting summer. "I've never worked in a foundation or really for any place that wasn't a nonprofit or government agency," she says, "so I'm excited to see how that changes and maybe even facilitates my understanding to combat inequities and empower communities."
-- By Sara Mylrea