Fostering the Next Generation of Human Services Organizations
Focus Area Overview
Recognizing the power, influence and impact of direct service nonprofit, private and public sector organizations in helping families achieve social and economic mobility, Kresge's Human Services Program focuses on helping the human services sector improve its effectiveness through better practice, policy development and advocacy.
Through our Next Generation Initiative, we provide a cohort of public sector and nonprofit direct service organizations with a learning opportunity that further improves their leadership development, develops a community of practice and creates organizational and cohort-wide action plans that advance and accelerate social and economic mobility using a two-generation, whole-family approach that emphasizes the importance of including fathers.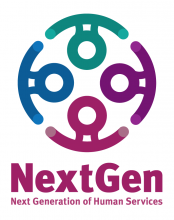 Our NextGen Initiative supports a cohort of high-performing organizations that:
Are person-centered.
Are outcomes-based.
Are data-driven.
Apply a racial equity lens.
Focus on greater sector impact and systems change.
The initiative seeks to accelerate an organization's journey toward stronger overall outcomes, with a focus on increasing social and economic mobility and achieving policy and systems change.
The Human Services Program operates the NextGen Initiative through a competitive, time-limited application process. To find out about upcoming opportunities to apply for this learning initiative, sign up for our newsletter or follow us on Twitter at @kresgehumansvcs.