Summer at Kresge: Girls Who Invest participant excited to gain foundation experience
Mari-Elle Sudarkasa moved to South Africa before the age of two and grew up in Johannesburg before returning to the U.S. for college. That background helped her establish a strong connection to Kresge because of its higher education work in South Africa.
Now a junior at Rutgers University-Newark double majoring in management and finance, she is eagerly using her summer to further connect with the foundation and its work as the 2018 Investment Team analyst intern.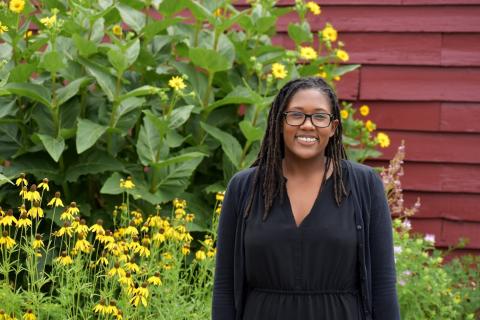 Sudarkasa previously worked as a consultant for Africa Business Group, a company focused on promoting African economic development projects, but quickly learned she wanted to go deeper into the work of finance.
"The investing space is an intricate part of finance where you get to hone in on different skills," Sudarkasa said. "And for me, it's the cross section of my interests in the quantitative side of finance with the strategic side of consulting."
Sudarkasa found her internship through Girls Who Invest (GWI), a nonprofit organization dedicated to building a pipeline of female asset managers, with a goal of seeing 30 percent of global investable capital managed by women by 2030.
Prior to coming to Kresge, Sudarkasa spent four weeks with GWI at the University of Notre Dame doing classroom work that familiarized her with investments.
Sudarkasa originally heard of Kresge through her work at Rutgers Graduate School's Office of the Dean, where she researched potential partnerships with higher education institutions in South Africa.
"The link between Kresge and my life was obvious," she said, "I had researched them in the past for work, and they directly impact where I am from, so that made me excited to be placed here."
Being placed at a foundation appealed to her because the small size of the investment team gives her more exposure to different roles, functions and work projects.
"I'm always impressed by the work Kresge does, because it is makes such an impact," Sudarkasa said, "so being able to be a part of the investing space and at a foundation is the best of both worlds."
Sudarkasa has been spending her time working on projects ranging from researching regions of the world where Kresge has yet to invest, evaluating how Kresge performs among its investment peers, and general data compilation.
"It's all challenging work in that it makes me think, but it's also interesting and new to me," she said, "and the best part is that it is all useful work that the foundation will value."