Stronger together: Leaders from across the nation celebrate work toward fusion of social justice and climate resilience
Bridging the divide between social justice advocacy and efforts to address climate change was an ambitious idea in 2014. That's when The Kresge Foundation's Environment Program launched an initiative supporting new approaches to climate resilience* that are led by, and engage and benefit, communities of color and low-income communities.
Following a year of work supported by a planning grant, 15 community-based nonprofit organizations from across the nation were selected to receive three-year grants that would allow them to bend and shape local and regional climate resilience policies and practices to address equity concerns and social justice outcomes.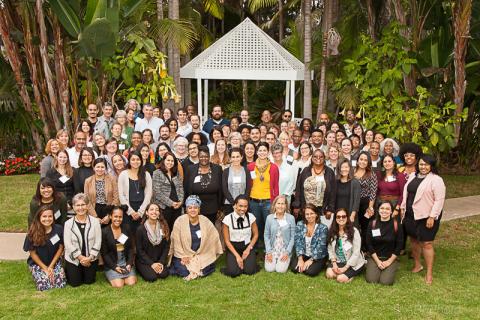 Last week – at the final gathering of what came to be called the Climate Resilience and Urban Opportunity (CRUO) Initiative (CRUO) – participants shared their successes, frustrations, aspirations, and bold commitments to ensure  a safer, more equitable future for their cities and neighborhoods.
Kresge gathered more than 100 persons – several from each of the 15 CRUO organizations and a complementary roster of allies – in San Diego for a three-day convening Sept. 26-28.  Participants exchanged stories from their communities, expressed their hopes for the future of inclusive climate resilience work, and celebrated the significant inroads in equitable climate resilience planning that the CRUO work helped make possible.
"I loved this convening and the experience with the CRUO cohort," said Zelalem Adefris, climate resilience director with Catalyst Miami, one of the CRUO organizations. "Kresge's strategic grantmaking has allowed us to do impactful and transformational work in the climate resilience space."
In addition to Kresge grantees from the 15 nonprofits, the San Diego gathering included a wide array of coalition partners working in collaboration with the implementation grant recipients including nearly 20 other non-profit organizations funded across the Environment Program involved in placed-based, field building, and other activities to strengthen climate-resilience in low-income communities; and peer-funders and ally organizations. 
Convening participants experienced:
Workshops on scenario planning, anti-displacement strategies for equitable and just climate resilience, community investment financing, and maximizing community benefits;
Community visits hosted by local non-profit organizations working to advance community-driven solutions to build resilience to climate change, including a stop at the U.S./Mexico border to explore the interrelated challenges of flooding, pollution, public health, and local neighborhoods fighting for self-determination and cultural cohesion;
Storytelling sessions where participants deepened their knowledge on how to communicate powerful and persuasive stories of their climate resilience efforts;
Workshops and group activities exploring lessons learned and the collective narrative generated by the CRUO work, and;
Tools and support organizations need to move forward with equitable climate resilience work after the Kresge initiative sunsets in December of this year.
Kresge Foundation President Rip Rapson told the leaders that their work has been an inspiration both for the foundation and for those working at the intersection of climate resilience and equity.
"Four years ago, we could see the outlines of a movement that joined social justice and environmental advocacy," Rapson said during a dinner keynote address. "Today, a movement centered in climate resilience is beginning to crystalize … a movement that is surfacing models capable of challenging, disrupting and deconstructing outmoded, rigid, unjust impediments to community health and welfare in favor of people-centered, community-led models and methods capable of ushering real and lasting change."
When the CRUO Initiative ends in December 2018, the foundation will have invested more than $14 million over four years on this effort. Beyond the CRUO Initiative, Kresge's Environment Program prioritizes investment in community-based equitable climate resilience efforts across its portfolio. An outcome evaluation for CRUO will be released in Spring 2019. In addition, the Environment Program team will engage in various field-building activities in the coming year to continue to share lessons learned from this innovative body of work.
* Kresge employs a comprehensive definition of climate resilience that encompasses climate-change adaptation, climate-change mitigation and social cohesion. We believe that actions in support of these three dimensions are most powerful when they are pursued jointly and designed to be mutually reinforcing. To build their resilience to climate change, communities must: 
• Anticipate and prepare for pressures and shocks that climate change will introduce or worsen (i.e., pursue climate-change adaptation)
• Lessen overall demand for energy and increase the proportion derived from renewable sources (i.e., pursue climate-change mitigation); and
• Foster social cohesion, recognizing the imperative of social inclusion as well as the critical role that networks among individuals and institutions play in conveying information and mutual support.