Stories of Impact: Health starts at home for Emerson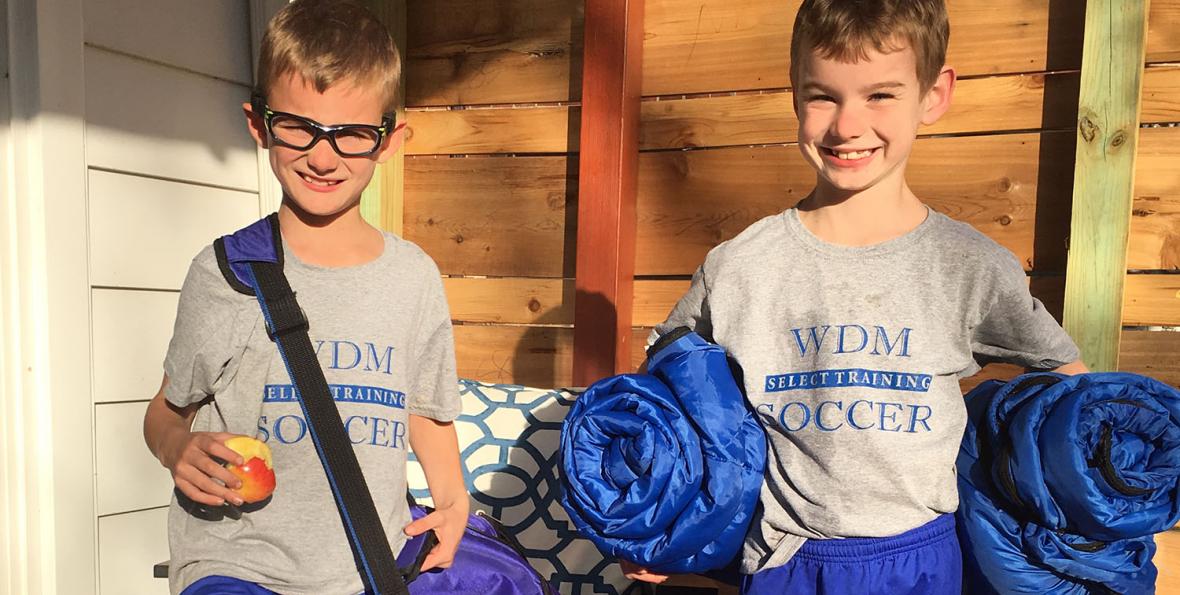 It took dozens of hospital visits, misdiagnoses, twists and turns, and one big scare for Kayla to learn the truth about her son Emerson.
For years, she'd sought answers from doctors and the medical community. Why couldn't he breathe? Could this kill him? What would help her son live a normal life, free from the moment-to-moment worry of not being able to get the air he needs?
She found the solution in a place she wasn't expecting – right at home.
"Why didn't I know this before?" the Des Moines mom of four said. "Now I'm super passionate about telling people what they can do to help asthma. You don't have to keep admitting them to the hospital -- we have the power to change their lives right in their bedroom. It's like…. Holy cow!"
Sputtering Start
Problems for Emerson began early in his life.
Born a twin, he and his brother Oakley arrived eight weeks early and spent their first 24 hours intubated. A three-week NICU stint followed. Then, in that first year, Emerson was readmitted to the hospital twice, first for choking and gasping for air during a feeding. He weighed only six pounds during that first trip, spending four days in the pediatric intensive care unit.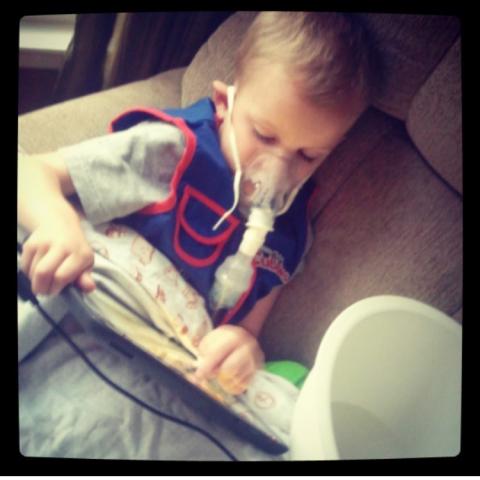 "We were terrified," said Kayla. "He wasn't breathing in my own arms. It was very scary."
Then at 9 months old, both twins were hospitalized for RSV, a severe form of lung infection that hits babies.
That was just the beginning. In total, Emerson was hospitalized six times in his first six years of life. Always for something involving his ability to breathe, often pneumonia.
"And then," Kayla said, "he started showing signs of asthma."
A first doctor diagnosed Emerson with asthma at age 2 and put him on an inhaler. Typically, this diagnosis should have led to a referral to a pulmonologist. But as a young mom dealing with this issue for the first time, Kayla didn't know this, and the referral was never made. This mistake wasn't discovered for years, and when she finally took him to see the doctor expert in breathing issues, he said, "Oh, he doesn't have asthma."
What was going on, Kayla thought.
"They wanted to take him off all of his medications, and I thought, okay, this is extreme," she said. "I said, 'I just really don't agree with this,' but he insisted."
"I wish I would have gone with my gut … because what happened next was super scary."
The Lowest Moment
Emerson was off his medications for two weeks when, in early November, he spent a day at home wheezing and coughing. Kayla gave him puffs from a rescue inhaler they still had on hand. But it wasn't helping. By 5 p.m., they were at the ER. She thought they'd give them some medicine and send them home. Then they took his pulse ox reading, a test that tells doctors how much oxygen is in the blood.
"A normal reading is 99 to 100 percent," Kayla said. "His was 85. It had never been that low before. The nurses started fidgeting with it, thinking the reading must be wrong. I was like, 'Oh my word, we are getting close to deadly here.' "
He started taking oxygen and stayed on it for hours. They prepared to be admitted to ICU on the recommendation of a resident, who said Emerson indeed was having an asthma attack and would not have woken up in the morning if he hadn't been brought in.
"I was angry beyond belief," Kayla said. "I wish I'd followed my gut more."
The Final Straw
That evening at the hospital, a social worker visited Kayla and asked if Emerson had ever been tested for allergies, which can be a leading cause of asthma issues.
He had not, since the pulmonologist had wrongly determined he didn't even have asthma.
That's when the social worker urged Kayla to enroll in something called Healthy Homes Des Moines. Her family met the minimum qualifications of having a child ages 2-12 who uses a nebulizer or inhaler and qualified for Medicaid. Emerson did qualify thanks to another, unrelated diagnosis of cerebral palsy.
Kayla learned that through Healthy Homes Des Moines, a home inspector would come to conduct a home assessment to identify whether anything in the home could be causing his asthma.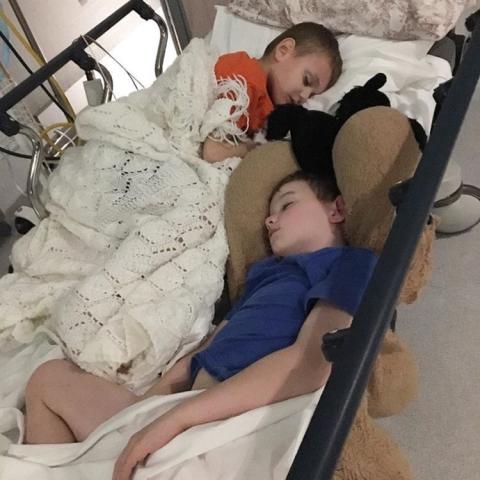 Healthy Homes Des Moines was one of 18 projects funded in part through the BUILD Health Challenge, a Kresge Foundation-supported national initiative designed to create a new norm around health care in America. Its goal is to move the focus on care upstream and to support it through innovative, community partnerships that include health care organizations, cities and other public entities like schools.
Its focus is on the fact that health isn't made in a doctor's office – it's the result of air breathed, food consumed, and the places people live, work and play.
Backed by the social worker's support, Kayla enrolled in the program and switched pulmonologists, finding one who did diagnose Emerson with asthma and ordered an allergy test, which confirmed an allergy to dust mites – one of the worst he'd ever seen.
Assessors from Healthy Homes Des Moines then visited Kayla's 110-year-old home and ultimately invested about $2,000 to remediate a few small issues. That covered a new air purifier, a mattress cover and pillow cover, new carpet in the kids' playroom, and a HEPA high-efficiency vacuum. They also replaced one section of drywall where mold was detected.
"I was just shocked," Kayla said. "I'm not the most educated person in the world, but I was just shocked when the nurse who came out educated me on the home health hazards. I was like … why did I not know this? Why isn't someone sitting down with parents? He's been taking all these steroids his whole his, and he should not have had to! The more educated we are, the more we could have prevented these major episodes."
Now, a Healthy Home
In all, the Healthy Homes Des Moines renovations took two days.
"It was very quick," Kayla said.
That was the end of 2016. And since then, Emerson has not taken a single steroid. He has not been in the emergency room. He has not visited urgent care.
"Being at the hospital was such a regular part of our lives," Kayla said. "We thought we'd have to deal with it for life."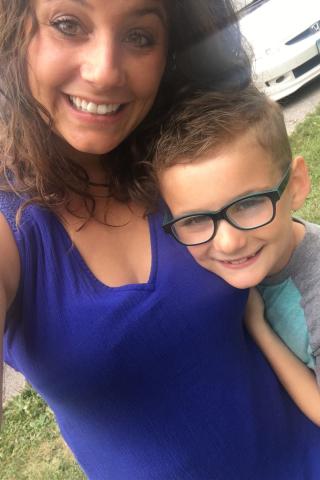 Kayla guesses her son's asthma-related issues cost $100,000 in medication and hospital visits, all paid by Medicaid. The home interventions cost $2,000 – 2 percent of that.
Now, Emerson is enjoying life as a typical 8-year-old kid. He isn't missing school. He completed a triathlon last summer. And he can play an entire soccer game without needing an inhaler – something unthinkable before.
"He even played three whole games in one day for a tournament," Kayla said, her voice filling with emotion. "We are so grateful. It's hard to encapsulate and to say what this small act did for our family and his life."
Healthy Homes Des Moines is a program funded in part through the Build Health Challenge, a partner of Kresge's Health Program. The call for applications for the third cohort is open now at https://buildhealthchallenge.org/application/