Senior Fellow Fred Karnas to advance housing work in Virginia
Will continue to foster much of the housing and health work he supported for 6 years at Kresge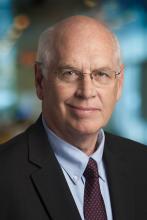 Kresge Senior Fellow Fred Karnas is taking on a new position at the Richmond Memorial Health Foundation in May.  In his new role, Fred will continue to foster much of the housing and health work he supported at Kresge with a focus on Richmond, Virginia, where he makes his home.
"Since joining Kresge in 2013, Fred has been a beacon of expertise, helping us understand and address issues at the intersection of housing, health, and human services," said Kresge President and CEO Rip Rapson.  "Through Fred's passionate work, mitigating and addressing housing instability has been imprinted throughout the foundation's funding strategies."
During his tenure, Karnas represented Kresge on the Funders for Housing and Opportunity collaborative and Funders Together to End Homelessness. He also helped design and introduce Advancing Healthy Equity through Housing, a funding opportunity that seeks to identify and accelerate community-led policy and system changes. Earlier this month, the foundation began accepting applications for a second round of funding for the initiative through May 7.