New Kresge, Abt study: Communities across U.S. pioneering innovative approaches to adapt to climate hazards
Communities across the nation are implementing innovative approaches to protect residents from the impacts of climate change, providing models and lessons that can be applied across the country according to a report released this week by Abt Associates and The Kresge Foundation.
Climate Adaptation: The State of Practice in U.S. Communities is the first study to examine, in depth, actions that multiple municipalities are taking to address climate-change fueled events like flooding, heat waves, wildfires and intense storms.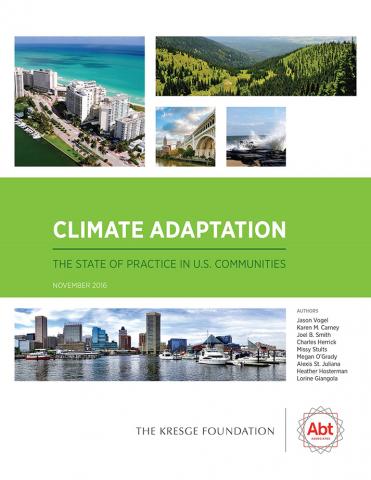 The study found that more municipalities are preparing for climate risks than is conventionally believed, that many of those actions support multiple community goals and values, and that despite the progress much more work is necessary to comprehensively address climate risks.
"From rising seas to stronger superstorms, from catastrophic wildfires to devastating '500-year floods' that now occur with increasing frequency, there is a growing acknowledgement that communities must change their business-as-usual approach," said Lois DeBacker, director of the Environment Program for The Kresge Foundation. "This report is the first of its kind to attempt to map some of the best strategies being deployed in communities to address these threats."
The report analyzes efforts currently underway, the motivations for action, and how communities have moved beyond planning to action. The impetus for the report was the immense challenges posed by climate change, the need to adapt to its impacts, and the opportunity for communities to learn from one another.
Research for the report included an extensive review of technical and professional literature and interviews with 50 leaders in fields relevant to community-based adaptation. It includes separate case studies of distinct adaptation actions in 17 communities across the country – from forest thinning in Flagstaff, Arizona to neighborhood capacity building in Cleveland, Ohio.
Among the findings:
More communities are actively preparing for climate risks than is conventionally believed, although climate change is often not the primary driver of those preparations. Many of the adaptation actions profiled support multiple community values and goals such as infrastructure improvement, health enhancement, and social engagement. Reducing climate risks is not always the sole justification and most measures taken provide benefits even under today's climate
Models of effective adaptation actions are readily available for local governments to adopt. Nearly all successful actions capitalize on effective leadership, work across multiple agencies or sectors, and harness or generate input and support from residents.
Waiting does not guarantee more or better information, and risks are growing. Communities can and should act now to reduce climate-fueled risks.
While the existing actions are effective and promising, many are piecemeal. Much more work is needed for communities to comprehensively reduce their vulnerability to climate variability, extreme events and climate change.
In addition to the broad lessons and conclusions, 17 separate community case studies were published as part of the report. Each case study is an exhaustive profile a single adaptation action in that community.
Case study communities include:
Baltimore, Maryland
Boston, Massachusetts
Chula Vista, California
Cleveland, Ohio
El Paso County, Texas
Flagstaff, Arizona
Fort Collins, Colorado
Grand Rapids, Michigan
Miami-Dade, Florida
Coastal Mobile County, Alabama
Norfolk, Virginia
Oakland, California
Seattle, Washington
Southwestern Crown, Montana
Spartanburg, South Carolina
Tulsa, Oklahoma
Joel Smith, a principal with Abt Associates, said the report can be a helpful resource for communities working to establish sound protections against the impacts of a changing climate: "Leading practices that can be replicated in other communities are the strength of this report," said Smith. "It can serve as an invaluable tool for municipal planners, adaptation professionals and community-based champions of climate resilience who want to see what effective models look like in other places."