Kresge invests $5 million in Inclusive Southern Equity Fund to help serve the needs of unbanked consumers
The Kresge Foundation announced that it is providing a $5 million equity investment to the Inclusiv Southern Equity Fund that invests capital in credit unions serving families with low-income and communities of color in 17 southern states.
Kresge intends the investment to serve as a credit enhancement for social impact investors to help address the needs of the millions of unbanked and underbanked consumers who have no or limited banking relationships.
These consumers – who are oftentimes credit challenged or live with income volatility – face a lack of banking opportunities that can impact their ability to build credit, secure capital and move up the economic ladder.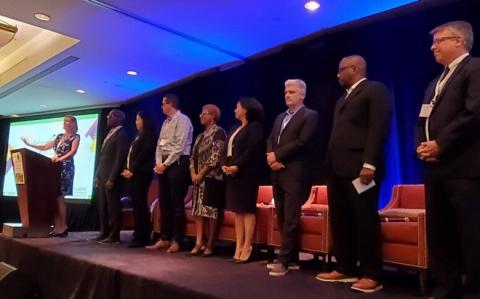 This lack of banking opportunities is especially acute for communities of color — 49% of Hispanics and 45% of African Americans are unbanked or underbanked — and allows racial wealth inequality to grow.
"Financial exclusion has been a persistent problem in the South, particularly for communities of color. High cost predatory financial service providers extract billions of dollars in fees and interest from unbanked and underbanked consumers that are better served by credit unions," said Inclusiv President and CEO Cathie Mahon.
The $45 million Southern Equity Fund is designed to provide equitable financial services to residents of the southern region of the U.S., which has the highest concentrations of persistent poverty and predatory financial services, including payday lenders, check-chasers, and pawnshops.
The states include: Alabama, Arkansas, Delaware, Florida, Georgia, Kentucky, Louisiana, Maryland, Mississippi, Missouri, North Carolina, Oklahoma, South Carolina, Tennessee, Texas, Virginia and West Virginia.
"Kresge is excited to partner in this effort, which we hope will spur greater awareness and greater investment," said Joe Evans, portfolio manager on Kresge's Social Investment Practice. "CDCUs offer equitable products and services, the tools of economic mobility, to the people that need them the most."
The Inclusiv Southern Equity Fund is designed to:
Promote economic mobility among low wealth and underserved communities
Preserve and build diversity in community owned and controlled financial services
Increase the impact of scalable institutions throughout the American South
The Fund will make investments of up to $5 million in secondary capital loans to high-impact community development credit unions. CDCUs are mission-driven entities that offer equitable products designed to help people leverage the tools of finance for economic mobility.
"Unlike traditional banks, these institutions are nonprofits that function as cooperatives, with each member owning a share, as opposed to being directed by external shareholders focused on quarterly profits," Evans wrote in a blog post. "Like banks, CDCUs accept deposits, make loans and provide a wide array of other financial services, but with lower interest rates and fees. CDCUs also provide products designed to increase access to the financial system, which few banks offer, like matching savings accounts and credit-building small dollar loans."