Kresge bids farewell to two long-term, steadfast trustees
Kresge President Rip Rapson extends gratitude to Phil Clay and Steve Hamp as they retire from board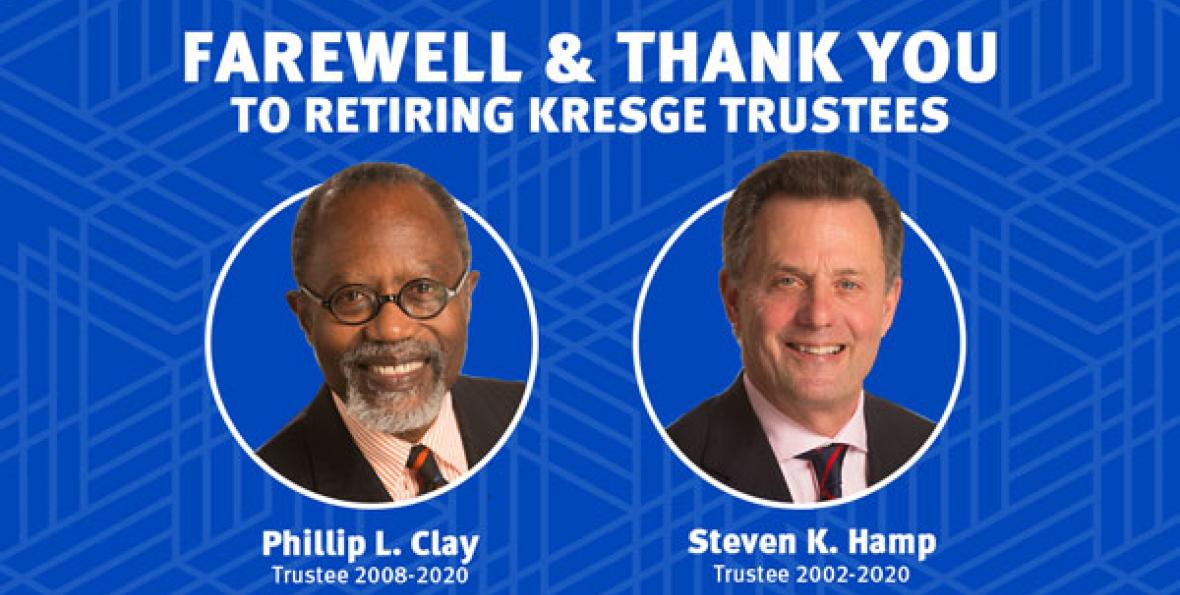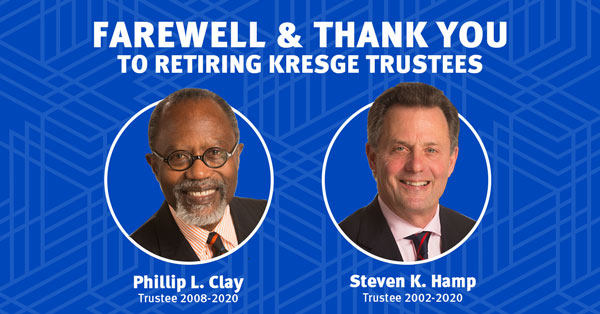 By Rip Rapson
This week The Kresge Foundation honors and thanks two dedicated trustees as they retire from our board.
Phillip L. Clay and Steven K. Hamp have a combined 30 years of service with the foundation. Together and individually they have influenced and made immeasurable contributions to the foundation's identity and focus during each of their tenures.
Phil became a Kresge trustee in 2008. At the time he was chancellor of the Massachusetts Institute of Technology, where he had also served as provost and lead its department of urban studies and planning. He was also a nationally-renowned expert in affordable housing and his demeanor signaled what would become a hallmark of his service on the Board of Trustees – deeply engaged listening, incisive Socratic questioning, an almost old-school air of courtesy, and a willingness to use humor even while making the most serious of points.
A few years later, as the foundation began to operationalize our commitment to an "Urban Opportunity Framework," Phil compelled us to think deeply about what it meant to commit our resources to the bedrock conditions of opportunity for low-income people in cities. All the while, he made his enormous intellect, powerful training, deep integrity, and endless reservoir of experience available as a resource to help us be more thoughtful, more strategic, and more connected to the reality of peoples' lives.
Phil has also been a formative influence on our institution's embrace of diversity, equity, and inclusion, and a consummate proponent of Kresge's work on higher education access and success. His leadership of Kresge's audit committee has been unparalleled, especially following the economic crisis of 2008.
Steve Hamp was already a member of the board when I joined the organization in 2006. The first time we met was in his office at Ford Motor Co. where he served as vice president and chief of staff of the Detroit-based global corporation.
With the skills needed for a huge organization, but the heart to treat everyone like they worked for a small one, he was instrumental helping to construct a roadmap for Kresge's transition to a strategic philanthropy in the late 2000s.
Steve has had a profound impact on the foundation's programmatic work over the past 18 years -- specifically in Detroit. He championed entrepreneurial development in the city; led a coalition of our cultural organizations and helped Kresge find its way into major investments in the city's Woodward Corridor. All the while, he advocated for the Motor City and its residents at every opportunity.
On behalf of the entire Kresge staff and board, we deeply appreciate Phil and Steve for their investment of time and service as Kresge trustees. Their leadership has undeniably guided us toward our mission of expanding opportunities in America's cites. For that we are changed for the better and are forever grateful.