Human Services program selects five organizations for Detroit Next Generation initiative
Detroit is first place-based NextGen city
Five organizations working to improve social and economic mobility for children and families in Detroit have been selected by the Kresge Foundation's Human Services Program to participate in its Detroit Next Generation initiative.
This initiative, which builds off Human Services' national NextGen efforts, is an integral part of Kresge's commitment to advance the human services sector and accelerate social and economic mobility for people with low income. Detroit is the first place-based, NextGen city.
The goal of the NextGen initiative is to support organizations that are committed to person centered, outcomes-based, data-driven work that advances racial equity as they work to improve outcomes for children and families living in poverty in Detroit.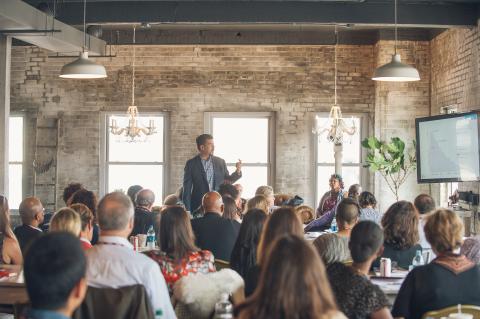 Photo by Ryan Southen Photography
The two-year program consists of three components:
Leadership development;
Building a learning and collaboration network; and
Creating organizational and cohort action plans designed to advance and accelerate social and economic mobility using a two-generation, whole-family approach.
Grantees have been awarded $250,000 each and will receive support to form a learning and collaboration network. 
The Detroit Next Generation Initiative grantee partners include:
Coalition On Temporary Shelter alleviates homelessness by providing an array of services that enable people to achieve self-sufficiency.
Matrix Human Services serves the most vulnerable in Detroit and empowers individuals and families to enhance the quality of their lives and achieve self-sufficiency.
"Frontline providers in the human services sector play a critical role in advancing social and economic mobility," said Joelle Jude-Fontaine, senior program officer for Kresge's national Human Services program.  "Over the next two years, these organizations will have the opportunity to learn from each other and national experts around the country and become a network that collectively works to integrate the delivery of services and supports to improve outcomes for children and families living in Detroit."