FreshLo grantees share stories of food, culture and community revitalization at October convening
Food is more than what we eat. Food has a unique power to bring people together, celebrate cultural expression and catalyze equitable economic development in neighborhoods around the country.   
For more than three years, 23 grantee partners in The Kresge Foundation's FreshLo initiative have been working on innovative approaches that blend healthy food enterprises and access, economic development and Creative Placemaking – the intentional integration of arts, culture and community-engaged design – to drive community revitalization.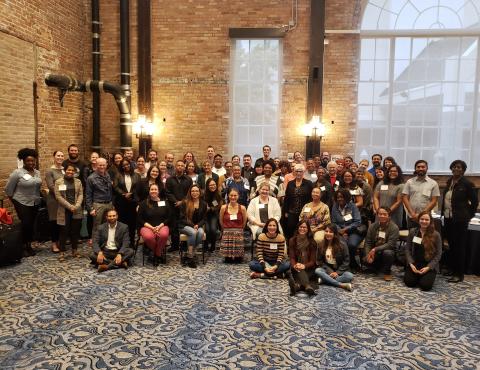 Members of the FreshLo cohort, many of whom are resident-leaders and activists, gathered in New Orleans in October for the fourth FreshLo Convening. They joined with members of the Kresge Foundation staff, National Program Office, FreshLo national Advisory Committee, evaluation and communications teams and invited funders.
Similar to previous years, the goals of the gathering centered on relationship-building, cross-site learning, connecting with the local culture and visiting similar work, and increasing knowledge and strategic skills. This year's focus was on Telling the Stories; encouraging grantee partners to share the stories of their work and learn new ways to spread the word about their efforts to create economic pathways, increase political capital and improve the health and well-being of historically marginalized communities.
From celebratory fresh-air makers' markets and emerging restaurants to financing opportunities and fighting for recognition and property ownership within their communities, grantee partners each told "three-minute tales" about their transformative work.
"I continue to be struck, but not surprised, at the powerful work from the FreshLo communities and how community leaders are helping to ignite development in their neighborhoods," Stacey Barbas, senior program officer with Kresge's Health Team, said. 
In Fresno, California, more than 30 people have participated in two cohorts of What's Cooking Fresno, a tuition-free 7-month culinary training and business planning program. Among the 18 graduates in the first year, 12 have already started businesses, Chanel Ruiz-Mendez from Fresno Metro Ministry said.
"FreshLo has enabled us to do our work better, because it allowed us to bring our food work together with our economic and community development work and marry them to create What's Cooking Fresno, which is changing lives in the Central Valley," Ruiz-Mendez said.
Amanda Lopez-Castanon from the Rainier Beach Action Coalition in Seattle, Washington explained the dire circumstances within her neighborhood and the organization's efforts to organize and advocate for equitable economic development and healthy food in their community through a spirited rap:
"I am finding it hard to stray from my yard or to find some food that's healthy.
The trek to make when food is at stake is one seemingly only for the wealthy.
No Whole Foods, no posh market nearby makes good nutrition tough.
To bus and walk and find a ride, to put four hours aside is a lot when money is tough.
In Rainier Beach, we have a solution, and that is to bring it to you.
Through partners and such, we can do so much – what else was there we could do?"
The diverse residents living in and around Covington, Kentucky will soon have a new taqueria, a Mexican restaurant specializing in tacos, thanks to The Center for Great Neighborhoods' partnership with local residents through its Chef Fellowship Training, a program for home chefs who are making culturally-inspired and/or healthy food. This program provides participants the opportunity to earn additional income through food sales, improve English language skills, and increase the diversity of food offerings in the Westside of Covington.
In Denver, Colorado the Montbello Organizing Committee is building and leading a community coalition to secure and develop a site for a large, community and cultural gathering space which will be anchored by a new, sorely needed two-story fresh food grocery store, with 120 units of affordable housing on seven floors above.
 "You cannot do it alone. It will take longer than you think. But it will be worth it," said Khadija Haynes from the Montbello Organizing Committee in Colorado.
Located in the South Side neighborhood of Billings, Montana, the Healthy by Design Coalition, led by staff of RiverStone Health, newly elected resident-leaders, and representative of other local organizations, the Coalition is transforming the neighborhood's narrative and wellbeing. Through diligent creative placemaking processes, they've established a "Bright Side of the Tracks" logo and signage and incorporated artistic traffic box wraps and heritage storytelling. Addressing the need for greater access to healthy foods, they've established a Gardeners' Market and container gardening and are in the planning phases for a local grocery store.
Reflecting on the leaders in the FreshLo cohort and their transformative work, Christa Drew of DAISA Enterprises, FreshLo's National Program Office, and lead on this convening remarked, "It is truly a sacred responsibility and deep privilege to gather these extraordinary people together in solidarity, hope, and learning. The FreshLo cohort are innovative, articulate, and effective leaders, powerfully demanding justice and equity while leading change."  
There are many other powerful stories within the FreshLo cohort; however connecting to New Orleans, chosen based on the presence of FreshLo grantee partner Sankofa Communtiy Development Corporation and lots of other well-aligned work, was also important.
At the convening, local musicians and storytellers were invited to share about the culture and history of New Orleans and to provide an Ancestral Welcome. Convening participants were also invited to select one of four "Community Visits" throughout the city.
Resident Resiliency and Rebuilding Post-Katrina
When Hurricane Katrina struck more than a decade ago, New Orleans' Lower NinthWard faced some of the worst devastation in the nations' history. While the floodwaters have long since subsided, residents in this community are still struggling to rebuild the lives they knew before the storm. In response to Hurricane Katrina, residents of the Ninth Ward founded Sankofa CDC to build a more resilient community through food, health and environmental sustainability. Sankofa has launched a healthy food hub, community farm, and space for artists and innovators focusing on holistic community wellness. Sankofa and Jericho Road Episcopal Housing Initiative, a neighborhood-based nonprofit homebuilder that provides families with healthy and energy-efficient affordable housing, discussed their work building community partnerships, funding capital projects and developing neighborhood housing initiatives.
Community Visits
In addition to a thoughtful visit to the Lower Ninth Ward, other carefully chosen experiences within New Orleans included a trip to the city's Broad Street Corridor, now a vibrant, equitable and inclusive commercial corridor where Broad Community Connections supports small businesses by spearheading meaningful real estate development and leading the ReFresh Collaborative, a collective impact initiative of 60 partners working for health equity. The ReFresh project is a Community Health Hub with multiple anchor tenants.
Some convening participants visited the Oretha Castle Haley Boulevard, now experiencing a renaissance driven by local artists, residents, nonprofits and business owners, where leaders from local anchor institutions, the Ashe Cultural Arts Center, Café Reconile, and Hope Community Credit Union led a tour and discussions. Another visit option was an engaging New Orleans Historical and Cultural Tour through the Treme neighborhood.
In addition to sharing stories and visiting out in the community and together, grantees also participated in workshops and trainings that focused on content they requested as co-planners for this convening. Sessions on storytelling, financing/capital stacks, and advocacy and policy strategies actively engaged participants. In the spirit of community and solidarity, the convening closed with opportunities for personal reflections, poetry reading, and a lively "sound symphony" reminding all participants to find, claim, and share a unique tone in our world.
To learn more about FreshLo, visit kresge.org/freshlo.
The ReFresh Community Farm, a SPROUT NOLA project, is home to more than 30 individual gardeners who work hard to organize projects like a medicinal herb garden, monthly potlucks and community classes.