Fill the Walls With Hope project uplifts role of artists in time of crisis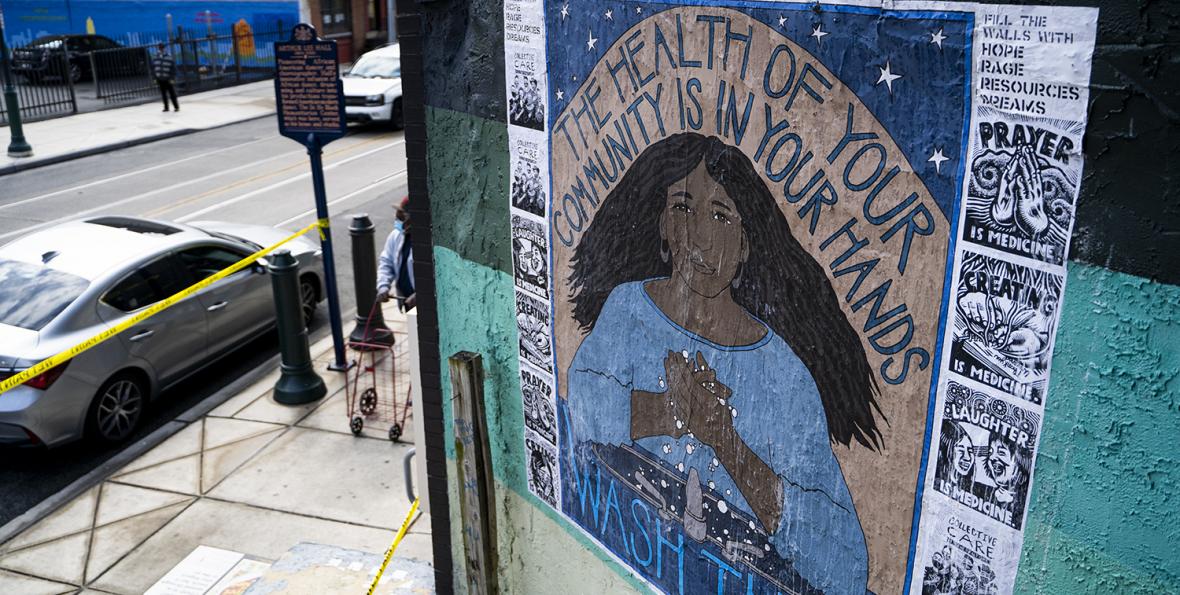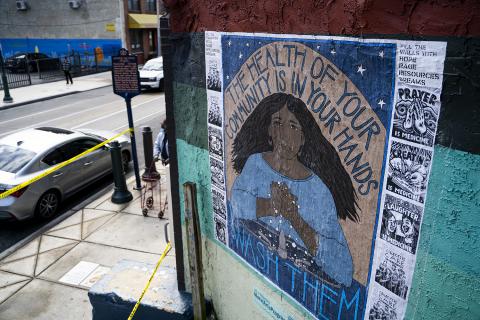 How can artists fill public streets with images and words to support emotional and mental health, while sharing resources and dreams of a more just future in this critical moment of COVID-19?
This question was the inspiration for a new project titled, "Fill the Walls With Hope, Rage, Resources and Dreams," that showcases the vital role of artists during the pandemic. 
Mark Strandquist, founder and director of "Fill the Walls With Hope," is also creative director and founder of Performing Statistics, a Kresge Arts & Culture Program grantee partner that uses art to model, imagine and advocate for a world without youth incarceration.
In response to the COVID-19 public health crisis, Strandquist partnered with organizations and individual artists across the U.S. to create temporary art installations to be printed and shared across cities.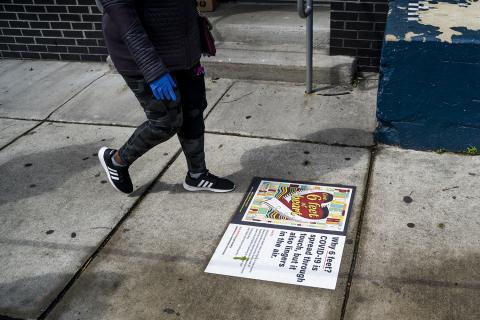 In one case, "Fill the Walls With Hope" partnered with the Village of Art and Humanities in North Philadelphia to help make their free food distribution program as safe, empowering and inspirational as possible. Artwork paired with public health messaging was transformed into vinyl banners, wheat murals, yard signs and vinyl decals placed on concrete to mark safe distancing spaces for people to wait in line for food, while also providing inspirational messages.
Wherever possible, the artwork has included images and information in multiple languages.
In a recent blog published by ArtPlace, Strandquist shares how he launched the project and includes contributions from Aviva Kapust, executive director of the Village of Arts and Humanities; Philadelphia street artist Symone Salib; and artwork from Brian Herrera, a Define American Fellow and Chicago-based artist.
In the blog, Strandquist writes:
"In early March, I was busy helping to organize (what would have been) the launch of a national exhibition on youth incarceration, while simultaneously co-organizing the People's Paper Co-op's spring campaign to use art to free black mothers and caregivers for Mother's Day. We were slammed, heads down, and certainly not thinking, hoping for, or wanting to start any new projects. 
But there we were, like many, responding to the crisis through an array of seemingly simple acts: an increasingly rare trip to the grocery, a visit to check up on a friend, a six-feet distanced walk within a park, all of which included witnessing the ever growing emptiness and loss that began to envelop so many of us in this current crisis. Empty schools, empty businesses, empty playgrounds. 
Emptiness does not go unnoticed. Our environments always impact our mental and emotional health (that whole 'Psychogeography' thing) and the project, Fill the Walls With Hope, Rage, Resources, and Dreams, began as a way to both acknowledge that loss, and as a volunteer effort to transform those blank walls and boarded up windows into megaphones for hope, support, and inspiration." 
The Kresge Foundation's Arts & Culture Program proudly partners with ArtPlace America, Define American, Performing Statistics and the Village of Arts & Humanities.  
To learn more, read the full blog from ArtPlace America.
All artists, poets, journalists and creatives are invited to join the project.