Domestic philanthropic support for South African universities outpaces giving from international donors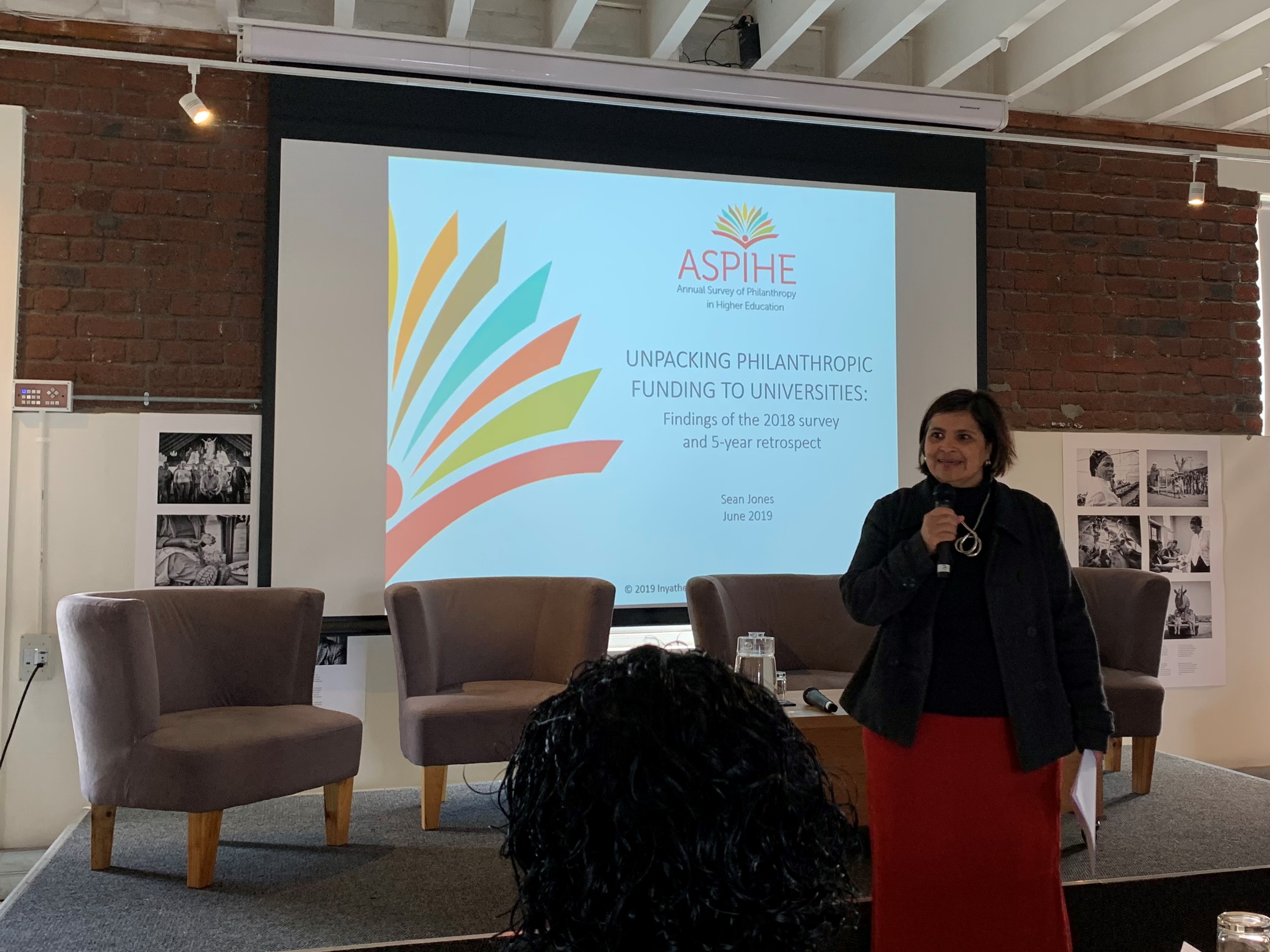 Photo credit: Bill Moses.
South Africa-based donors and organizations are giving significantly more philanthropic funding to the country's universities, and now outpace funding from international organizations and funders.
The latest Annual Survey of Philanthropy in Higher Education (ASPIHE) report reveals a total of R1.71 billion (US$121 million) in philanthropic support to universities in 2017, R978 million (US$69 million) higher than recorded for the ten universities taking part in the first survey in 2013. 
The Kresge Foundation's 13-year partnership with Inyathelo, through the Kresge-Inyathelo Advancement Initiative, has helped many South African universities build fundraising capacity, forge and manage relationships with key stakeholders, and attract resources for long-term sustainability.
The survey results were announced at a symposium in Cape Town on June 23. Bill Moses, managing director of Kresge's Education Program, moderated a panel highlighting this progress.     
Eleven universities took part in the survey, which was commissioned by Inyathelo. 
In 2017, the proportion of support from South African sources was 72 percent, a considerable increase over 2013's 37 percent. International donors contributed 28 percent of 2017 philanthropic support but comprised only 10 percent of donors.
"Much of what we know and have done in the area of Advancement was made possible by the Kresge Foundation's investment in Inyathelo and South African universities," said Nazeema Mohamed, executive director of Inyathelo. "Given the complex challenges facing the higher education sector, and the need for urgent and constructive input, we are deeply appreciative of this long-term commitment that has led to greater clarity and understanding."
Kresge's support in South African began in 2006 with the Kresge Special Initiative in South Africa, a five-year effort to build the capacity of the country's higher education institutions and included grants to four universities and one hospital: Cape Peninsula University of Technology; University of Pretoria; University of the Western Cape; University of Witswatersrand; and the Red Cross Children's Hospital.
Growth in private sector and individual giving
The largest proportion of 2017 philanthropic support came from trusts and foundations, which contributed 42 percent. This decreased from 61 percent in 2013 indicating a declining dependence on trusts and foundations. This was matched by increased levels of giving by corporate and individual donors. Corporate sector entities contributed 25 percent of philanthropic support in 2017 compared with 14 percent in 2013, while individual donors' contributions increased from 4 percent in 2013 to 20 percent in 2017.
The number of donations also increased dramatically over the five years, from 5,659 in 2013 to 28,668 in 2017. The number of donations between R1 million (US$70,000) and R4,9 million (US$347,000) more than doubled and those exceeding R5 million (US$354,000) more than tripled.
Differences and disadvantages
While noting the encouraging progress in philanthropic funding overall, the report adds that it, "obscures some extremely significant and severe differences and inequalities," and "a considerably less rosy picture emerges when the universities are disaggregated along the lines of historical advantage and disadvantage."
In 2013, 94 percent of all donor support to the participating institutions went to Historically Advantaged Institutions (HAIs) and six percent to Historically Disadvantaged Institutions (HDIs). This totalled R622 million (US$43.9 million) for HAIs as compared to R37 million (US$2.6 million) for HDIs. The difference was even greater in 2017 when 96 percent of funding went to HAIs and 4 percent to HDIs – R1.6 billion (US$113 million) for HAIs versus R73 (US$5.2 million) million for HDIs.
"When we started this work in 2006, few South African universities of any type were raising private funds," said Moses. "This report suggests that giving has changed dramatically over the succeeding dozen years.  Private philanthropy can never replace government and tuition support, but it can help support university excellence and reduce pressure on annual fee increases.  The challenge facing South African universities is to reach and engage more donors and to help more HDIs build their own advancement operations."
ASPIHE Participating Universities:
Eleven of South Africa's 26 universities participated in this fifth round of the survey: Cape Peninsula University of Technology (CPUT); University of Cape Town (UCT); Durban University of Technology (DUT); University of the Free State (UFS); University of Johannesburg (UJ); University of KwaZulu-Natal (UKZN); University of Pretoria (UP); University of Stellenbosch (SU); Tshwane University of Technology (TUT); University of the Western Cape (UWC); and University of the Witwatersrand (Wits).