Denise Smith: A new leader for Hope Starts Here knows early childhood system at every level
To create a quality early childhood system in Detroit, Smith says, 'this is the moment'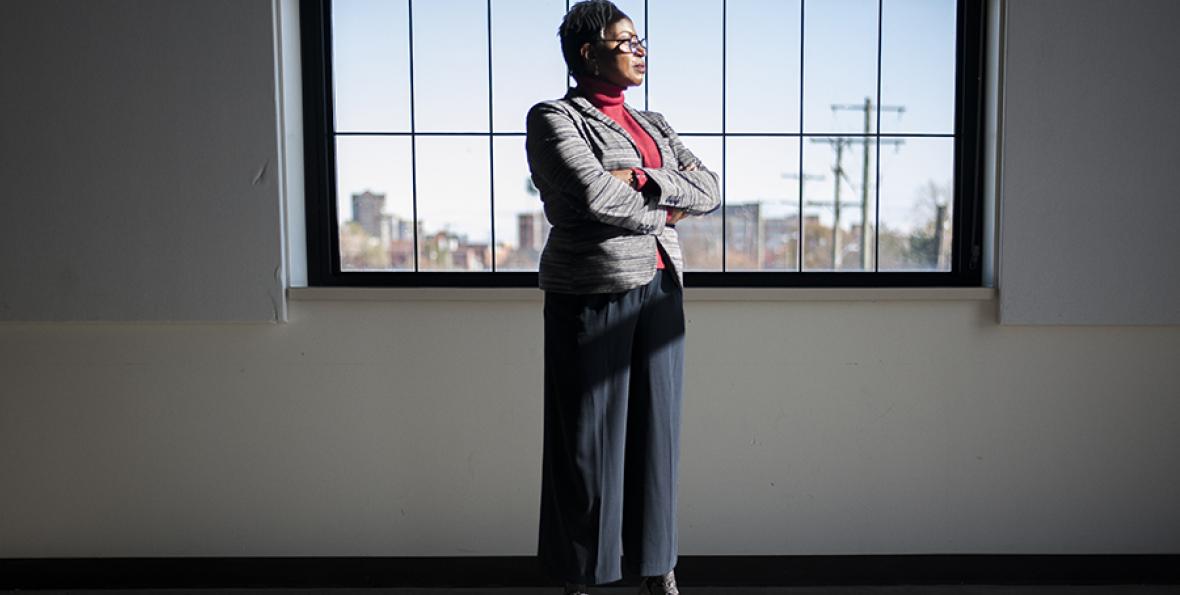 Photo by Darrel Ellis for The Kresge Foundation
Looking back over a 26-year career advocating for expanded early childhood education, Denise Smith is unequivocal about her journey.
"This is my life's work.''
Smith is equally certain that her selection as the first implementation director for Hope Starts Here — the ambitious citywide early learning framework supported by The Kresge Foundation and W.K. Kellogg Foundation — is her proudest and most personal career achievement yet.
"This opportunity to have my finger on the pulse of the work I love, in such a major way, is the best of all worlds," says Smith. "Detroit is my home. It's my city, and I want to help it become the best that it can be for young children and families.''
Both foundations champion Smith's selection. "Denise's experience leading community-rooted efforts and her orientation to facilitate collaborations and partnerships made it clear she was the best candidate,'' says Rip Rapson, president and CEO of the Kresge Foundation.
"Denise's deep, personal commitment to children, families and community, and her visionary leadership will accelerate the Hope Starts Here implementation," says La June Montgomery Tabron. "We have made strides already, but the clock is always ticking for young children. We need to do more to place Detroit's children at the center of civic decision-making.''
Even Smith, a self-described "systems agitator" who was chosen from a pool of national candidates, acknowledges that her new dream job is on paper, and in reality, big — and urgent.
"I've had a few people say, 'Oh, Denise, this is going to be really hard,'" says Smith. Still, she remains steadfast: "We have all the pieces. This is the moment.''
In 2017, when the Kresge and Kellogg foundations made a joint pledge of $50 million to improve early learning options for young children, the support included an ambitious vision to transform Detroit by 2027 into a city that places children and families first. That vision drew support and input from more than 18,000 Detroit citizens through a yearlong visioning process designed to identify healthy priorities for their youngest loved ones and neighbors, children from birth to age 3.
A separate 20-member stewardship board comprised of business, education and community leaders worked to establish the planning strategies and key outcome areas for Hope Starts Here. Smith served as a member of the board up until her appointment as implementation director.
To take her new position, Smith has left one as executive director of the Flint Early Childhood Collaborative and Educare-Flint. Despite a strong commitment to the children of Flint, the opportunity to lead change at home in Detroit proved too tempting to pass up.
"I've been involved with the whole Hope Starts Here process from the beginning, and I truly believe we've laid the right groundwork," she says. "The evidence is rich. Every child, regardless of their zip code or birth circumstances, should have the opportunity to reach their fullest potential and be ready to learn. It's time to put the vision into practice.''
As implementation director, Smith will report to the Hope Start Here Stewardship Board. Chief on the to-do list for her first 100 days is completing an action plan to advance the work of teams that have been working on the six imperatives of the Hope Starts Here framework since their adoption two years ago:
Promote the health, development and well-being of all Detroit children.
Support parents and caregivers as children's first teachers and champions.
Increase the overall quality of Detroit's early childhood programs.
Guarantee safe and inspiring learning environments for children.
Create tools and resources to better coordinate systems that impact early childhood.
Find new ways to fund early childhood and make better use of existing resources.
The goals are broad. But Smith remains undaunted, buoyed, she says, by years of experience and an elaborate network of community partnerships and relationships developed while working throughout the early childhood development sector. "I understand at various levels what is needed and what we have capacity to do,'' she said.
Smith's credentials include stints as an in-home service provider, a Head Start director and manager of an early childhood quality improvement initiative in Detroit's Brightmoor neighborhood; her work has taken her all the way to the state's capitol.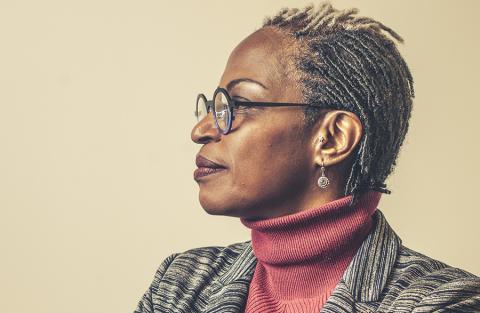 Photo by Darrel Ellis for The Kresge Foundation
In Lansing, Smith helped design and launch Great Start to Quality, the online resource tool that helps Michigan families find quality childcare and preschool options. In Detroit, Smith was Vice President of Early Childhood at Excellent Schools Detroit, a coalition of education, civic and community leaders.
In nearly three decades, Smith hasn't allowed herself much time for reflection. But when pressed she easily pinpoints the choice that turned her into an early childhood education advocate. At the time, she was a young mother operating two small businesses with her ex-husband (a moving company and a cleaning company) all while trying to meet the childcare needs of her son who was nearing two years old.
Frustrated by the challenges of ensuring quality care for him, Smith put her entrepreneurial skills to use for her child and opened her own in-home daycare. The work soon became a career. "I never intended to do this,'' said Smith, who graduated from the University of Michigan with a with a degree in communications, radio and television, and her heart set on a career in TV broadcasting. "It's amazing to be able to step back and look at how all the pieces and experiences have come together – at every tier of the early childhood system -- and brought me to this moment. I'm excited to take my passion to the next level for children and families in Detroit.''
Already, she is plotting ways to marshal ties across Detroit in partnership with the Champions of Hope initiative spearheaded by Impact Detroit. Champions looks for individuals to pledge support for the effort, and for teams and leaders who will help build grassroots momentum and at the same time help pinpoint gaps in service and highlight system successes.
"I witnessed and I appreciate the time and energy that Detroiters put into the planning process for Hope Starts Here,'' Smith says. "The energy is still there. We just have to reengage it by showing people exactly what's going on with Hope Starts Here and how they can still be involved.''
Another early goal is working with Impact Detroit to expand a "Six-a-Day" plan, encouraging parents, teachers and caregivers to engage young children daily with encouragement, talk, reading, hugs, singing and play. The effort has enrolled 165 households and is expected to reach a total of more than 500 households over the next nine months.
Part of what drives Smith, a mother of three grown children, is faith. Her other big inspiration: a 9-year-old great-niece named Aaliyah. When the girl was barely 2-months old, with two parents battling addictions, Smith, an empty nester at the time, took the child in. Over the years, she's also become her muse.
"I know from this experience alone, early makes a difference in a child's life," Smith says. "Through no fault of her own, Aaliyah wasn't born into the best environment. She had some health challenges that could have permanently impacted her. But today she's reading above grade level. She's super bright and so resilient.''
"Once you've seen the difference that having opportunity can make in the trajectory of a child's life you know what's possible," she says. "Yes, it's hard. But it can be done. Now we have the right pieces to take the limits off of children's lives in Detroit, and we can do it early.''