Commentary: Virtual peer learning events offer grantees opportunity to engage, grow with one another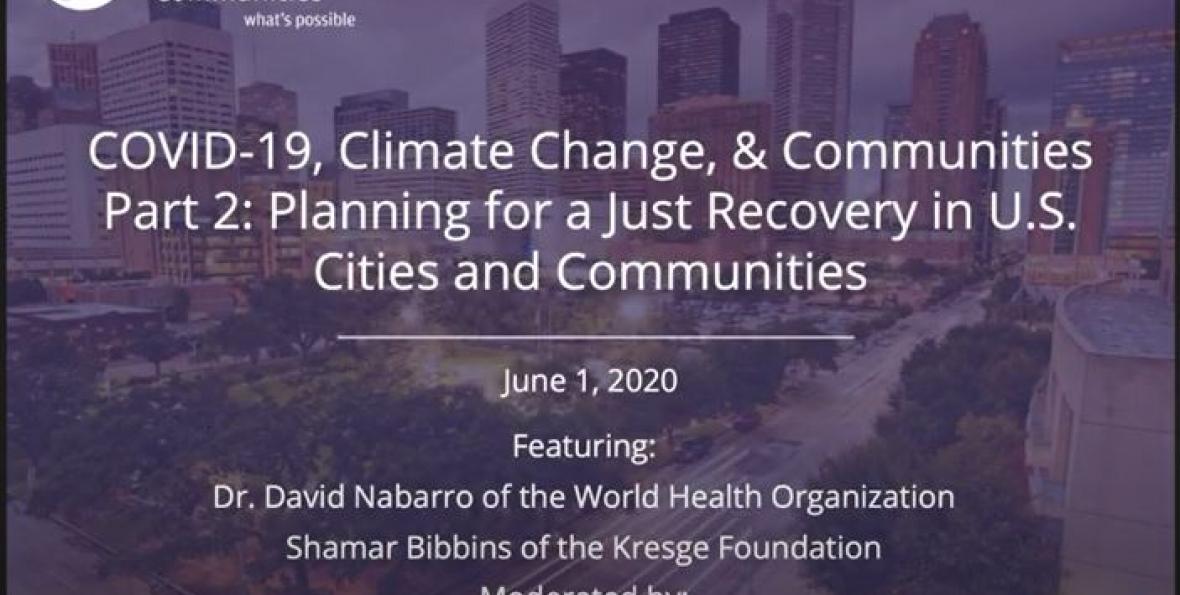 By Shamar Bibbins and Katie Byerly


Every day, our grantee partners around the country work tirelessly to create change and help their communities thrive.
Even as the COVID-19 pandemic continues to threaten not only our health, but also the livelihood of millions of Americans, many of our grantees are supporting the needs of impacted communities with mutual aid while maintaining momentum on advancing equity policies that improve climate-resilience and community well-being.
In the face of reoccurring climate threats happening now and the increasing momentum for racial justice, our partners are organizing protests and building this movement while preparing for weather events such as intense storms and flooding, increased extreme heat, and a hurricane season that's just getting underway and expected to be more severe than normal.
In 2019, our Environment and Health programs collaborated to launch the Climate Change, Health & Equity (CCHE) initiative aimed at mobilizing climate action from health care institutions, health practitioners and community advocates to help cities adapt to climate change and equitably reduce health risks in ways that reflect the needs and priorities of low-income communities and communities of color.
Many aspects of this important work came to a halt in March of 2020 as states around the country mandated strict – and very much needed – stay-home orders and social distancing measures.
To determine how we could best support CCHE grantees in the face of this unprecedented challenge, we asked them what they needed. First, we provided six-month grant extensions and grant increases of $50,000 to each of the 15 CCHE community-based planning grant recipients to allow more time and resources to complete the planning phase of their work, for a total of $750,000. We heard from our partners that the COVID-19 outbreak disrupted their planned approaches to community engagement, which for most grantees, included an intense period of community organizing, building partnerships and participating in public processes during the first six months of 2020. For all the partners in the CCHE initiative, we provided additional relief by removing grant restrictions to aid with general operations and provided flexibility to support an array of organizational needs.  
However, funding – although important – was not their only priority.
They wanted to get back to work.
They wanted to remain connected.
They yearned for peer-learning opportunities to keep growing and strategizing even during the lockdown.
So, we got to work.
We collaborated with our national program office, the Institute for Sustainable Communities, to develop a series of webinars and peer-learning events. Thanks to the feedback and insights of our grantee partners, we swiftly turned their ideas into action with the following webinar series.
CCHE COVID-19 Peer Learning Series + ISC Webinars
April 15 – "Navigating Community Organizing and the Digital Divide," featuring Ash-Lee Woodard Henderson of The Highlander Center; and Chanelle Matthews and Fresco Steez of Culture Society.
April 27 – "Shaping and Driving Key Messaging around the Intersections of COVID and Climate Change featuring," featuring Elizabeth Sawin of Climate Interactive; Makani Themba of Higher Ground Change Strategies; and Rob Sassor and Vernice Travis Miller of Metropolitan Group.
June 1– "COVID-19, Climate Change, & Communities: Planning for a Just Recovery in U.S. Cities and Communities," featuring Dr. Nabarro, World Health Organization COVID-19 Special Envoy; and Shamar Bibbins of The Kresge Foundation.  
June 2 – "Health, Climate Change & COVID-19: Managing the Co-Occurring Crises," featuring Cecil Corbin-Mark of WEACT; Veronica Garibay of Leadership Counsel for Justice and Accountability; Dr. Cheryl Holder of Florida International University; Carmen Llanes Pulido of GAVA; and Vernice Miller-Travis of Metropolitan Group.
"We heard from CCHE grantees back in March that although these are unprecedented times that are causing stress in multiple ways, they wanted to continue connecting and learning from each other, now more than ever," said Jaime Love, ISC associate director of U.S. programs. "While everyone has time constraints, they made it clear that addressing these pressing topics were extremely important to continue moving the work forward."
The sessions featured a combination of CCHE grantees, CCHE Advisory Committee members, and other CCHE partners as facilitators of the conversations. Other Kresge Environment and Health Program grantees also participated in sessions. From digital organizing, to key messages, to managing multiple crises, each event addressed an urgent need our grantee partners are dealing with on the ground in this moment.
Below is what we heard from one CCHE grantee partner who participated in a recent webinar:  
"Thank you for giving us the space to share and process all that is happening in our communities at this time with regard to the tragic killing of George Floyd, and the protests against police brutality, systemic racism and oppression that have plagued Black and Brown people. We needed that. Your flexibility to allow for that, among our conversations about climate and COVID-19, shows how Kresge truly gets that our work isn't done in a vacuum or not influenced by other societal ills."  
Shamar Bibbins, Environment senior program officer, and Katie Byerly, Health program officer, jointly oversee the Climate Change, Health & Equity initiative. Follow the teams on Twitter @kresgenviro and @kresgehealth.