Commentary: Students' insights chart path to transit solutions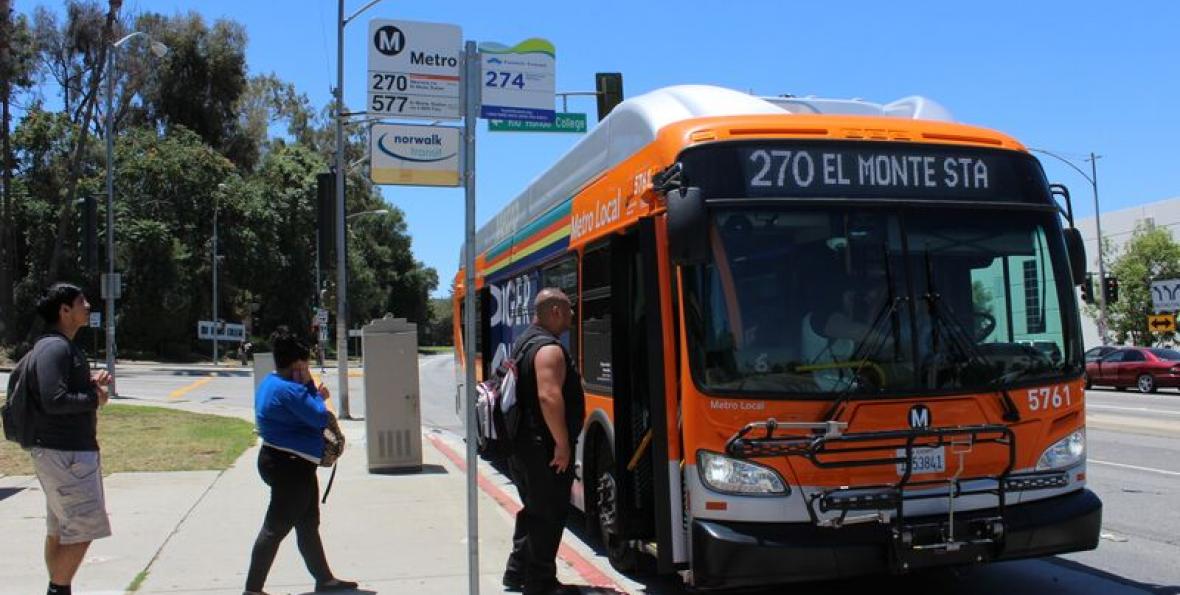 Photo credit: Rio Hondo College
Last fall Kresge's Education Program awarded $1.2 million in grants to help colleges and transit agencies identify, address and evaluate transportation solutions for students. One grantee, Río Hondo College (RHC) in Whittier, California, serves more than 20,000 students, most of whom are first-generation, come from low-income households and commute to campus. RHC received a planning grant to launch a consortium of local municipal and transit leaders who will identify transit gaps, expand and improve transit solutions and connect the college's growing number of part-time and working students to alternative transit options.
In this guest commentary RHC's Russell Castañeda-Calleros shares insights from the launch of the Facilitating Alternative Solutions for Student Transportation (FASST) consortium.
By Russell Castañeda-Calleros, Ed.D.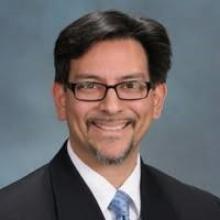 Since Fall 2006, the GO RIO program has connected thousands of students with free transit passes at Río Hondo College in Whittier, California. With 100% of students commuting to campus for classes, these transit passes have been critical for our students. To complement the GO RIO program, Río Hondo College has committed to the construction of a new transit plaza to provide improved access to students who take multiple modes of transportation to reach campus. Some of the amenities at this plaza will include a curb cut for buses, bike lockers, hydration station, restrooms, improved signage, and an enhanced shelter for campus shuttle users.
However, in recent years, usage of GO RIO, has declined among students. Thirty-four percent less GO RIO passes were issued to students in the 2017-2018 academic year, as compared to the 2016-2017 year. During that same period, there was also a 15% decrease in transit rides among students, which spans six different bus companies. Although part of this reduction in usage can be attributed to a slight drop in college enrollment, college officials were eager to learn what could be done to connect more students with public transit via GO RIO and through other means.
To better understand why student participation in GO RIO has declined, Río Hondo College convened the Facilitating Alternative Solutions for Student Transportation Consortium (FASST), a group of transit agency and city representatives, county leaders and Río Hondo College students who use transit. 
During a January launch meeting, the FASST Consortium agreed that identifying and addressing any transit-related gaps between our students and our campus community must be the group's primary objective.  
The college began by partnering with DVP Praxis to design a student survey to help us assess transportation needs. We wanted to learn more about which transportation options were working well and which were not.  Our team members advertised this survey using direct email, student portal windows, social media, and website announcements since the survey was deployed shortly after COVID-19 triggered a shift to on-line classes.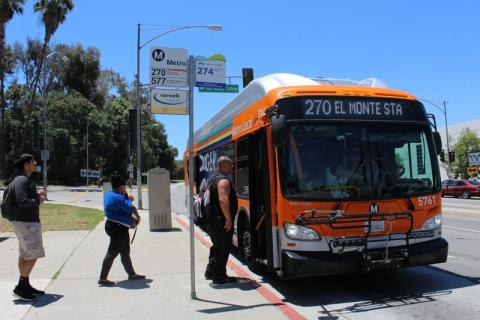 Photo credit: Rio Hondo College
Río Hondo College administered the survey between March 20 and April 10. Amazon gift card drawings helped yield a total of 2,176 completed student surveys.
Once all survey responses were received, our office partnered with Río Hondo's Institutional Research and Planning Office to analyze the responses and identify highlights to share with the FASST consortium. A complex tapestry of findings emerged, all of which are helping us chart a path to providing transit solutions that meet the needs of our students.
The most surprising finding was that nearly half of respondents were either "not familiar" or only "a little familiar" with the GO RIO program, which has been operating for 15 years. This revealed a clear opportunity to work with our transit agency, city leaders, and county representatives to increase student awareness of GO RIO.
But among the survey respondents who are participating in GO RIO, the transit program is positively impacting student success.
Ninety percent of these respondents indicated that GO RIO has been helpful to "being able to stay in school." Nearly 80% said GO RIO has been helpful to "being able to achieve academic goals more quickly" and "being able to take more classes." Both findings affirm the importance of a transit solution for our students.    
Responses to another question revealed the need for stronger alignment between bus schedules and class schedules. We prioritized this finding as a potential action item for the FASST Consortium.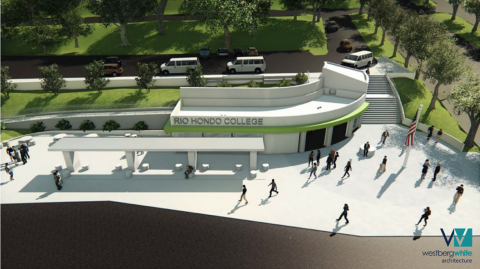 Illustration credit: Westberg White Architecture​
The COVID-19 pandemic has prompted a shift to primarily online course offerings for the Fall 2020 semester. With fewer students on campus, it's the ideal time for the FASST Consortium to learn how to better align bus times with course times and identify new transportation alternatives that may better serve our students.  
Representatives of the bus companies have already begun to share information on each agency's planning cycle so that college officials can create a master calendar, which has never been done before in our region. This calendar will be helpful in the college's imminent planning process for Spring 2021 course schedules.
Nearly half of the survey respondents expressed interest in participating in focus groups. In the coming months, Río Hondo College plans to hold virtual focus groups to glean even more feedback to help the FASST Consortium identify values that underlie student perspectives towards transportation and unearth more insights beyond what was explored in the survey responses.  It's our hope that some of the focus group participants will emerge as transportation advocates who can become involved with the Consortium and perhaps consider careers in the transportation sector.
This first phase of our work has helped remind our Consortium members that improving student access to public transportation is a shared objective. Our Consortium has also provided the space for our members to build on existing relationships, which facilitates the exchange of best practices and safety protocols. Consequently, Río Hondo College and each of our transit partners have learned how to maintain operations even in the midst of COVID-19.
Our group anticipates further collaboration as we embark upon recommendations informed by focus group data.
Russell Castañeda-Calleros, Ed.D. serves as Director of Government and Community Relations at Río Hondo College.
To foster increased learning among grantees and student success practitioners, transportation solutions grantees are submitting guest blogs as interim reports. More insights will be published in the coming months and featured in the Education Program's bimonthly newsletter, Every Degree Matters. To subscribe, visit: www.kresge.org/subscribe.