Commentary: Our Commitment to Dismantling Systemic Barriers
Partners,
Like you, we have been rocked by the murder of George Floyd. His death, and the death of so many other African Americans, is rooted in centuries' long systemic racism in policing and criminal justice policy. This latest horror occurred as the world, and our nation, faces not only an unprecedented pandemic, but an economic calamity that rivals the Great Depression. 
But systemic racism does not exist only in American criminal justice. It's in housing, health care, employment and access to clean water and air. And it exists in higher education.
As colleges and students scrambled to adjust to online education, it was disproportionately students of color with low incomes who lacked laptops, internet access and a quiet place to study.  We see systemic racism when students of color, especially African Americans, who often live in neighborhoods with under-resourced K-12 systems, have to borrow more than their white peers to pay for increasingly expensive public education. Systemic racism manifests itself in a disingenuous admissions system that favors the wealthy and their "legacies." It rears its head in the nearly 40 institutions where the children of the top 1% outnumber students from the bottom 60%.  These "top-ranked" institutions are lauded for who they exclude, not for who they include.
When I first traveled to Apartheid South Africa in the 1980s, I asked a Black activist what I could do to support his struggle. His answer: Fight racism in your own country. Chastened, I have often relived this discussion, particularly over the past several days. 
Our grant dollars are finite, but we have great resources. We have long focused on inequitable postsecondary outcomes among African Americans, Latinx, Native Americans, and Asian Americans and Pacific Islanders, but we will double down on that commitment.
In the immediate future, our strategy will remain the same, but tactically we'll focus on our students to ensure that they can continue entering college, staying in college, or returning to college as comebackers, despite COVID-19. 
Recent grants from our team reflect this commitment. Here in our hometown, support for the Detroit College Access Network's expanded partnership with Get Schooled will provide additional college advising support for current high school students whose pathways to college have been disrupted by COVID-19. We are also supporting The Graduate Network's national efforts to re-enroll former students who, in the wake of the pandemic, will increasingly seek additional education and training. And in Texas, one of our focus states, we're partnering with the Jolt Initiative to promote increased civic engagement among young Texans of color, particularly Latinx people.
Most importantly, we will continue working with you to dismantle the systemic barriers preventing students of color from achieving their academic dreams.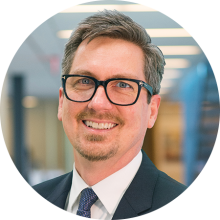 Humbly,
Bill Moses 
Managing Director
Kresge Education Program
This message appeared in the June issue of Every Degree Matters, a bimonthly newsletter from Kresge's Education Program. To subscribe to the newsletter, visit www.kresge.org/subscribe.  To read past issues, visit www.kresge.org/library/kresge-education-newsletter-every-degree-matters.