Alabama students tackle urban blight and prepare for home ownership through Green Summer Work Experience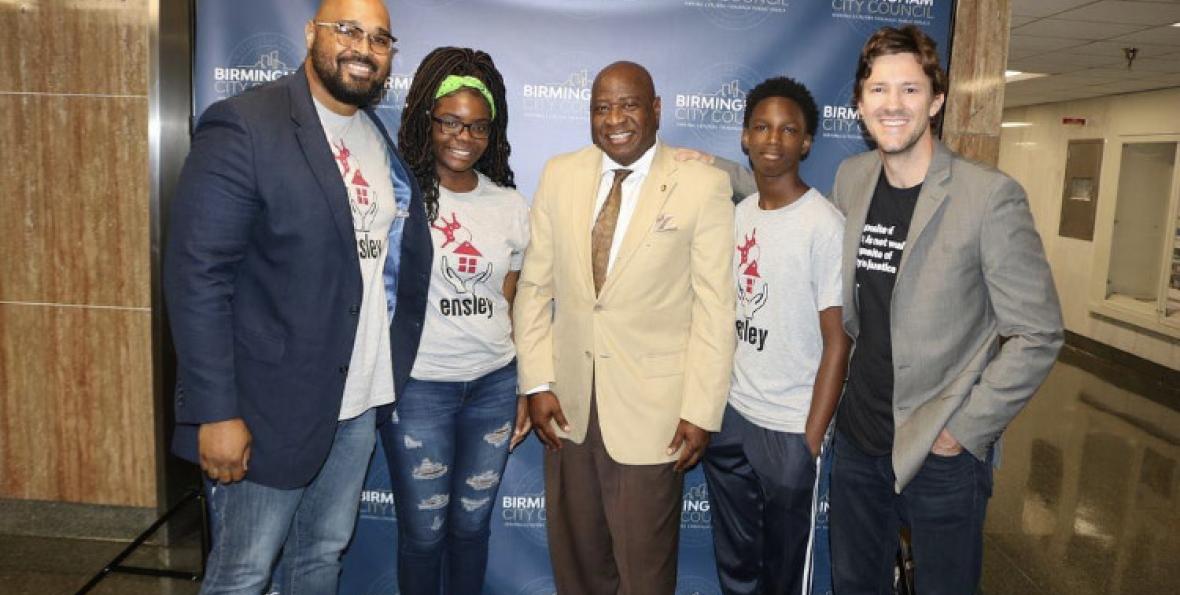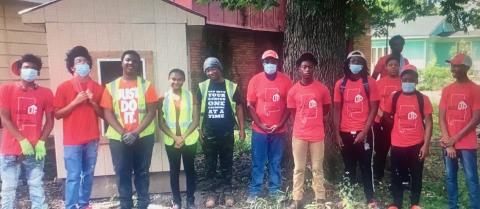 Students in Birmingham, Alabama have been working daily over the past three weeks to build up their Ensley neighborhood.
As part of the "Green Summer Work Experience" beginning July 13 and ending August 1, the group of entrepreneurial-minded teenagers and their parents have met each day – starting at 8 a.m. – to address poverty and urban blight in their community.  
The summer bootcamp was created by Build UP, an innovative early-college workforce development program that provides youth from low-income communities with career readiness skills through paid apprenticeships and industry-aligned academic coursework. The program also prepares students for home ownership.
The National Wildlife Federation (NWF), America's largest conservation organization and grantee partner of Kresge's Environment Program and CREWS (Climate Resilient and Equitable Water Systems) initiative is investing in Build UP's "Green Summer Work Experience" to combat the many environmental challenges found in low-income communities of color. These neighborhoods are disproportionately impacted by the effects of climate change. Increased flooding and power outages caused by heat waves – both directly connected to our changing climate – can cause significant structural damage to homes with costly repairs. If low-income homeowners don't have the money to fix their properties, or they aren't properly educated on updating their housing structure to avoid flooding, these properties will eventually turn into blight. Many blighted homes in communities of color remain unrepaired because residents don't have equitable access to loans and other government-funded programs due to a history of redlining, residential segregation and money for flood protection going to richer neighborhoods.
The National Wildlife Federation's Urban Initiatives and Environmental Justice Program is committed to addressing the priorities of urban communities by improving air and water quality, updating housing and transportation infrastructure, reinvigorating urban environments with community gardens, farmers markets, green spaces and more to help connect residents with nature while improving the health of the environment.
"It's clear to us this program, and these students, are making a tangible difference. As a result, we're using grant funding to cover the costs associated with their paid apprenticeships," said Simone Lightfoot, director of NWF's National Urban Initiatives. "This particular project aligns with our priorities. Creating green jobs, internship opportunities and green professional development skills for Birmingham residents to include youth, young adults and returning citizens."
Build UP, which stands for Build Urban Prosperity, is a unique high school model.
Over the course of six years, students can earn a high school diploma and an associate's degree in an area of their choice. They also become eligible for an owner-occupied housing unit and a rental unit with 0% interest rates.
According to Founder and CEO Mark Martin, Build UP is the nation's first and only work force development program where students become educated, credentialed and empowered civic leaders, as well as homeowners and landlords.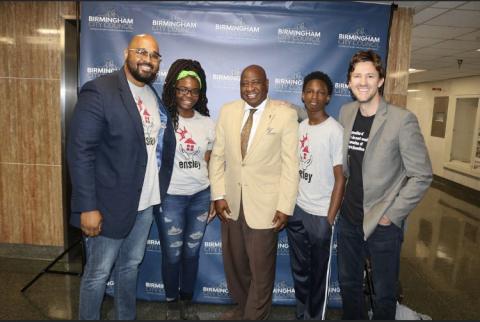 "What Build UP is ultimately all about is poverty alleviation and revitalization of Ensley," said Martin during a video project created to announce Build UP-Ensley, the program's launch site. "We can never truly level the playing field until we start thinking of equity as ownership. That's really the big differentiator of the school. Our youth actually get to own a piece of the pie at the end of this program."
To create opportunities for Birmingham residents and local partners, Birmingham City Councilor John Hilliard laid the foundation for the NWF and Build UP partnership.
"Like Birmingham, municipalities throughout our region are grappling with the cost of the investments needed to make our communities more sustainable," said Hilliard. "This partnership directly addresses those concerns at home. Specifically, in Ensley. This three-week boot camp is a high yield, short-term project. However, the long-term investment in each one of these students is yet to be measured. Just imagine what each student can do and become with this hands-on blend of academic and occupational instruction. The best part, Build UP is only one of many dedicated partners," said Hilliard.
Visit BuildUP.work to learn more about the Ensley students who are solving their community's challenges.
To learn more about the National Wildlife Federation's Urban Initiatives program, contact Simone Lightfoot at lightfoots@nwf.org.