Back to blog
Mission, Money & Markets: Q and A with Kresge and Rockefeller on partnering in Opportunity Zones
June 28, 2018
The Kresge Foundation
Earlier this month, The Kresge Foundation and The Rockefeller Foundation joined forces to open a call for Letters of Inquiry into work connected to Opportunity Zones. The goal is to gather ideas from prospective fund managers that are interested in ensuring that the capital potentially headed for investment in these Zones – which include 12 percent of U.S. Census Tracts – land in a way that is truly beneficial to low-income communities.
We sat down with the two organizers of this effort, Kresge's Managing Director of the Social Investment Practice, Kimberlee Cornett, and Lorenzo Bernasconi, Senior Associate Director at Rockefeller, to talk about the collaboration, what they hope emerges from it, and why Opportunity Zones are important for anyone who cares about low-income communities.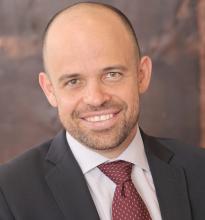 Q: Why were Kresge and Rockefeller interested in Opportunity Zones as a potential place to think about partnering?
Lorenzo: Our focus in the U.S. is around jobs and economic opportunity for low-income and financially insecure people and communities. We're excited about the prospect of Opportunity Zones because we know that place matters. Research clearly indicates that the economic mobility of two children, identical in profile, will differ depending on where they are born. In Charlotte, for example, the probability that a child reaches the top quintile of the national income distribution starting from a family in the bottom quintile is around 4 percent; in San Jose the odds are at 13 percent. We believe in leveling the odds and see Opportunity Zones as having the potential to drive inclusive economic development through the mobilization of large-scale investment into low and financially-insecure communities.
We want to work together with market participants and investors to create investment strategies that speak to those goals and ensure that the focus of those investments is on driving improvements in people's lives.
Kimberlee: From the Kresge perspective, as a foundation increasingly about community development, Opportunity Zones are the first new community development program in 15 years so it's an important, new resource. We think that there's a role for philanthropy to play in helping to ensure that the program delivers capital to a wide variety of places. The early data shows that Governors selected Zones leaning toward the distressed side, which wasn't necessarily expected. We at Kresge have a lot of experience understanding what it takes to make investment capital work in distressed markets and believe our guarantees may help Opportunity Zone managers develop investment strategies that promote long-term social and economic growth for those communities.
Lorenzo: I agree. The Rockefeller Foundation has spent an enormous amount of time and resources thinking about what creates economic opportunity and our support for this RFI is integrated within a broader strategy to drive inclusive economic development in the U.S. The way in which we're thinking about partnering is by working together and thinking through what an investment strategy looks like, offering our capital to help develop certain strategies, and monitoring and measuring impact. We could also potentially come in alongside investors and help lower the risk of certain opportunities that we think have particularly high potential for impact but where more traditional investors may not be as willing to go.
Where to find the LOI REQUEST FORMS
Q: What story do you hope to see emerge in the submissions of this request for LOIs?
Kimberlee:  We hope that the Opportunity Zone request for LOIs will attract a diverse set of managers. In the community development space, we know many organizations deeply rooted in community development are looking carefully at Opportunity Zones. But we also think Opportunity Zones might attract more market-driven managers, and we're interested in hearing from them as well. Our primary goal is to identify managers who share our priorities of ensuring capital flows smartly to distressed areas and want to be a part of tracking long-term impact metrics. Over time, those metrics will help the field and policymakers evaluate the effectiveness of the Opportunity Zone program.
Lorenzo: We also hope to see innovation. For us to really take advantage of this opportunity, it's not going to be business as usual. It will be managers looking for potentially new types of partnerships — not just with philanthropy, but also with government — in addition to thinking about what is the fit-for-purpose investment model that will allow us to bring scale, as well as the impact integrity. That openness to doing things differently, seeking out new types of partnerships, is necessary to take advantage of the commercial opportunity and the impact that Opportunity Zones can have.
Q: How has the early response been to the joint request for LOIs? Are submissions coming in, or questions coming to your inboxes?
Kimberlee: We've heard one thing that needs clarification: Because we do not accrue capital gains like a traditional investor, foundations are not prospective investors in Opportunity Zone Funds. We do believe, however, that as a guarantor, we are well suited to assist managers to launch best-in-class funds. I think we've also heard many states, banking partners, as well as fund managers are wrestling with the impact tracking portion of this program. Although the regulations may not currently call for impact measuring, we're seeing a lot of collaboration around developing best practices for this program. We're eager to see these efforts take root so that the long-term story of impact and return can be told. Moreover, measurement and reporting are just basic standards in transparency and effectiveness.
Q: Great. Is there anything else you'd like people to know about the LOI submission process?
Kimberlee:  We've heard from several other foundations about their interest in seeing what LOIs come in. The LOI submission forms give applicants the opportunity to authorize us to share their information with other philanthropies that may be interested in investing. We hope to use this submission-gathering process to inform the efforts of multiple institutions.
On July 10, we are holding a webinar with representatives from Kresge and The Rockefeller Foundation during which you can learn more and ask questions. RSVP here.