FreshLo envisions strengthening low-income communities by integrating creative placemaking and food oriented development.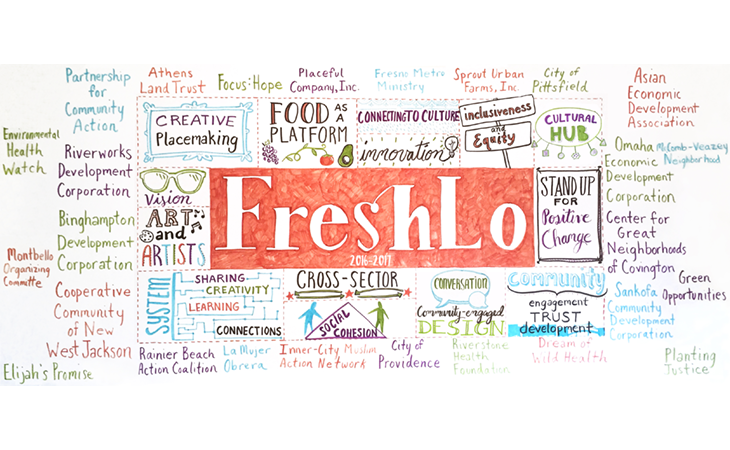 Kresge's Arts & Culture and Health programs collaborated to fund neighborhood-scale projects demonstrating creative, cross-sector visions of food-oriented development. With FreshLo, The Kresge Foundation is the first national funder to intentionally and equitably integrate food, art and community to drive neighborhood revitalization at this scale.
FreshLo brings together organizations focused on a common goal: to drive equitable and creative development that increases health in underserved communities. A joint initiative from the Arts & Culture and Health Programs, FreshLo provides funding, networking and technical assistance to organizations that incorporate creative placemaking into holistic approaches to healthy food systems.
FreshLo Planning Grants
26 Nonprofit organizations and coalitions from across the nation were awarded $75,000 planning grants through FreshLo to design neighborhood-scale projects demonstrating creative, cross-sector visions of food-oriented development. These planning grant projects are currently underway and these organizations will have the opportunity to apply for implementation funding in 2017.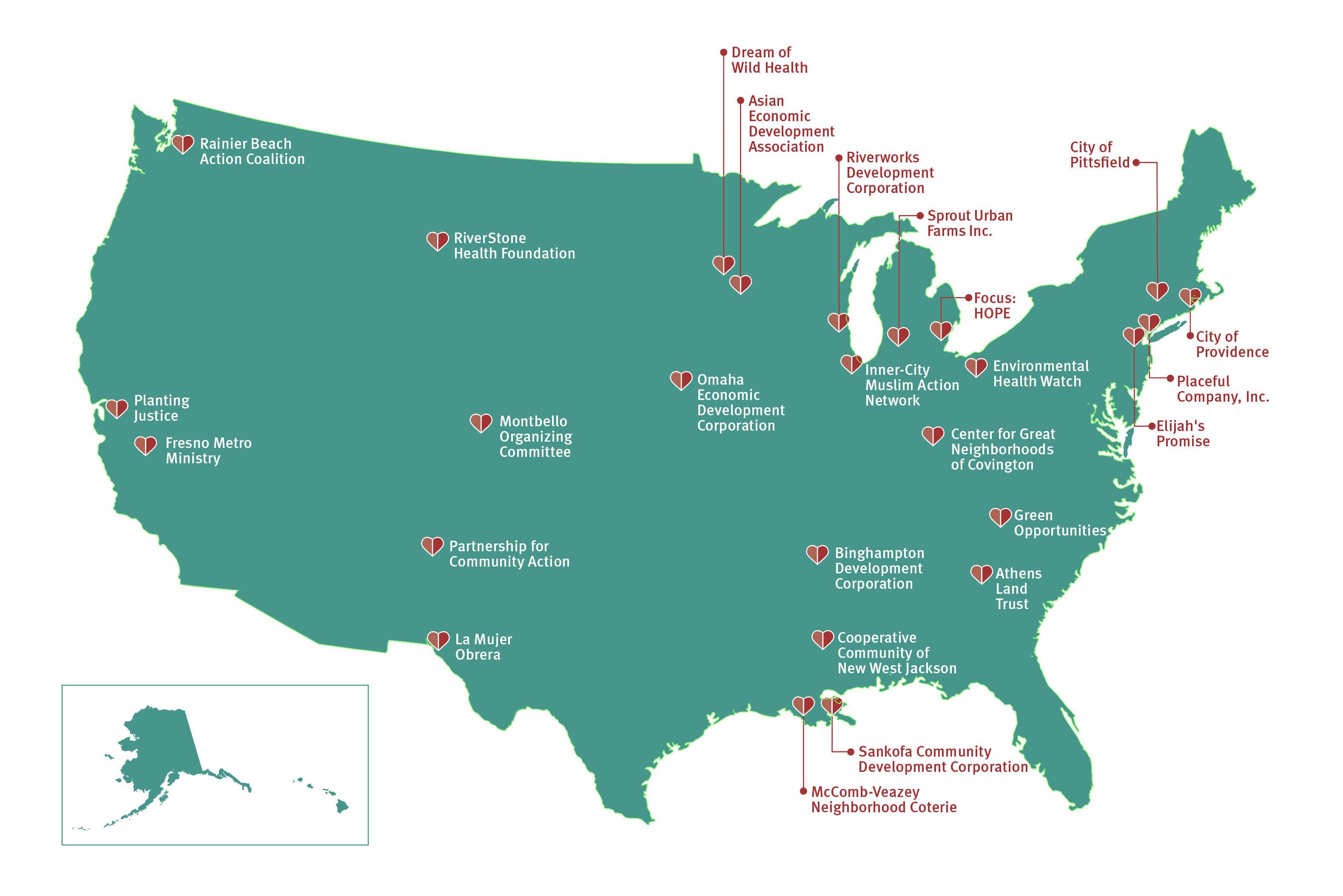 Learn about the FreshLo Planning Grants
Saint Paul, MN

The Asian Economic Development Association (AEDA) is developing a strategic plan that links food and artist entrepreneurs to the Little Mekong Night Market in St. Paul, MN. AEDA is partnering with Frogtown Farm, Public Art Saint Paul and The Urban Farm and Garden Alliance to develop an integrated community food development plan to create economic opportunity and increase access to healthy foods for residents of the Frogtown and Rondo neighborhoods. The partners will utilize street festivals as an opportunity for cultural performances and resident engagement.

New York, NY

This grant will support community engagement and planning work that will leverage the history of La Marqueta - a public market in East Harlem - as an innovative center of New York Latino culture and promote its utility as a vital piece of the community's economic development, access to healthy food and cultural revitalization.

Environmental Health Watch

Cleveland, OH

This planning grant will integrate public performances including plays, hip-hop artists and cultural programs that celebrate culture into a 6,000 square foot food hub in East Cleveland's Kinsman neighborhood. The collaboration of partners including Environmental Health Watch, Burten, Bell, Carr Development, Rid-All Urban Farm & Training Center and Garden Valley Neighborhood House is engaging residents in design and providing local growers and producers with the space and training to grow their food enterprises.

Elijah's Promise and partners New Brunswick Tomorrow and coLab arts are planning to implement The Food Changes Lives Center, a neighborhood food hub

Asheville, NC

As part of the FreshLo initiative, Green Opportunities (GO) will strengthen mission-driven food programs to enhance the creative revitalization of Asheville's Southside neighborhood. GO will work with community residents and partners to plan a comprehensive food strategy for its Southside Kitchen and Community Garden that activates healthy food initiatives, develops a deeper connection to and appreciation of healthy food and creates a thriving community space that celebrates the culture and creativity of the neighborhood.

Denver, CO​

The Montbello Organizing Committee and partner organizations are working on plan addressing the neighborhood's status as a food desert, including the development of a long-range retail and economic plan to encourage and expand locally-supported ventures. Montbello is the largest neighborhood in Denver with a racially diverse population and average household incomes are significantly lower than the rest of Denver residents. The Montbello Organizing COmmittee will engage students and residents in farming and will develop a cultural hub where residents can gather and enjoy a meal that represents their culture.

Binghampton Development Corporation

Binghampton Development Corporation will develop a plan to provide business development support for immigrant and refugee food entprenuers. This plan will include resources such as space, training and financing. In order to engage the community, Binghampton and partners will map and engage neighborhood assets such as available space, churches and restaurants. The BDC will also host community dinners to showcase different cultures' cuisine and stories to promote communtiy engagement.

Athens, GA

The Athens Land Trust along with partners such as the Clarke County School District, the Athens Housing Authority and St. Mary's Health Care Group will creatively engage neighborhood residents and minority business owners in the redevelopment of the Hancock Corridor in Athens, GA. As part of the planning process, the project will explore ways to creatively expand an existing farmer's market to become a business incubator for low-income residents as well as connect youth and farmers to the community. The project will also concentrate on food-focused strategies that honor creative expression and promote culturally relevant celebrations and festivals.

Through community dinners, The City of Pittsfield will engage residents of the racially diverse Morningside neighborhood in a plan that will encourage healthy eating, neighborhood revitalization, develop a foodways oriented public art program and provide training and support for food businesses to further develop cultural diversity.

The City of Providence will support the development of urban agriculture through the development of an urban farm and a public market while increasing the accessibility and affordability of ethnic foods. The development will also incorporate local artists and community-based organizations.

La Mujer Obrera is creating the "Chamizal Food, Health and Culture Master Plan" to evaluate the food-related programs the organization currently operates in the Chamizal neighborhood of El Paso, Texas. The planning process will allow La Mujer Obrera to take a full inventory of its assets and engage community focus groups and design experts in the future of the programs. The plan will create mobile opportunities for the La Mujer Obrera Farmers Market.

Omaha Economic Development Corporation

The Omaha Economic Development Corporation is leading a planning process to establish the Fair Deal Village MarketPlace in North Omaha's 24th Street corridor. The plan will include a restaurant, farmer's market, small busniess incubator and a Creative Collective that will feature art, food and health. The planning process has engaged approximately 700 residents through planning meetings, workshops and presentations. The Fair Deal Village MarketPlace will honor traditions of teh past while tapping into the creativity and resilience of neighborhood residents.

Partnership for Community Action

Albuquerque NM

The La Red coalition, Partnership for Community Action and partners, will further develop Community Table, a food-oriented evelopment plan with integrated arts-based programming. The Communtiy Table will allow residents to eat, create, vision, work and learn together.

Minneapolis, MN

This grant enables Dream of Wild Health and its partners in the Phillips neighborhood of Minneapolis to develop a plan addressing community food needs through traditional Native American and modern crop production, food oriented development, cultural events and hands-on learning activities.

Covington, KY

This grant supports a Creative Placemaking process to increase positive health outcomes and decrease food disparities in the Westside neighborhood of Covington, KY. Planning work includes a food mapping method that integrates art while simultaneously mapping food sources and conversing about the health, community, economic and ecological impacts of food.

Billings, MT

This grant allows RiverStone and its partner, the Healthy by Design Coalition to develop year-round, healthy food access solutions for South Side Billings residents including a full-service grocery store, healthy corner store options and a food hub.

Oakland, CA

This grant supports Planting Justice's efforts to establish food-oriented social enterprises in the Sobrante Park neighborhood of East Oakland run primarily by formerly incarcerated young men of color. The work will expand access to healthy food and to economic opportunity.

Fresno, CA

This grant will help the Ministry and its partners engage residents, businesses and others to create a food-oriented development plan in the Blackstone Corridor that includes Creative Placemaking, cultural expression and opportunities for economic development.

Detroit, MI​

This grant supports the "Curate and Cultivate" food cluster program weaving together food-related activities in the HOPE village in Detroit including a vibrant food cluster, a food/art pathway and digital/oral history tour of local foodways.

Seattle, WA

This grant allows the Coalition to develop sustainable business and operations plans for the Rainier Beach Food Innovation District/Center, utilizing neighborhood assets to boost transit, cultural anchor institutions, and an emerging food business sector among other development.

New Orleans, LA

This grant supports Sankofa's development of a Healthy Food Hub plan that stimulates inclusive entrepreneurship and job creation along with artistic expression in the Lower Ninth Ward of New Orleans.

Chicago, IL

This grant supports planning for a farmer's market and healthier corner store foods in the Chicago Lawn neighborhood. Local residents will be engaged in a process to make corner stores community leaders in healthy food options.

McComb-Veazey Neighborhood Coterie

Lafayette, LA

This grant supports community-led efforts to establish and Food/Culture Hub in the McComb-Veazey neighborhood in Lafayette, Louisiana the celebrates its Creole heritage and created employment opportunities. This is part of a comprehensive food initiative that will create benefits for low-income residents.

Cooperative Community of New West Jackson

Jackson, MS

This grant supports creation of plan for development of a program to train and education local residents to grow, produce and distribute healthy value-added foods and creative products. The work will shrink household food budges and increase income through profit sharing, job creation and skill training.

Milwaukee, MI

This grant supports an implementation plan for an arts-infused year-round farmer's market in the Harambee and Riverwest Neighborhoods of Milwaukee and further engagement of the existing network of food-oriented development leadership.
FreshLo Partners In the News
FreshProduce is a partner of FreshLo grantee Environmental Health Watch's project in Cleveland. The duo's approach to music that is healthy for the mind, body and soul was recently featured in Scene.

Tina Shelvin Bingham, of McComb- Veazey Neighborhood Coterie was interviewed by NBC affiliate KLAF about the "Cooking in the Hood" community dinner series.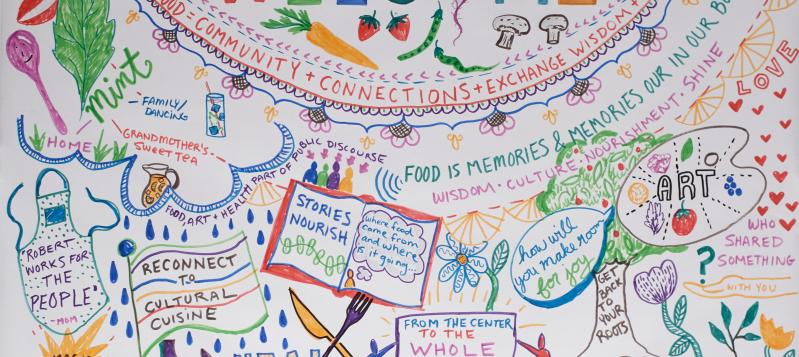 What does it look like when the collective energy of dreamers, leaders and innovators is transcribed by professional artist, Brittany Zeller-Holland?
More than 80 people including representatives from 26 organizations across nation came together for the first convening of FreshLo grantees at a three-day event in Cleveland .
The Kresge Foundation has named nine national experts from fields such as sustainable food development, creative placemaking and community development to the advisory committee for the FreshLo initiative.
An unprecedented approach to strengthening economic vitality, cultural expression and health in low-income communities launched today with The Kresge Foundation's announcement that 26 organizations across the nation will receive nearly $2 million in grant funding to develop food-oriented initiatives in cities across the nation.
Green Opportunities, Asheville, NC

Green Opportunities is using their FreshLo planning grant to develop a comprehensive strategy that will strengthen their food programs to impact creative revitalization of the Southside neighborhood in ways that are inclusive and neighborhood-driven.

Pictured, left to right, is Chef Director Liam Luttrell-Rowland and Community Leaders Roy Harris and Shuvonda Harper. Liam, Roy and Shuvonda work collaboratively on the FreshLo planning grant.

Green Opportunities, Asheville, NC

Students of Green Opportunities' Kitchen Ready Program, Christine Carter, Stephen Hammond and Kierra Byers, take a moment to reflect prior to serving a community meal at the Southside Kitchen.

Green Opportunities, Asheville, NC

Green Opportunities' Kitchen Ready Cycle 13 student Michelle O'dette prepares dessert at the Southside Kitchen community pop-up dinner.

Green Opportunities, Asheville, NC

At Green Opportunities' Pop-Up community dinner at the Southside Kitchen, Chef Hannan Shabacz greets community members as they enjoy the meal. Chef Shabacz tells community members about the program and the students who prepared their meal.

Green Opportunities, Asheville, NC

The Southside Community Garden, a resident-run garden located near the Kitchen in a Housing Authority-owned community facility.
FreshLo Core Values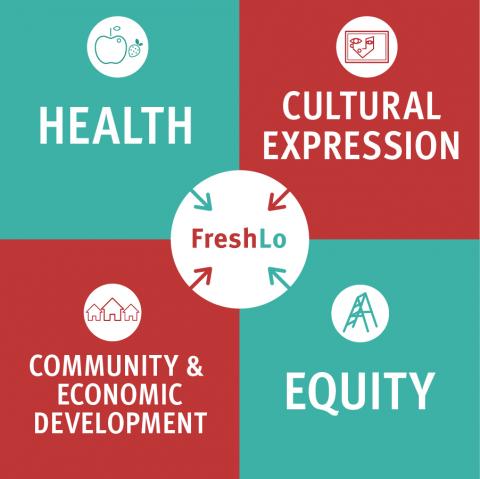 There are four core values to a FreshLo Project:  Health, creative placemaking, community development and equity. 
National Program Office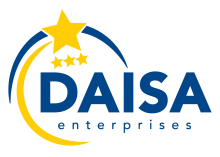 DAISA Enterprises serves as the National Program Office for the FreshLo initiative. DAISA brings valuable expertise with food systems, health and community development to the initiative. To contact the National Program Office, please e-mail freshlo@kresge.org.