About Us
"Creating opportunity for low-income people is a hallmark of our work at The Kresge Foundation," says President Rip Rapson. "Our programs reflect the inflection points where we think we can actually make a difference in the life trajectories of people who are poor, disadvantaged or underserved in fundamental ways."
The Kresge Foundation is a $3.5 billion private, national foundation that works to expand opportunities in America's cities through grantmaking and investing in arts and culture, education, environment, health, human services, community development in Detroit.
In collaboration with our grantees and partners, we seek to use these grantmaking and investing tools to create pathways for vulnerable people to improve their life circumstances and join the economic mainstream.
In 2014, the Board of Trustees approved 408 awards totaling $242.5 million. That included a $100 million award to the Foundation for Detroit's Future, a fund created to soften the impact of the city's bankruptcy on pensioners and safeguard cultural assets at the Detroit Institute of Arts. A total of $138.1 million was paid out to grantees over the course of the year. In addition, our Social Investment Practice made commitments totaling $20.4 million in 2014.
The way we work
Kresge is a strategic philanthropy. We employ an array of funding methods to address and advance a set of well-defined programmatic objectives.
We focus our efforts in and around the nation's cities. Home to 80-plus percent of the U.S. population, metropolitan areas give us the greatest potential to open the door of opportunity, particularly for those experiencing poverty and hardship.Cities also tend to foster creativity and be more amenable to new approachesfor chipping away at persistent problems.
"The brilliance of Sebastian Kresge is best exhibited in his guiding wish that the foundation 'promote human progress,'" explains Elaine D. Rosen, chairwoman of the Board of Trustees. "It is the responsibility of the board and staff to interpret his maxim and to take the foundation where it needs to go to be relevant in the 21st century. Redefining ourselves as a strategic philanthropy represents our efforts to fulfill this responsibility."
How it all began
In 1924, with an initial gift of $1.6 million, Sebastian Spering Kresge established The Kresge Foundation in Detroit. Twelve years earlier, he and his partner, John G. McCrory, opened the first five-and-10-cent store – a revolutionary merchandising idea at the time – and parlayed the concept and operations into a chain of stores that were incorporated as the S.S. Kresge Company. Many years later, the enterprise became known as Kmart.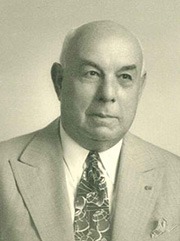 Sebastian chaired the first foundation board meeting and then served as treasurer until his death in 1966, at age 99. By then, he had contributed $60.5 million to the foundation. All along, he maintained a steadfast commitment to charitable giving.
For more than 80 years, his mandate to promote human progress was realized through the support of fundraising campaigns to build capital projects – libraries, hospitals, schools, museums, community centers and the like – that, over the years, have contributed to the creation of the nation's nonprofit infrastructure.
The Kresge challenge grant created community excitement, spurred the growth of a nonprofit's donor base, and helped the organization reach its fundraising goal.
"Giving away money is not an easy job," Sebastian once observed. "Money alone cannot build character or transform evil into good; it cannot restore the influence and vitality of the home; neither can it maintain the valleys and plains of peace. Spent alone, it might as well stay in the vaults .... It cries for full partnership with leaders of character and good will."
The Kresge Foundation today
Kresge's broad fields of interest have become seven narrowly defined programs – Arts and Culture, Community Development, Detroit, Education, Environment, Health, and Human Services. Each has a particular point of view with long-term goals and strategies to guide our grantmaking and investing. We partner with those committed to the needs of poor individuals and communities – small, mid-size and large nonprofit organizations, intermediaries, and the public and private sectors.
Undergirding all of our work are our values:
We work to create opportunity, have community impact, foster institutional transformation, and promote stewardship of the environment.
We practice calculated risk taking, a commitment to innovation and collaboration and a belief in the intrinsic benefits of diversity.
We are fulfilling our mission to promote human progress by helping improve the lives of poor and low-income children and adults and underserved urban and rural communities.
Ongoing Kresge family involvement
For more than eight decades, the Kresge family has provided guidance and inspiration for the foundation. Following Sebastian Kresge's tenure on the board of trustees, the following descendants have served or are serving on the board today: son, Stanley Sebastian Kresge; grandson, Bruce A. Kresge; great-granddaughters, Deborah McDowell, Katherine Lutey, Susan Drewes and Cynthia Kresge.
In total, the board is composed of 12 trustees, all of whom keep sight of the fact that this highly regarded national institution is also a family foundation.