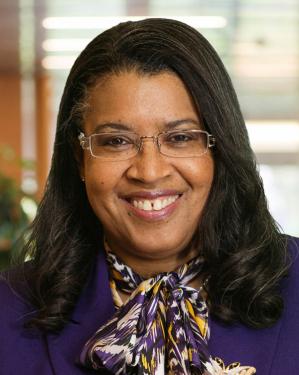 Wendye Mingo is the managing director of information technology at The Kresge Foundation. She provides strategic and operational leadership for the coordination of IT services to support the foundation's grantmaking, social investment and institutional investment strategies as well as its administrative functions.
Wendye joined the foundation in 2017. Previously she worked as an IT leader in the financial services units of both Mercedes-Benz and the former DaimlerChrysler Corp., where she was involved in major technology transitions, data center modernization initiatives and software engineering projects. She also managed ongoing system mergers and subsequent demergers, after Daimler-Benz AG acquired Chrysler Corp. and subsequently sold the unit in 2007.
She is an active member of Alpha Kappa Alpha Sorority Inc. and is a champion of helping young women and girls explore careers in IT. As a member of her sorority, she serves on its International Technology Committee and has established an endowment fund for female students majoring in information technology through the Educational Advancement Foundation. She has served as a presenter at the Eastern Michigan University's Digital Divas Conference, a judge for the Michigan Council of Women in Technology's Website Design Competition for High School Girls, and she is president of the Pearls of Promise Foundation Inc.
A Detroit native, Wendye earned a bachelor's degree in computer science from University of Detroit Mercy, a master's degree in computer science and a Ph.D. in instructional technology from Wayne State University.