Strategic Learning, Research and Evaluation
We are committed to strategic learning and knowledge sharing that advances our mission and the fields in which we work.
Strategic learning, research and evaluation is about connecting data and insights with action. We begin with the questions that we most need to address to inform our grantmaking and social investing strategies and approaches, partner with grantee partners to ensure evaluation efforts support organizational and community needs, and consider how we can advance the fields in which we work. Our practice is grounded in our organizational mission and values, and as such, we bring an equity lens to evaluative thinking. Our approach speaks to dual needs for learning and accountability.
After The Kresge Foundation shifted its focus in 2006 to be a strategic philanthropy, focusing on specific program areas to help improve the life circumstances for low-income people in America's cities, there was increasing demand to measure the results of our work.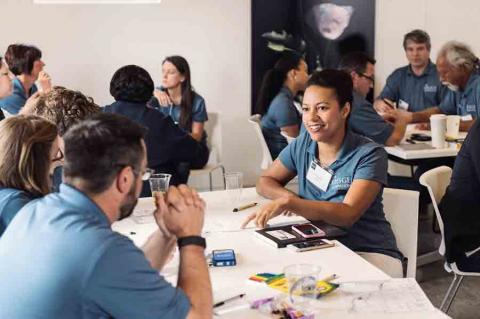 Each Kresge program and practice has a succinct theory of change, a set of values underlying the theory and proposed objectives resulting from the strategies. Teams intentionally embed learning and evaluation throughout the strategy life cycle. In this way, standards around strategy, learning and evaluation are integrated within each of our programs and practices.
By establishing Kresge's learning and evaluation function in late 2015, the organization has commited to growing our knowledge endowment – to draw from the full suite of philanthropic tools, including evaluation and thought leadership – to join conversations that advance the nonprofit and philanthropic sectors. To that end, we are committed to transparency and the broad dissemination of our learnings.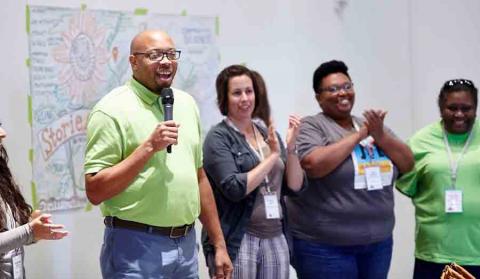 We recognize that not every grant or investment will be a success, but we recognize the value of taking risk and learning across our bodies of work.
Kresge believes in engaging all staff in meaningful mission-related learning. We seek to connect learning with action to enliven our values and mission. We do this through regular staff trainings, staff retreats and other forms of just-in-time learning taught by external experts. Learning and evaluation is an important way in which we hold ourselves accountable to our mission, partners and fields in which we work.
Strategic Learning, Research and Evaluation team
Strategic Learning, Research and Evaluation

Strategic Learning, Research and Evaluation
Examples of Current Strategic Research and Evaluation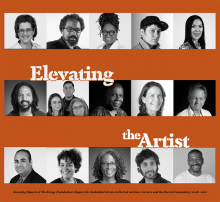 Impacts we are assessing from the Kresge Arts in Detroit program
The Kresge Foundation annually awards roughly $500,000 to 21 metro Detroit artists: $50,000 to an Eminent Artist, $25,000 to 18 Artist Fellows and $5,000 to 2 Gilda Awardees. The foundation also funds the administration of the program and professional practice development for the Artist Fellows. What difference has it made to artists? To the arts community? To the city?
There have been "abundant, clear and positive impacts on Fellowship award recipients, the Detroit arts ecosystem and civic leaders and infrastructure," according to "Elevating the Artist," an evaluation of the initiative's first eight years by an outside consultant.
The evaluation is based on 70 one-on-one interviews by Minnesota-based 8 Bridges, including 24 award recipients, other artists and art leaders, civic leaders, Detroit and national grantmakers and Detroit journalists; 8 Bridges also convened a community meeting of 45 arts community leaders, reviewed media report and conducted a review of other foundation evaluations and other related literature.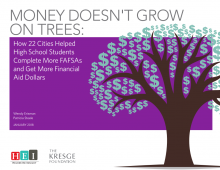 Lessons we are gaining from the FAFSA Completion Challenge Grant Initiative 
The Free Application for Federal Student Aid (FAFSA) is the primary mechanism for postsecondary students to access federal, state and institutional financial aid.  The Kresge Foundation partnered with the National College Access Network (NCAN) to launch the FAFSA Completion Challenge Grant Initiative to support efforts to increase FAFSA completion among high school seniors. Lessons learned from the 2016-17 school-year challenge include: 
Don't reinvent the wheel. Increasing FAFSA-completion rates, particularly for low-income and first-generation college students, did not require new strategies but rather adapting existing, well-documented strategies to specific community contexts.
Coordinating stakeholders is key. All of the participating cities had implemented some FAFSA-completion efforts in the past, but the efforts were typically scattered across different organizations and might have been duplicative. For many participating cities, coordinating existing FAFSA-completion work was central to their project strategy. 
Take a tiered approach. In many participating cities, project teams developed a tiered approach, starting with a citywide outreach campaign, followed by large-scale FAFSA-completion events, smaller group interventions, and finally one-on-one assistance with the students most in need of support.
Read the external evaluation from consulting firm Higher Ed Insight.

Questions we are asking about the FreshLo Initiative
Fresh, Local & Equitable (FreshLo) is an initiative of the Kresge Health and Arts & Culture programs to fund neighborhood-scale projects demonstrating creative, cross-sector visions of food-oriented development. FreshLo projects intentionally integrate healthy food, creative placemaking, community development and equity in their work. To learn from the initiative as it develops, we are asking the following questions:
How do community food and creative placemaking initiatives create value and deliver multiple benefits in authentic partnership with low-income residents?
Using qualitative comparative case analysis, what can we learn about the summative impact of efforts funded within this initiative?
What do community residents have to say about food and creative placemaking as levers for positive community change?

Insights we are learning from City Energy Project
The City Energy Project (CEP) is a national initiative to create healthier and more prosperous American cities by improving the energy efficiency of buildings. The initiative is co-funded by Kresge in collaboration with Bloomberg Philanthropies and the Doris Duke Charitable Foundation and implemented by the Institute for Market Transformation and the National Resources Defense Council in partnership with the Energy Foundation. The project's 20 participating cities support innovative, practical solutions that cut energy waste, boost local economies and reduce harmful pollution. To learn from the first phase of the project, Kresge commissioned a formative evaluation to help shape CEP's ongoing implementation. Key insights from the evaluation include:
Specific elements of the CEP model, namely City Advisors, peer exchange networks and Hub Staff support, have proven invaluable to municipalities and are considered essential to the long-term success of CEP.
Cities that proactively engage with stakeholder groups from the outset set the tone for stakeholders to be designers of, rather than reactors to, proposed energy policies and programs. Stakeholder outreach and education also provides an opportunity to strengthen local partnerships for energy efficiency.
By increasing market engagement through education and outreach, strengthening links with existing networks and establishing a compelling business case, CEP will continue to build a foundation to support broader market transformation into the next phase of work.
Read findings and recommendations from an interim evaluation of the project.