Using technological change to accelerate inclusion and shared prosperity in cities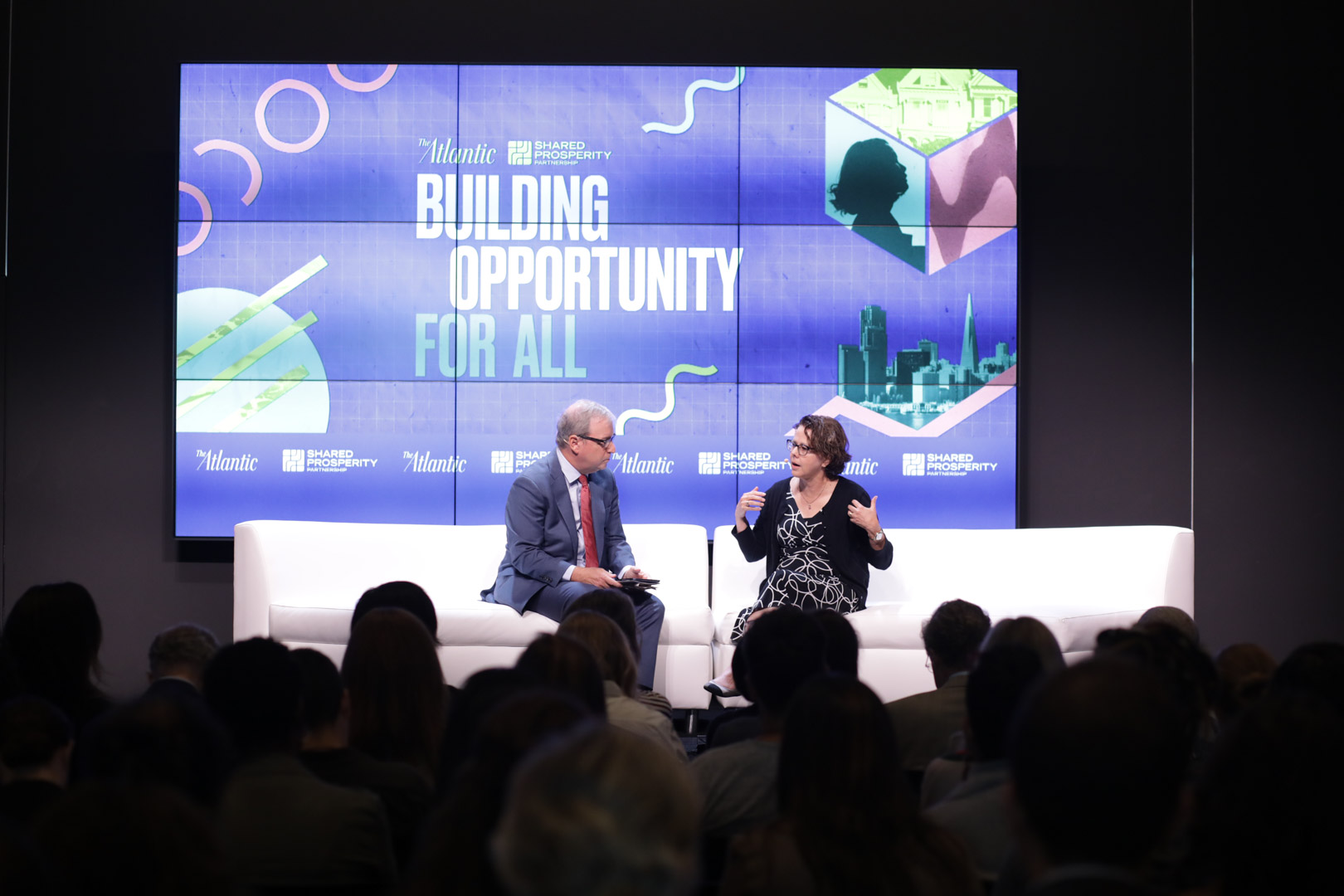 Business, civic and community leaders gathered in San Francisco yesterday for the third "Building Opportunity for All" public forum to explore how rapid technological change is hardening inequity in America's cities, and how technology can be harnessed to accelerate inclusion.
The discussions were hosted by The Atlantic and the Shared Prosperity Partnership (SP2), a collaboration of the Kresge Foundation, the Brookings Metropolitan Policy Program, the Urban Institute and Living Cities.
Urban Institute President Sarah Rosen Wartell welcomed attendees on behalf of SP2 and noted the partnership is, "arriving in communities that we work together to select…places that are wrestling with this challenge of how do we grow in a way that is more inclusive." Rosen Wartell continued, "when we get there, the first thing we do is listen. Then we ask, what can we do to help you do your work?"
The tech revolution, including the impact of automation on labor markets and workforce preparation, particularly for communities of color, has emerged in SP2 cities including Milwaukee, Fresno and Memphis.  
Cecilia Muñoz, Kresge board member and vice president for public interest technology and local initiatives at New America, described the promise of technology as a force for accelerating solutions to the problems facing the most vulnerable populations. "Tech isn't just an industry. It's a set of skills and capacities that can be deployed anywhere," Muñoz explained in a discussion with the Atlantic's Senior Editor Ron Brownstein. She continued, "to build an inclusive future, we can't have a conversation about communities that are most affected, but rather [we need to have it] with them."
But often the quest for inclusive solutions and inclusive conversations that harness technology is championed by civic leaders and local changemakers.
"It's easy to find policymakers trying to solve problems for most vulnerable residents but it's hard to find for-profit tech leaders who are doing so," said Molly Turner, business and public policy lecturer at the University of California, Berkeley Haas School of Business.  
Changing labor markets coupled with rising costs of living can cause housing insecurity and homelessness, a pressing challenge in the Bay Area.
Joe Wilson, executive director of Hospitality House, a social services organization based in San Francisco, highlighted the inherent connection between homelessness and job-loss. "One in four homeless people lists loss of a job as the primary cause of homelessness," Wilson said. "If we are have having a panel about shared prosperity, we have to talk about how we are investing or not investing in a workforce that can actually afford housing costs…"
The audience of approximately 200 attendees included tech company representatives, civic leaders, community activists and city residents.
Attendee Karen Pierce, a native San Franciscan and city resident, probed Facebook's Menka Sethi, director of location strategy and site optimization, and asked, "What can you really do to address these challenges and protect the most vulnerable?"
Sethi responded, "We have to step up to the table…But I'll also put out a call to action. We can't do it alone… It really is a cross-sector effort. It's not just about housing, it's about social mobility."
A full recording of the day's discussions, including a conversation with Bay Area Mayors Jesse Arreguín of Berkeley, Sam Liccardo of San Jose and Steven Scharf of Cupertino, are posted here.
The Shared Prosperity Partnership is an initiative of Kresge's American Cities Program.