'Unlikely' film showcases student stories of hurdles to college success
Documentary premiered at Napa Valley Film Festival, screenings planned for more locations
Tania always dreamed of being a teacher, not a movie star.
Now, she's on her way to being both.
Tania is one of five students whose stories are featured in "Unlikely," a new documentary film by independent filmmakers Jaye and Adam Fenderson of Three Frame Media. The film delves into the barriers to success in today's higher education system, especially for low-income students, and outlines a few solutions at work to solve them.
As a child of Iranian immigrants growing up in Los Angeles, Tania, now a mother of two, rarely, if ever, had teachers who shared her background. Still, she peered into the future and saw herself one day in charge of her own classroom, where she could make a difference in the lives of students like herself.
After graduating from high school, she started her postsecondary path at a community college. She wasn't clear on whether she was enrolled in the right courses and didn't have anyone to ask for help. Then, her father, the family breadwinner, suffered a stroke, and she dropped out of school to work.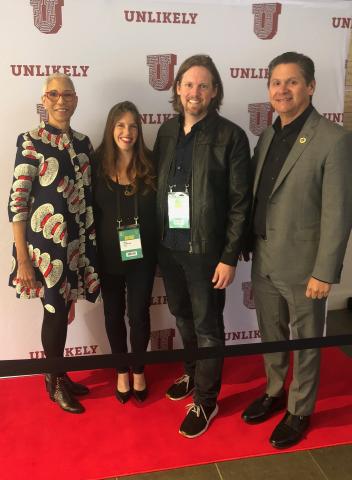 Her story in the film begins as Tania is working as a manager at a Starbucks in the Los Angeles area, still without a degree.This story of starting college only to get off track due to confusing practices or complicating life factors is all too common in higher education today. More than 35 million students fit the category of having some college, but no degree. And students like Tania who are the first generation to go to college experience a higher education system that isn't built around their needs.
"Unlikely" profiles five students who fit that mold. There's Clarissa, a mom of three who built up substantial debt attending a for-profit college, only to find out it was unaccredited and that none of her credits would transfer anywhere. There's Kalif, who was his high school valedictorian but still found based on his test scores that he couldn't get into the college of his choice and was considered unprepared for postsecondary courses.
The feature length film premiered last week at the Napa Valley Film Festival and will continue to screen at special events around the country. It's supported through grants from Kresge's Education Program, and Kresge Trustee Paula Pretlow attended the event and introduced the film, saying, "The students featured in this film are all heroes in my book. Despite long odds, they're dedicated to getting that degree, often by finding the innovative programs and institutions that are willing to put new practices and solutions in place to help them succeed. All of them are truly inspirational."
One solution featured is the University Innovation Alliance, a Kresge-funded cohort of 11 public regional universities working to institute data analytics practices that foster more student success and that work together to share best practices and findings. Other solutions featured include Year Up and Complete College America.
Without revealing the ending, know that Tania has now positioned herself well for her future, including getting started on a path to complete her dream of becoming a teacher. She takes advantage of a partnership between Starbucks and Arizona State University that allows the coffee giant's employees to complete a degree for free online.
 "It's really surreal to see my story this way. It brought me to tears," Tania said during a panel with the filmmakers and California Community College Chancellor Eloy Ortiz Oakley, who was one of more than a dozen experts included in the film, after the Napa Valley screening. "I know my story is not exclusive to me. There are so many other Americans who are having the same struggles. I'm proud to tell my story and know that it is a common theme across America."
Oakley said, "Films like this open our eyes to what is really going on behind the scenes."
"This tells you the story of what's going on in our economy today," he said, "and who is being left behind. We're finally starting to see the truth."
 Check UnlikelyFilm.com to find details about future screenings.