Unique partnership seeks to create greener, cleaner, healthier West Atlanta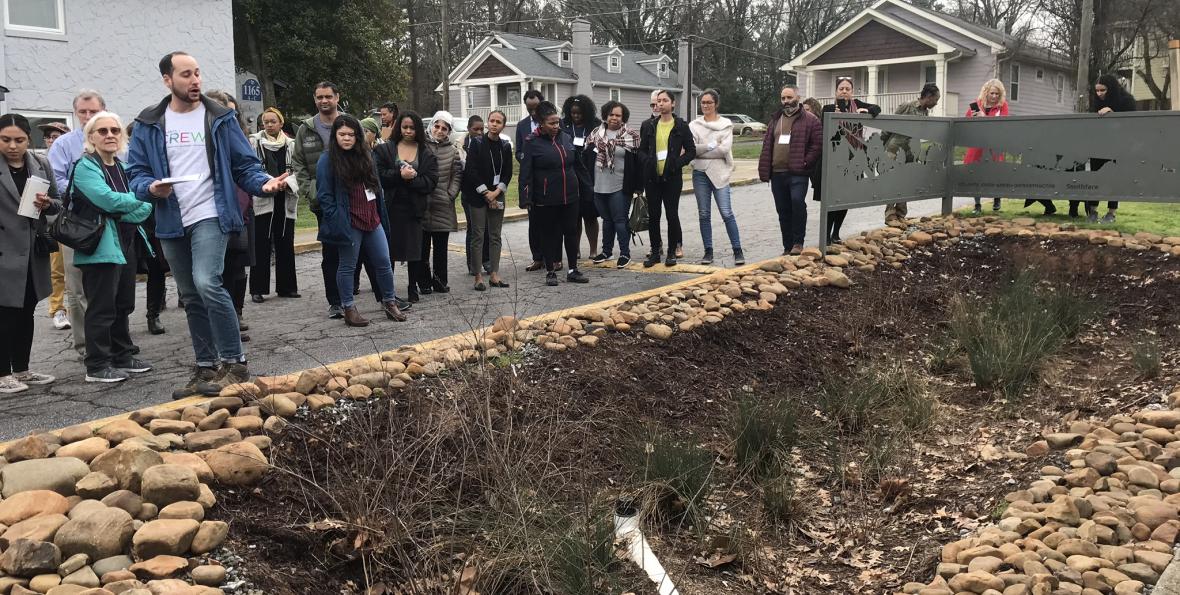 In Atlanta, one inch of rainfall can generate as much as 640 million gallons of stormwater runoff.
When rain falls in natural, undeveloped areas, water is absorbed and filtered by soil and plants. But when a city is covered by streets, sidewalks and parking lots, that water may not soak into the ground; instead it flows into neighborhoods – flooding homes and schools with trash, bacteria and other pollutants from the urban landscape.
In West Atlanta, this is a serious problem that goes much deeper than simply a clogged drain. Stormwater flooding has damaged homes and businesses for decades, hurting not only the environment, but the health and well-being of residents in this predominantly African American neighborhood.
"There is a relationship between the condition of the people who live here and the condition of the land," said Alex Trachtenberg, senior project manager at the Southface Institute.
As part of The Kresge Foundation's Climate Change, Health & Equity convening held in early February, participants learned how a unique partnership between the Southface Institute, West Atlanta Watershed Alliance (WAWA) and Atlanta Land Trust has helped address urban flooding, affordable housing, green property renovations, green infrastructure training and employment in West Atlanta's Utoy Creek Watershed. The 34-square mile Utoy Creek Watershed is one of five that drains into the Chattahoochee River and continues into the Gulf of Mexico.
This collaborative work in the West Atlanta Watershed is supported in part by the Strong, Prosperous, And Resilient Communities Challenge (SPARCC), a multi-stakeholder initiative also supported by Kresge.
"People are experts of their experience," said Darryl Haddock, education director at WAWA. "We worked with the community to develop a citizens plan to deal with water challenges and create a greener, cleaner, healthier and more sustainable Atlanta for the people who have been here, are here and will be here in the years to come."
Green Job Training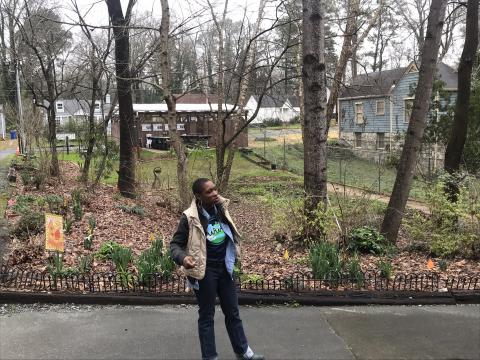 During the tour, participants visited WAWA's Outdoor Activity Center, a 26-acre urban forest preserve and nature center that serves as the training site for Atlanta CREW (Culture-Resilience-Environment-Workforce).
Atlanta CREW is a free green infrastructure and stormwater management workforce development program that trains people to install and maintain green infrastructure projects, while integrating arts and culture into the process.
Green infrastructure is a stormwater management approach that uses rain gardens, greenspaces, parks and other elements to reduce the volume of polluted runoff from entering pipes and streams.
Through this pilot program, Atlanta CREW trains cohorts of 10-15 people to install projects in the watershed. Trainees are then connected to job opportunities with Atlanta CREW's employer network throughout the program.
"In a city where the wealth divide is the largest in the country, this program is an opportunity for members of the community to gain a pathway to a viable job opportunity," said Erica Holloman-Hill, Ph.D., the program manager at WAWA.
Since the program began in June 2019, one cohort installed a rain garden at the Outdoor Activity Center, planting pawpaw trees, milkweed, mountain mint, blue flag iris, beautyberry, aster, fothergilla and echinacea. The site also included a bench and planters designed by a local artist with community input.
Community Vision, Community Voice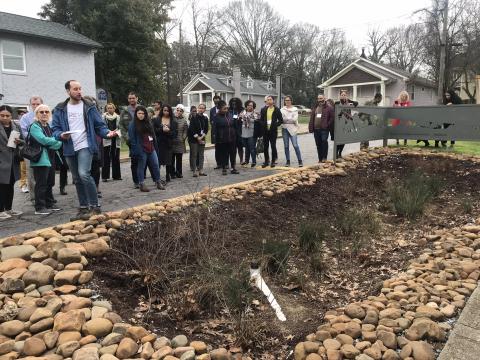 Convening attendees visited another CREW project site at the Oakland City West End Apartments, a 111-unit affordable housing community in southwest Atlanta.
Before 2019, whenever it rained, water would seep into the complex's first floor apartments, ruining property and possessions, as well as creating a host of health issues for people living there, Trachtenberg explained.
Today, two 5-foot-deep rainwater gardens, built with the help of four apartment residents enrolled in CREW, are in front of the buildings to capture stormwater.
Just these two installations will help divert more than 1.7 million gallons of stormwater each year.
"Now when there is a storm, the apartments are bone dry," Trachtenberg said.
In February, the fifth CREW cohort installed a bioswale at the Rev. James Orange Park and a sixth cohort will begin work on a new project in April.
Holloman-Hill reminded the group how important it is to include residents in what is happening in their communities.
"You know your community best. We want to make sure that the impact of what we bring into a community is what you want, so if you know something isn't going the way it should, step up and say something," Holloman-Hill said.
Alex Trachtenberg, senior project manager, Southface Institute, shows visitors a bioretention pond at Oakland City West End Apartments.
Keeping Atlanta Affordable
Though West Atlanta has endured decades of disinvestment, the Lee Street Corridor in Southwest Atlanta connects two major redevelopment projects, Atlanta BeltLine Westside Trail and Fort McPherson. This has caused land prices to escalate, which threatens to displace many of the neighborhood's long-time residents.
To ensure the property remains affordable in perpetuity, Atlanta Land Trust Collaborative used a SPARCC grant to quickly gain land along the Lee Street corridor.
"We want to create permanently affordable housing and ensure long-time residents are able to stay in their neighborhoods," said Amanda Rhein, executive director of the Atlanta Land Trust.
Later this year, construction will begin on 23 units of affordable housing at a site on Tucker Avenue near the Beltline, Rhein said.
Rhein noted that her team worked with residents to determine a vision for the redevelopment of the property and design of the one-story apartments and two- and three-story homes within four three-story buildings.
Land preservation and climate resilience efforts go hand in hand, particularly in communities that are most vulnerable to the impacts of climate change, Trachtenberg said.
"Healthy buildings are for everyone. We can multisolve to keep people in their neighborhoods," he said.
Everything on the planet is connected, and in Atlanta, stormwater management, infrastructure, food, job training and creative placemaking can all come together to create a greener, cleaner, healthier community that is more resilient in the face of climate change.