Tribute: Minnesota hero instrumental in placing children and families at the core of municipal policy
This week, former Minneapolis Mayor and U.S. Representative Don Fraser, a mentor of Kresge President & CEO Rip Rapson, died. Rapson, who served as deputy mayor under Fraser, shares a tribute of his friend.
By Rip Rapson
This week, an American treasure, a North Star State hero and a treasured friend, Don Fraser, passed away at age 95.
Because Don's public service stretched for more than seven decades, it is easy to lose sight of just how extraordinarily pivotal a role he played in each phase of his public career. He got a taste for politics as a Minnesota state senator in the 1950s. In the 60s, as a U.S. congressman, he re-directed his constituents toward a more domestically-based sense of what it meant to be secure as a nation. In the early 70's, he joined with U.S. Sen. George McGovern to forge a new set of rules of engagement for the national Democratic Party. And in the mid-70's, he created the predicate for President Jimmy Carter's elevation of international human rights.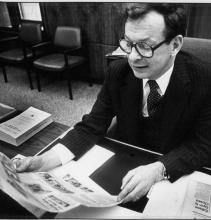 Photo courtesy of Hennepin County Library
It was then that I met Don, working as his legislative assistant in Washington D.C. He brought me onto his staff to serve as a liaison between the Washington office and his district in Minneapolis. Two years later, he asked me to staff his efforts to bring full wilderness protections to the Boundary Waters Canoe Area, the million-acre lake country of northern Minnesota, which was being threatened by logging, mineral exploration, and widespread motorboat and snowmobile use. For the next two years, I worked with a broad coalition of local and national wilderness advocates to support Don's unwavering and principled commitment to a cause that came to consume the state of Minnesota's politics up to the day on which President Carter signed into law the Boundary Waters Canoe Area Wilderness Act of 1978.
The BWCA fight cost Don his bid to serve in the United States Senate. He could have readily concluded that a quarter-century of public service constituted a legacy of contribution sufficient for any citizen. But his passion for public life wasn't exhausted, so he turned from the federal and the legislative arenas to the municipal and the executive.  
He returned to Minneapolis and ran for mayor – a position he held for 14 years. He dove into the traditional responsibilities facing any large-city mayor – balancing budgets, delivering essential residential services, growing the economy, ensuring public safety, paving the roads. But he quickly began to recalibrate the job description, elevating the soft-tissue issues of human development – K-12 reform, out-of-school-time, early childhood development and maternal health, job training, transitions from high school to postsecondary education and to work, and countless others. It seems so basic today, but it was anything but that in the 1980's. Indeed, when Don first ran to be President of the National League of Cities, his youth policy platform cost him the job, and he was defeated by the mayor of Orlando, who politely pointed out that that was not a mayor's job.
During the last four years of Don's tenure, I had the privilege to serve as his deputy mayor. He tasked me to undertake initiatives of sweeping boldness and innovation. The restructuring of the city's budgeting process . . . the creation of a $400 million Neighborhood Revitalization Program based on comprehensive neighborhood planning . . . the preservation of city landmarks like the Armory and the Ivy Tower . . . the first State of the Urban Environment annual addresses to complement his Budget and State of the City addresses. All milestones that would have generational impacts on the residents of Minneapolis.
But Don never wavered from his highest priority: finding creative and effective ways to promote the well-being of the city's children and families. He birthed the Youth Coordinating Board to align the youth policies of the independent Park, Library, and School systems with City Hall priorities. He created Way to Grow, a nurse home-visiting program, and tied it to the United Way's first Success by Six early childhood initiative. He developed a set-aside percentage in the city budget for youth outreach workers who operated out of park facilities. He convinced the corporate community to sponsor and adopt early childhood learning centers throughout the city to offer Head Start, childcare, health, and parental support services in a single location. And the list goes on and on.
When Don asked me to draft his final State of the City address in 1993, he told me that he wanted to dedicate it entirely to the challenges, accomplishments, and opportunities of children and families in the city.  He said that his separate budget address would convey clearly enough the priorities for the rest of municipal operations. He wanted to be sure that, as he left office, he articulated unambiguously the case that had seemed so foreign to his peers four years earlier – that a mayor had no higher priority than ensuring that a city's children were given every possible opportunity to realize their full potential.
I believe that time has shown just how right Don Fraser was about that. When he was finally elected president of the National League of Cities, he introduced the mayors of America to a very different view of their responsibilities to families. Indeed, the League launched an entire wing of its operations that focused on children and continues to pursue that work to this day. Mayor after mayor in contemporary America talks about the kinds of challenges and strategies that Don pioneered thirty years ago. Indeed, it is inconceivable that municipal policy and practice in our nation's cities would not place children and families at their core.
Don often said to me that public policy was a bit like taking on a project at his basement workbench – laying out the parts, understanding how they fit together, and then having the patience to assemble them systematically. I once remarked to him that that didn't seem to account for the passion he brought to public problem-solving. He grinned and replied that one began a task with passion, but finished it through intentionality. I'm not sure exactly what that meant, but it seemed right at the time. Still does.
The measure of this profoundly great man is that he never chose to dwell on his own role in any of his accomplishments. Consistent with his sage metaphor, he preferred to move with passion against a social challenge that was fundamentally inequitable or unjust, deconstruct it, and then put it back together in a more humane, sensible, and effective way.  This nation could use more Don Frasers; this Don Fraser will most certainly be missed.