Textile design pioneer Ruth Adler Schnee's life story, work on display in Detroit
The Carr Center hosts a major exhibition for the mid-century modern designer and 2015 Kresge Eminent Artist.
Through Saturday, Oct. 24, visitors to Detroit's Carr Center can view more than 200 works from the personal collection of Ruth Adler Schnee, one of the founding figures of contemporary textile design.
Schnee, 92, is an architect, interior planner and textile designer best known for her mid-century modern upholstery and drapery fabrics. On display are:
More than 60 fabric panels, many with original artwork of her designs.
More than 30 photographs of architectural and interior planning projects, done in collaboration with Buckminster Fuller, Frank Lloyd Wright, Minoru Yamasaki and William Kessler, among others.
Advertisements, posters and other ephemera from the avant-.garde home goods store Adler/Schnee, which she and her husband operated from 1949 to 1977.
The keys to the city of Detroit, awarded in 1976 for contributions to the design aesthetic of the original Greektown District.
The public is invited to attend two related events at the Carr Center, "Conversations with Ruth Adler Schnee":
Sunday, Sept. 13, 3-5 p.m.
Thursday, Oct. 15, 6-8 p.m.
Each event will begin with a screening of the 58-minute documentary film "The Radiant Sun: Designer Ruth Adler Schnee," which chronicles the artist's life and work. A conversation among Schnee and attendees will follow.
Schnee joins six other artists who, since 2008, have received the Kresge Eminent Artist award in recognition of professional achievements and contributions to metropolitan Detroit. The award includes a $50,000 prize and publication of a monograph that chronicles the artist's life story, offers examples of her artwork and describes her community contributions. The exhibition opening coincided with the release of the monograph, which can be obtained at the Carr Center or from The Kresge Foundation.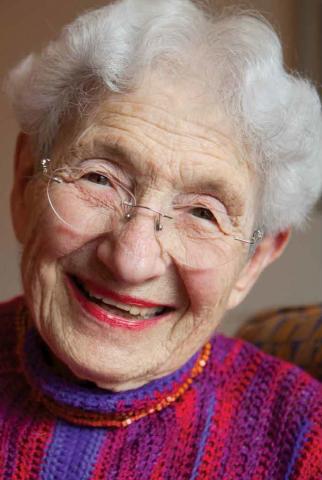 "Courage is the key factor in the creative process," Schnee said at the opening of the exhibition opening on Sept. 2. She speaks from a life of experience: Schnee trained as an architect but quickly found that no one would hire a female architect in 1946.
Undaunted, she participated in architectural competitions in order to gain visibility for her work. In 1947, she won the Chicago Tribune's "Better Rooms for Better Living" competition with a modernist kitchen plan. The plan included original textile designs for the draperies. It was the draperies – abstract patterns in bold colors – that caught the eye of an architectural firm designing auto showrooms. She was commissioned to turn her designs into drapery fabrics, and a career was born.
Schnee's textiles are in the collections of the Art Institute of Chicago and Cranbrook Art Museum, among other institutions. Her work has been showcased in numerous exhibits, including last year's group exhibition at the Contemporary Jewish Museum in San Francisco, "Designing Home: Jews and Midcentury Modernism," and "Ruth Adler Schnee: A Passion for Color," shown in conjunction with the 2011 Venice Biennale.
The first floor of the Carr Center recreates in part the exhibition previously developed by the Kibel Gallery at the University of Maryland for the Venice Biennale, which was held at the Venice Civic Museum's Palazzo Mocenigo. It was originally curated by Ronit Eisenbach and refined by the architect Caterina Frisone.
Schnee was born Ruth Adler in Frankfurt, Germany, in 1923. Her family soon after moved to Düsseldorf. Schnee's parents exposed her to art, music and design as a young child. The artist Paul Klee was a family friend, and as a child Ruth spent many days playing with mobiles on the floor of his studio. That home was destroyed – and with it any sense of a future for the Adlers in Germany – in the Nazis' Kristallnacht pogrom against Jewish homes and institutions in November 1938. The family salvaged what it could and the following year fled to the United States, settling in Detroit.
"Ruth quite literally enlightened the drabness of post-World War II interiors and brought us into a world of color we now take for granted," said Rip Rapson, president of The Kresge Foundation, at the exhibition opening (read Rapson's remarks). "Her classic designs of decades past are still in production – and she is still creating new ones. She is both a Detroit treasure and one of the founding figures of contemporary textile design."
Schnee earned her bachelor of fine arts degree from the Rhode Island School of Design and her MFA in architectural design from Cranbrook Academy of Art in Bloomfield Hills, Mich.
The Carr Center is at 311 E. Grand River Ave., in Detroit. Visit the Carr Center website for dates and times.
To obtain a copy of the Ruth Adler Schnee monograph, email media@kresge.org and include your name and full mailing address.