Summer at Kresge: Social and economic awareness inspires intern to give back
Basirat Owe sees purpose behind everything she has experienced in life.
As the Kresge Foundation's Investment Office summer intern, Owe is using her experiences to pave a road towards positive economic development geared towards populations facing inequity. 
Both of Owe's parents immigrated from Nigeria and raised her and her two siblings in Detroit, Michigan. During her childhood, she noticed inequities throughout metro Detroit that she wanted to change. Disparities among school districts stood out to her in a glaring way.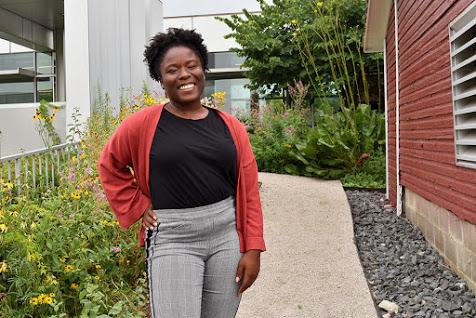 "When I was 13-years-old, I moved to a different neighborhood and started going to school in the suburbs instead of the city. I saw the quality of my education change. I got more access to books and computers. All my teachers were well-prepped in the subjects they taught," says Owe. She felt that if more money was available for schools that needed it, children attending school in cities like Detroit would have a lot more opportunities.
Her drive to make a difference in her community not only pushed her to excel in high school, but also to start a Black Students Association among her peers. The leadership she exemplified helped her earn a coveted place at Cornell University, where she currently studies Policy Analysis and Management in the College of Human Ecology.
"I really wanted to give back to communities by working with disadvantaged and unserved populations. I originally thought I needed to do this as a doctor. But as I grew older, I found that I could be a proactive servant leader in a different way – I wanted my impact to have scale and  to be more sustainable. I realized that I could do this through impact investing." 
She began learning about the finance world and eventually discovered Girls Who Invest, a program that uses mentorship, education and internship placement to increase the number of women in the investment field. The program partners with Kresge and places one of the GWI participants as an intern at the foundation. Owe submitted a video application where she expressed her ties with Detroit, her interest in social impact and her finance background — the story got her accepted into the GWI program and also showed that she was a match for Kresge's Investment Office.
"As a part of the program, I spent four weeks at a university learning about finance and career development from the ground-up before coming to Kresge," said Owe. "I really valued this learning period because it not only gave me valuable knowledge, but it has allowed me to bring back what I learned and share it with female and minority voices. It's hard to find an accessible resource to learn about finance without knowing the right people or getting into the right programs."
The duty of Kresge's Investment Office is to preserve and grow the foundation's endowment by generating returns greater than the organization's spending. This summer, Owe will be working on a research report about emerging market debt, analyzing the credit line of the foundation and studying the internal function of the investment team. 
After she completes her internship, Owe will return to Cornell for her junior year. She wants to continue working towards what she sees as her personal purpose: taking all the things that she has learned from her life, through Girls Who Invest and from The Kresge Foundation to build a better future in which people are free to express and pursue their dreams.