Summer at Kresge: Service and mentorship bring intern to The Kresge Foundation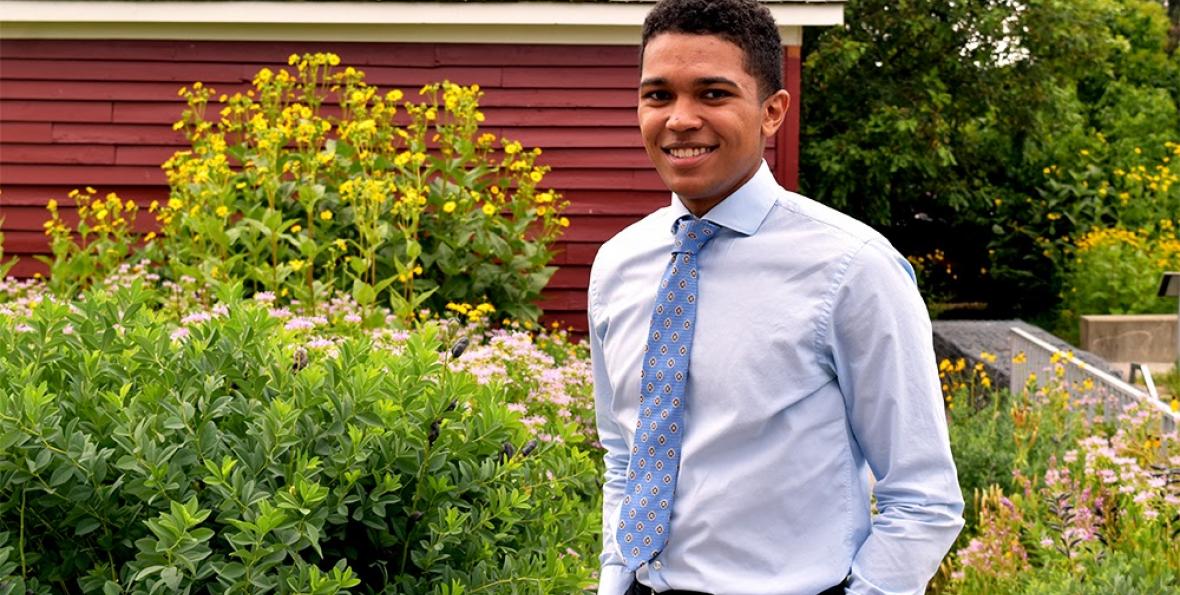 Evan Marquardt has learned a lot from his family, whose roots in Detroit go back multiple generations.
As The Kresge Foundation's Social Investment Practice and Investment Office summer intern, Evan is using the lessons he learned from his family in his professional work. From his family's ties to the automobile industry to connections to the civil rights movement, their experience has shown Marquardt how hard work and determination can impact a community.
But, most of all, Evan's family has taught him the importance of giving back.
"So much of my passion to help others comes from my family," says Marquardt. "They've dedicated their lives to other people…my home sometimes acted as a sanctuary because my parents were so willing to open their doors to the people they met. It's inspiring that they have their full-time jobs, but after it all they still have energy and time to give."
Beyond his family, Marquardt has been able to work with mentors who helped him with his school and career choices. Marquardt will be a junior this fall at the University of Chicago, studying public policy with a focus in finance. He is at Kresge this summer through the support of the University of Chicago's John W. Rogers, Jr. Internship Program.
The program is offered to University of Chicago students who are interested in a career in finance. It offers workshops for networking and technical skills, and connects participants with employers partnering with the program—such as Kresge.
"John Rogers funded this program to ensure that the pipelines to the investment world were more diverse. The program provides resources to people of color and people from marginalized communities. Foundations are a good place for us to go, because we get a broad view of the investment world by the way foundations are set up," says Marquardt.
At Kresge, Evan will split his time between the Social Investment Practice (SIP) and the Investment Office. SIP's primary objective is to act as a multi-faceted capital provider to borrowers doing business in economically-stressed communities or to borrowers piloting new financing structures. On the other hand, the Investment Office preserves and grows Kresge's endowment by generating returns greater than the foundation's spending.
With SIP, Marquardt will focus on community ownership by identifying models that encourage people in lower-income areas to start businesses and increase home ownership. For the Investment Office, he will be researching new nuclear technology and recallable capital commitments. These projects will help the foundation understand where to invest in the future.
"My biggest goal, as someone who has never worked in the investment world, is to see if this industry is right for me. So far, it is. I'm extremely grateful for how accessible Kresge has made learning about finance. I feel like I can step into anyone's office and come out understanding concepts I've never heard of prior to the conversation.
At just 20-years-old, Marquardt wants to take advantage of the opportunities he's received from family and mentors to do the same for others. He wants to be a mentor to young people to "bridge the gap between resource access and exposure…because those children who have not been exposed to many opportunities are just as capable of doing anything as children who are."
Marquardt has already made an effort to accomplish these goals by leading a Kresge panel discussion at a Money Matters for Youth event. He sees this as first of many ways that he can give in the same way his family did.