Summer at Kresge: Recent high school graduate eager to begin helping others
Kamisha Williams wants more for her summer than the average part-time job. She wants real world experience and plans to get it through a short but intense internship with Kresge's Finance and Information and Technology teams.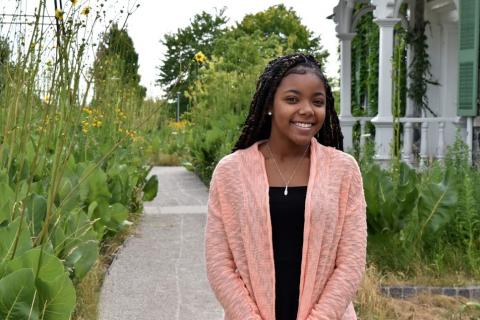 "I asked my mentor to help me find something different than the typical summer job," said Williams, a Detroit native, "and I wanted to really focus on networking and building connections, so this seemed like a perfect fit."
Williams will spend her first week as a finance intern getting an overall introduction of the field and assisting with the creation of tax statements.
For her remaining two weeks, she will serve as the Information and Technology intern. She'll learn website coding and resume building, and some of her work will make it onto the foundation's website.
Williams recently graduated from Detroit Edison Public School Academy and wants to pursue a career in helping others. In August, she'll begin as a freshman at Kentucky State University, a Historically Black College or University (HBCU), to pursue a degree in nursing.
"No matter what I do, I've always known I want to help people," she said. "And to me, nursing is a way of helping someone with something as precious as their life."
Williams said she enjoys working at Kresge because it allows her to make a difference and says she could envision herself one day working in the nonprofit sector.
"The work the foundation does is incredible," she said. "In a place like this, I may not be saving lives directly, but I can still change lives and help a community"