Summer at Kresge: Opportunity, curiosity bring American Cities fellow to the Midwest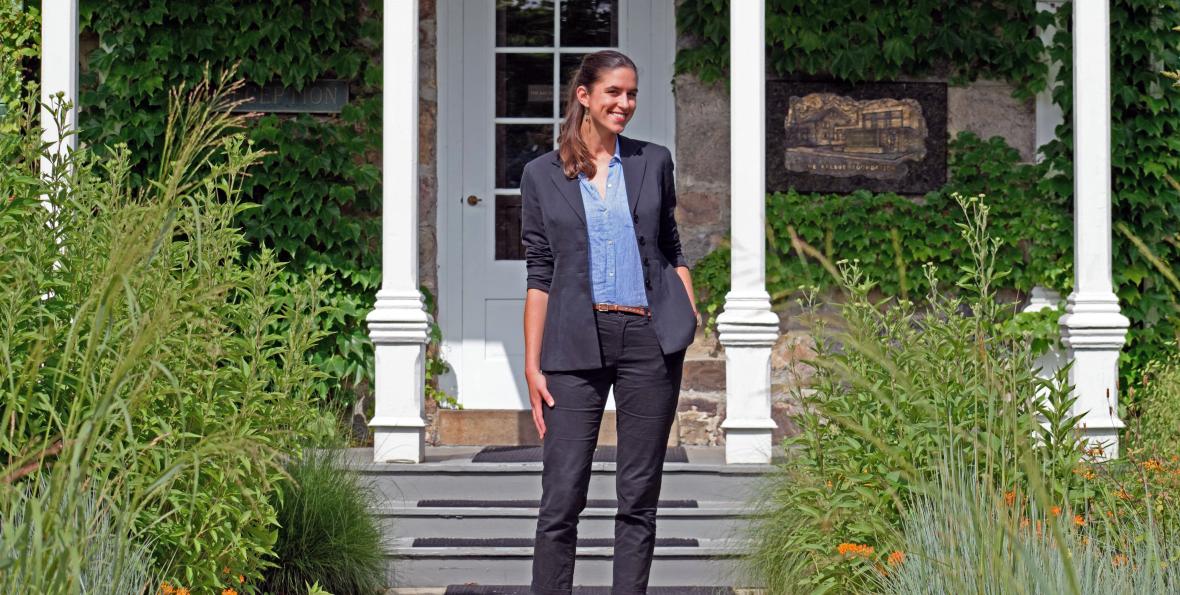 Cynthia Armour's curiosity has always made her eager to explore.
The Kresge Foundation's new American Cities fellow is French-American and grew up shuttling between Paris and the California Bay Area. She walked, biked and took the train with her family to explore different parts of both areas which expanded her understanding of how cities work—or do not work—for the people who live there.
"My parents were both people who loved the cities they lived in. Getting to know a city through different modes of transportation was always a thing for us… and living in-between cities allowed me to see the difference between places and question 'why is something this way, and why is it not that way?' It helped me think critically about cities' narratives."
This experience sparked her interest in transportation policy. During her senior year at University of California – Santa Cruz, where she graduated with a degree in politics, Armour went back to France to study abroad at the Paris Institute of Political Studies, commonly known as Sciences Po. Post-graduation, she worked with the French railway operator writing a future mobility trends study.
She uncovered a whole world of transportation policy and planning to delve into. After returning to the U.S., she worked at an eclectic variety of jobs related to transportation, including the Bay Area Metropolitan Transportation Commission (MTC) and the Transportation Sustainability Research Center at the University of California – Berkeley. She then joined a nonprofit bicycle advocacy group called Bike East Bay.
"At Bike East Bay I worked in capacity development," says Armour. "We were an organization that dealt with two counties with a combined 50 towns and cities, so we couldn't be present in all of them. We had to figure out what shared leadership models worked with local organizations, how we could build those organizations up and support them with resources, what projects were scalable, and how to bring everyone together for regional power-building."
After her time at Bike East Bay, Armour realized that she wanted build additional skill sets to tackle social, environmental, and economic issues that affect not only transportation, but entire communities. The interest led her to graduate school at University of California – Berkeley in the School of Public Health and the Department of City and Regional Planning. It eventually led her to apply for her fellowship at The Kresge Foundation.
"I want to dive into things like community development, housing and healthy cities, which Kresge is very aligned with. The opportunity to work with the American Cities Program allows me to get a sense of what is innovative and exciting in community development right now."
The American Cities Program (ACP) at Kresge approaches this work by funding research, supporting multicity community development initiatives, and doing placed-based work in New Orleans and Memphis.
During her fellowship, Armour will help the program analyze homeownership data, support Kresge Innovative Projects: Memphis and partner on the Shared Prosperity Project.
"One of the things that I've really appreciated seeing at Kresge is how much they've centered community-led efforts. From how they select the people they work with to how they construct grants, they're really making it a priority to support organizations that are led by people from their own communities and who authentically engage with the people they serve."
Armour's readiness to tackle difficult community issues was inspired by the strong female leadership that she's encountered throughout her personal and professional life. Her mother, sisters, professors and supervisors from previous jobs all fueled her drive to approach complex issues with determination.
This summer, Armour is seeing as much of Detroit as possible, a city that's made a lasting impression on her in a short time. Though she will only be in the Midwest for a short time, her love of cities will both bring her back to the area and take her to many other places to both explore and serve.
--By Sara Mylrea