Summer at Kresge: Human services fellow makes her way from policy to philanthropy
A unique life journey led Leila Malow to The Kresge Foundation and the human services sector. Born in Somalia, her family eventually immigrated to the U.S., and she was raised mostly in Minnesota, where she received her undergraduate degree in political science at Macalester College in Saint Paul, Minn.
Now a master's student at the Gerald R. Ford School of Public Policy at the University of Michigan, she is eager to spend her summer as the Fellow for Kresge's Human Services Program.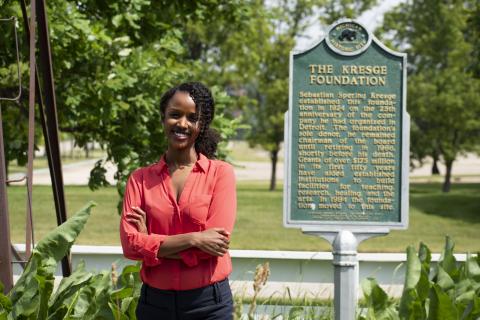 "My biggest concern," Malow said, "is making sure people with low incomes are able to live in dignity in communities that are healthy and provide opportunites."
Before coming to Kresge, Malow lived in the Twin Cities and worked at the Minnesota Legislature for a state senator. Her primary interest has always been in helping to shape policy that improves people's quality of life. She said she thinks foundations like Kresge can provide the space for reimagining innovative solutions to address these bigger issues.
"I love the public sector and working in government," she said, "however Kresge has opened up the world of philanthropy to me, and I could see myself working at a foundation in the future."
Malow said she is most excited to be working with Kresge because she sees it as a new avenue for working toward providing opportunities in low income and underrepresented communities.
She values the importance of producing economically stable communities but believes there's an even greater need to provide opportunities for true economic mobility in those communities.
"In our current society, people with low incomes, especially people of color, are left behind," Malow said. "And because of that, I care about putting alleviating poverty at the center of racial equity and assuring that as a society we are not marginalizing any group."
During her summer with Kresge, Malow will complete site visits to Minneapolis, Washington, D.C. and Philadelphia to meet current Human Services Program grantees and learn more about the sector.
When in Troy, Malow will assist the team with their Next Gen initiative. It's an initiative that supports organizations that are person-centered and performance-based and that represent the future of the human services field.
During this project, she will help the team develop the strategy for the next steps of the initiative and research best practices for upward mobility.
"My greatest goal here," Malow said, "is to work on improving American cities so that they're more equitable in order to reduce poverty and increase opportunity."