Summer at Kresge: Communications intern uses storytelling to give others a voice
If Sara Mylrea could spend her free time doing anything, she would use it to read and listen to stories.
The Kresge Foundation's External Affairs and Communications summer intern was originally born on a small southern island in Japan. She moved to and lived in different areas within the United States for most of her life. The moving, along with her parents' ties to international affairs, exposed her to a diversity of voices from an early age.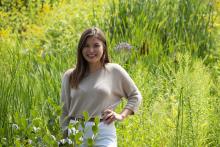 "Some of my favorite memories were going to cultural events with my dad, who worked with international students at various universities. It was there that I developed a deep fascination with meeting others – those who seemingly look, speak and act differently than me. Still, when I heard their stories, I felt connected to them."
Mylrea knew she wanted to listen to and give voice to other peoples' stories, so she found more ways to do this at Purdue University. Mylrea is entering her senior year, studying public relations and strategic communications and minoring in English and political science. She is involved in multiple service organizations, most of which allow her to help organize and lead student events. However, it was her involvement with nonprofits, like the Lafayette Transitional Housing Unit and the local Special Olympics chapter, that taught her how to utilize her passion for listening and understanding for a greater purpose.
"What I saw in my work with nonprofits was that I could use my strengths in written and oral communications to lift other peoples' voices so others felt impacted, too. There's so much power behind expressing a narrative. It melts away the hard image we sometimes hold of others who we think are different, and allows us to see who they actually are. It opens up a door to empathy, understanding and an honest conversation of what we can do to better ourselves and our community."
With a desire to keep practicing social-good communications, Mylrea sought roles where she could work to advance diversity, equity and inclusion. She saw a great opportunity to do just that with Kresge's External Affairs and Communications team.
This team works to plan, guide and create oral and written communications for the foundation's internal teams and its outside audiences. This summer, Mylrea spearheaded the 2019 Kresge Audience Engagement Survey that explored the preferences of the foundation's external audiences. The results are used to help the team continue to create high-quality, relevant content. Additionally, Mylrea also wrote the Summer at Kresge intern and fellow profiles and helped with the launch of Kresge's 2018 Annual Report, while assisting with various projects happening around the foundation.
Eventually, Mylrea would like to use her passion for uplifting diverse voices by working on political campaigns for diverse candidates, who represent voices that need to be more seen and heard. For now, she is starting smaller. After she graduates this winter, she wants to find roles that will help her to continue building her communications skills and abilities.
"When I think about what I'm going to do next, I think about my mother's journey — the story I am most inspired by. She was a farmer as a child, lost her mother in her twenties, moved to the U.S. without knowing English in her thirties, started college in her forties and is now in her fifties with a degree and a job she loves. Her ability to jump into the unknown reminds me that, with the right attitude, I have the ability to write my own story however I choose."