Summer at Kresge: Communications intern finds the intersection of her passions
For Annika Clemens, this summer as the external affairs and communications intern was all about learning where her passions can take her.
Originally from Bronson, Michigan – a small town near the Indiana border – she is a junior at Central Michigan University pursuing a degree in integrative public relations with a minor in cultural and global studies.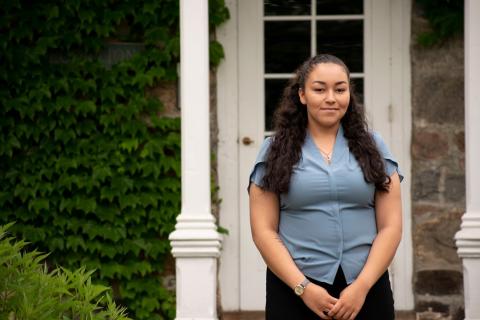 "My passions for public relations and social justice work have always been separated and pursued through different positions," Clemens said. "However, I'm learning that philanthropy could be the space where I combine the two."
Before Kresge, Clemens spent two years working on content creation and social media management at Central Michigan Life, her campus's student-run media company. When she returns this fall, she will serve as the social media coordinator for CMU Student Activities and Involvement, a campus-wide department that oversees student clubs and associations.
While working in communications, she has kept her social justice passions close to heart. On campus, she works to promote diversity as a Multicultural Advancement Scholar. Clemens also works with groups of students as an intergroup dialogue facilitator on topics related to discrimination, common narratives and the "isms" present in our society. 
"Consistently having that type of dialogue and working toward social change," she said, "is something I want to take with me wherever I go and incorporate into my public relations career."
Clemens says she has enjoyed every moment of her time at Kresge and that this summer has given her a much clearer vision of what she intends to do in the future.
"The work that the foundation does is important to me because it so closely matches my values of helping disenfranchised people and communities while working toward a future of total equality," she said. 
Clemens had the opportunity to work on a handful of projects including producing an internal newsletter, publishing the Summer at Kresge series, writing grant summaries, assisting with daily communications tasks and performing an audience engagement analysis.
"What I enjoyed most about being the communications intern," she said, "was that it allowed me to learn and work with each of the program teams and get a well-rounded look at all the work the foundation does."