Summer at Kresge: Arts & Culture fellow uses creativity and compassion in the city she loves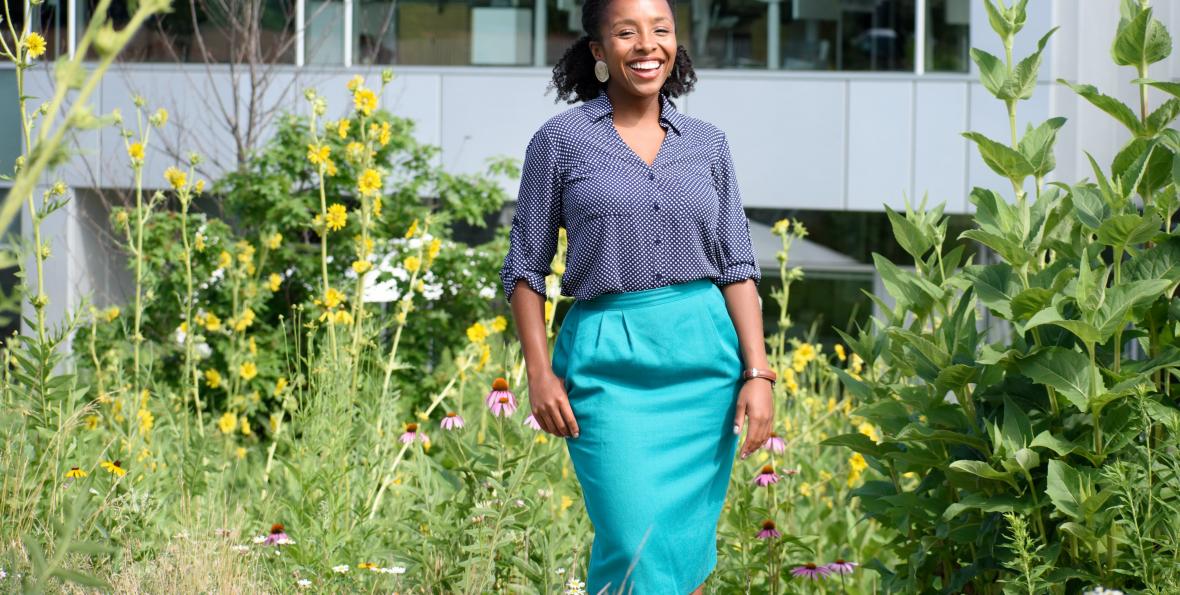 Aisha Benton's strong spirit has led her to do many things and to be in many places. She has found a way to be a voice of important causes in everything she does wherever she goes.
Benton is The Kresge Foundation's Arts & Culture summer fellow. Her unique familiarity with artistic performance, empathy for communities and love for Detroit makes her an ideal addition to the department's work in Creative Placemaking.
Born and raised in Detroit, Benton's love for performance led her to graduate from the Detroit School of Arts High School, earn a theater degree at the University of Michigan, and move to Los Angeles, California as an actor. Among her most impactful work, Benton and her castmates received a 2015 NAACP Theatre Award for Best Ensemble in the play "Flyin' West" performed at the International City Theater.
However, Benton sought to be a more representative voice in the communities she lived in.
She left Los Angeles and started post-graduate studies at The University of Oxford where she received a Certificate in Theological Studies. Benton continued her education at Duke University, where she earned two Masters: one from Duke Divinity School and one from its Sanford School of Public Policy.

During graduate school, Benton put learning into practice by working in various ministry and community organizing roles to combat racial inequities. Some of her roles included working in low-income areas near Oxford, piloting a poetry-writing program for a women's re-entry community in Nashville, Tennessee and auditing diversity, equity and inclusion practices for the Methodist Church of Southern Africa in Johannesburg, South Africa.
After graduating, Benton made her way back to Detroit to pursue her interests in her birthplace. She found the perfect opportunity at Kresge to do just that this summer.
"I grew up as a Detroiter and it's a big part of who I am. I've visited a lot of countries and lived in a lot of places, but there's something about growing up in this city that really shapes you…I take seriously the responsibility to represent people who come from the neighborhoods I want to serve," she said. "People may not have education or experience behind them, but they are fully human and deserve to opportunities to hope, dream and receive help when needed."
The Arts & Culture Program works to boost Creative Placemaking which is the practice of using arts, culture and community-engaged design as central elements of community development and planning in communities—including in Detroit. The result can lead to enhanced pathways for people with low incomes and few opportunities to lead self-determined, healthy lives and to contribute to more just systems.
This summer, Benton will help the team develop a racial equity survey for grantees, revise grant questions and coordinate a series of "Lunch and Learn" sessions for Kresge colleagues to explore Creative Placemaking.
"The Arts & Culture team's methodology of using arts as a driver for community development in low-income areas is something I feel passionate about. I deeply believe that people in these communities aren't projects to be fixed, but they are treasure troves with so many incredible gifts embedded in them. It takes investing in and funding these communities to see those assets realized."
In her free time, Benton is active at her church and has been reconnecting with friends in the city. She finds inspiration to serve the Detroit community by the everyday beauty she sees within its people and places.
"Those seemingly small, mundane and temporal moments," says Benton, "when somehow I find God and eternity serves as a reminder for me that we aren't made for time. We aren't made for hurrying or rushing or making a timetable for all our lives. It can be looking at a painting, or it can be a good conversation that puts things into perspective for me."
Following her Kresge fellowship this summer, Benton will remain in Detroit to continue working to build more just and equitable communities.