Summer at Kresge: Arts and culture fellow eager to advance equity centered work
For Samuel Coons, equity is at the center of everything he does. He constantly looks for ways to incorporate equity into his academic and career work.
That's why he knows serving as Kresge's Arts and Culture Program's Summer Fellow puts him right where he's supposed to be. 
"I've always had a strong interest in equity and progressive planning, and that has driven me to find the intersection of that work," Coons said. "And I believe that the Kresge Arts and Culture Program has carved a unique spot for itself at the center of that work."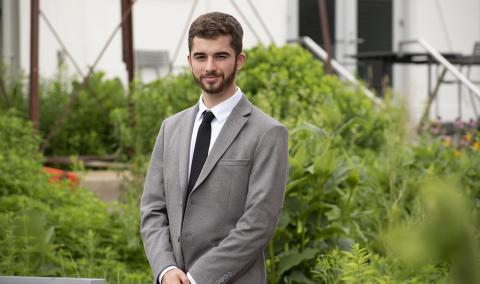 Coons is highly interested in Creative Placemaking, the integration of arts and culture with community development, and has enjoyed working with a foundation that includes a focus in that area.
 "It's a young and underdeveloped field," he said, "so part of my time here is figuring out where I, as a young academic and soon-to-be young professional, am going to be able to help drive that development."
One of his more intensive projects this summer consists of assisting in developing a briefing regarding how the built environment influences public health outcomes and environmental sustainability.
"That aligns with what I've been trying to learn," Coons said, "which is to study communities and how they build identity into their environment and how they then use that identity to engage with urban issues such as economic restructuring, demographic changes or gentrification."
He will also be looking at where cross-field work can happen, participate in a literature review, and assist with grantee interviews.
As for the future, Coons hopes to work at the intersection of Creative Placemaking and equity planning, in whatever shape that might take.
"In the end, I'm not concerned with where or what sector I work for," Coons said, "but that the institution matches my values and advances equity."